Posted by 80-Lower.com on Sep 2nd 2022
If you've read our P320 Build Guide, then you're probably wondering how to easily convert your newly built Sig Sauer pistol between its various sizes, barrel lengths, and calibers. That's accomplished by swapping the P320's fire control unit -- the part legally considered the firearm itself -- into a new grip module. What are P320 grip modules and how do they work for customizing this handgun?
---
Sig P320 Grip Module FAQs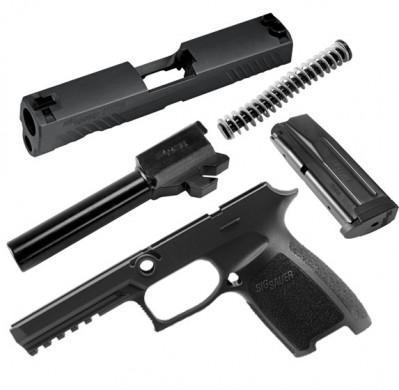 Q: Is the grip module considered the P320's frame?

A: Yes. The grip module is the frame of the Sig Sauer P320. The grip module fully encloses the fire control unit and it hosts the slide, barrel, and magazine.
Q: Is an FFL required to buy a grip module?

A: No. The P320's fire control unit is considered the firearm. Unlike other handguns, the P320's frame is not considered the firearm. Buying a grip module is like buying any other firearm accessory or non-regulated part.
Q: What are grip modules made from?

A: Sig Sauer originally built its P320 grip modules using standard, firearm-grade polymer. Now, they offer tungsten-infused polymer and aluminum modules.
Q: Does swapping the grip module require tools?

A: No. Removing the fire control unit from the grip module can be accomplished without tools. First, the slide and barrel must be removed. Then the takedown lever can be removed by pressing its pin through the module. The lever retains the unit within the module. Once it's removed, the unit can be removed in one piece.
Q: Does the P320 fire control unit fit all grip modules?

A: The P320's fire control chassis is guaranteed to fit all factory / OEM Sig Sauer grip modules. Some aftermarket modules may not fit all calibers or configurations
Q: What grip sizes are available for the P320?

A: The P320 handgun is available in Full, Carry, Compact, and Subcompact sizes. Each of those four sizes has three grip module sizes: Small, Medium, and Large. All grip modules fit all P320 models except for the Subcompact, which can only use a Small or Medium module. In total, there are 11 size combinations for the P320.
Q: What size grip does each P320 come with?

A: Sig Sauer fits all P320s with grip modules that match the length of the slide and barrel. See below for visual comparisons and measurements of each grip module's dimensions.
---
P320 Size and Grip Compatibility
Sig Sauer categorizes the P320 handgun itself into four sizes. The grip modules are categorized into three sizes. Between the module and handgun size classifications, you find all available P320 configurations. There's some confusion here, so let's review.
Handgun Sizes
Full Size (Largest)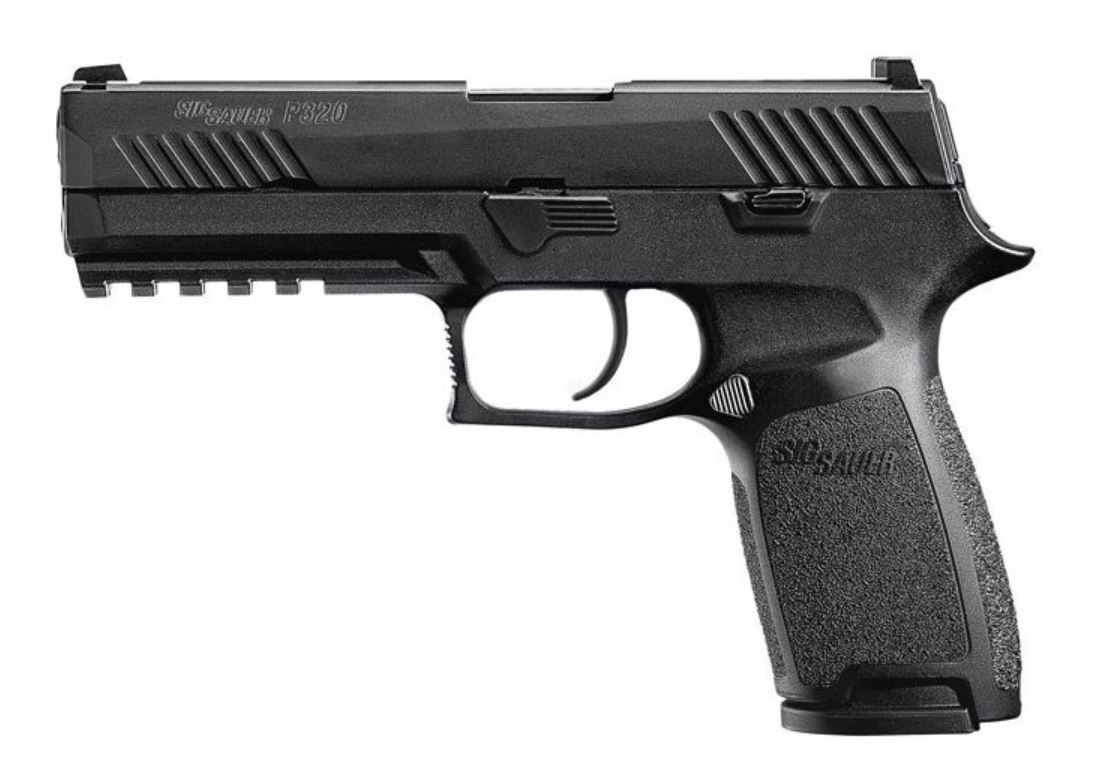 The Full-sized P320 is the largest of this handgun's series and features a 4.7" barrel. It's the configuration used by law enforcement since it provides the longest barrel and highest capacity.
Ammo Capacity
9mm: 17 + 1
.40 S&W: 14 + 1
.357 SIG: 14 + 1
Carry Size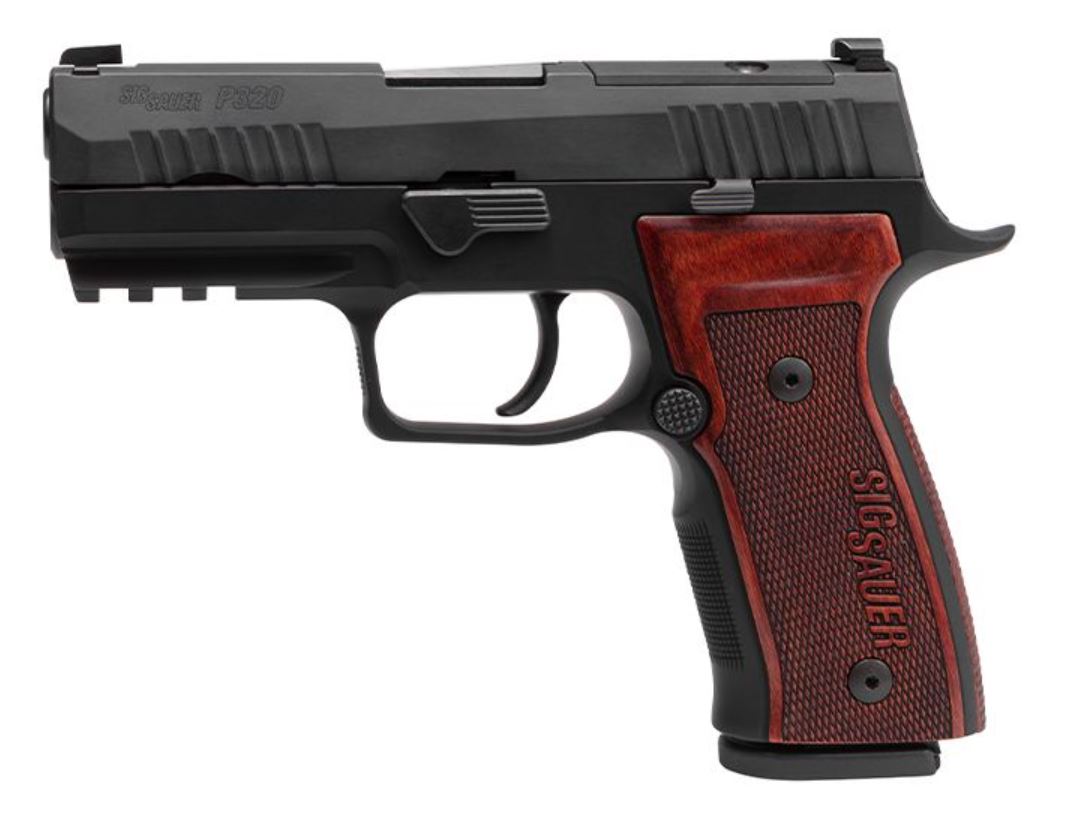 The Carry-sized P320 uses a shorter barrel (3.9") and slide while also using the full-sized grip module. This affords the shooter with the same capacity in a more compact package. Law enforcement agencies have also requested the Carry P320 for use as a duty gun.
Ammo Capacity
9mm: 17 + 1
.40 S&W:14 + 1
.357 SIG:14 + 1
Compact Size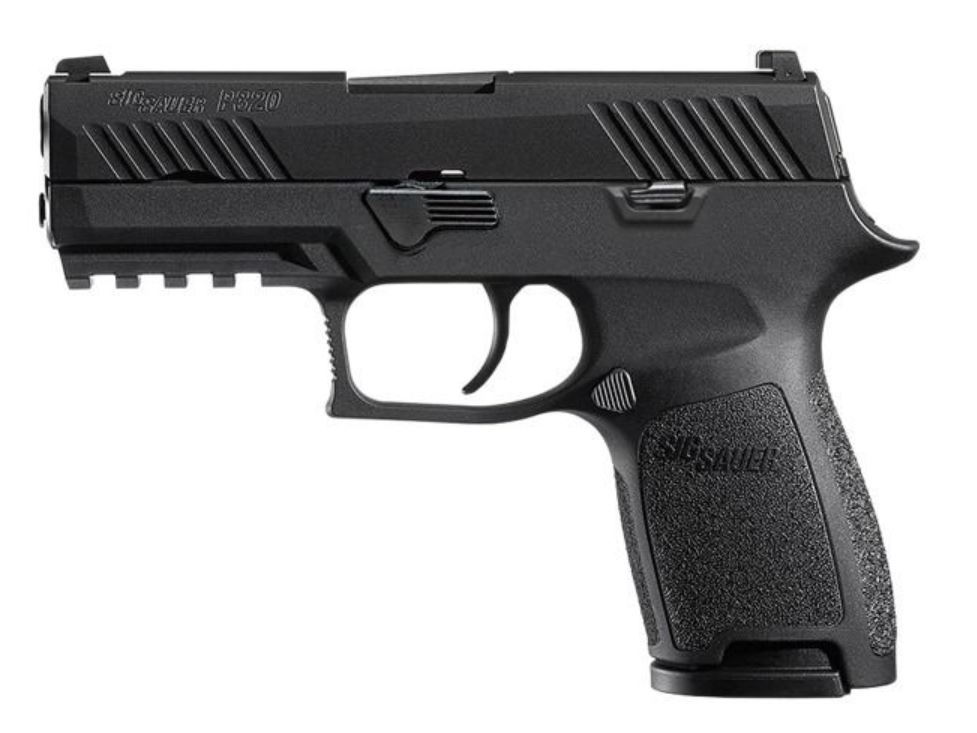 The Compact P320 uses the Carry's short barrel (3.9") with a grip module that's smaller than the Carry and Full. The Compact P320 is great for all-day concealed carry, sporting dimensions like the ultra-popular GLOCK 19.
Ammo Capacity
9mm: 15 + 1
.40 S&W:13 + 1
.357 SIG:13 + 1
Sub-Compact (Smallest)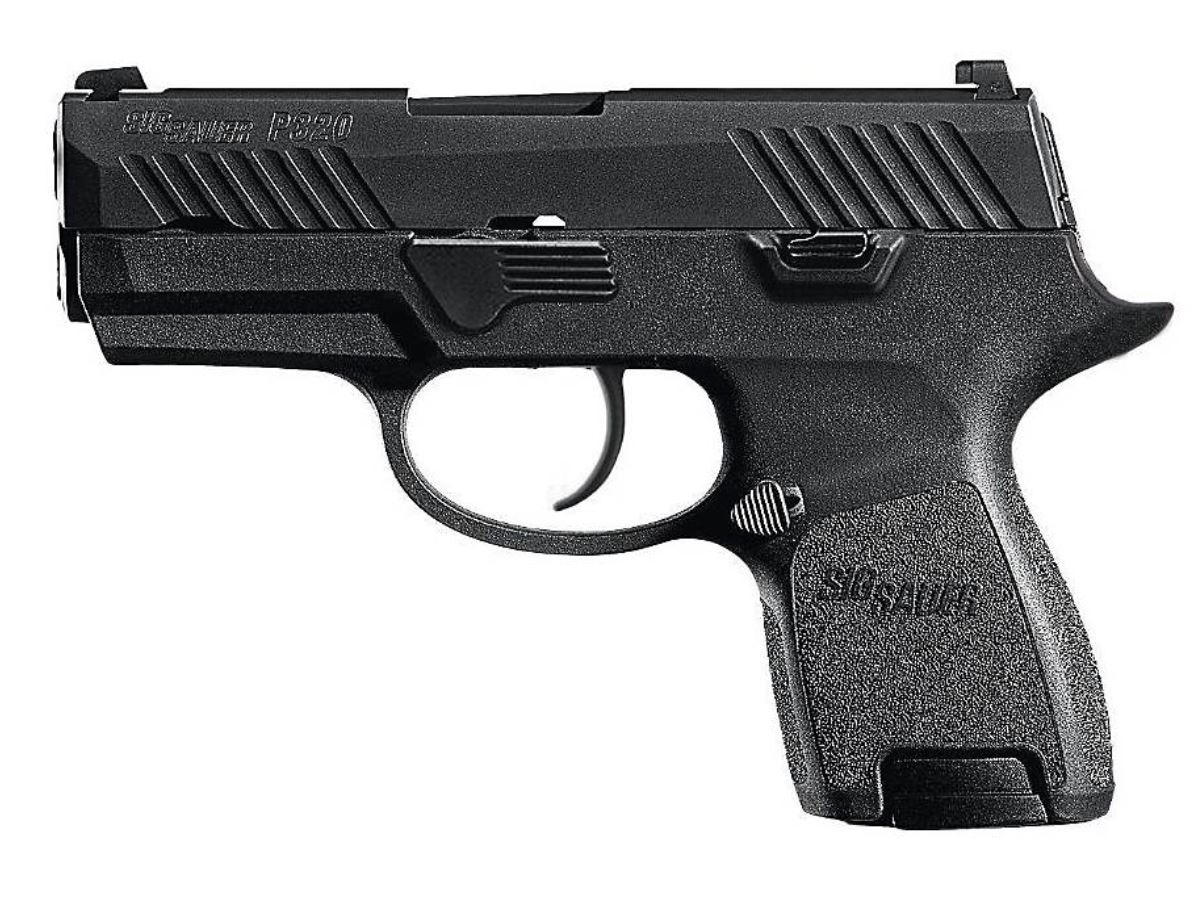 The Subcompact P320 is the only version in the series that reduces its width in addition to sporting a smaller height and length. The Subcompact is thinner than the Compact, Carry and Full P320s. Many shooters compare its size to that of the GLOCK 26. This configuration's module uses a rounded trigger guard and is intended for deep concealment with normal clothing.
Ammo Capacity
9mm: 12 + 1
.40 S&W:10 + 1
.357 SIG:10 + 1
X-Series
The X-series P320s are variants of the Full, Carry, Compact, and Sub-Compact P320s. These versions of each size include a "fastback" cut magazine well, extended beavertail, undercut trigger guard, and redesigned grip. These are the only differences found on the X versions of the P320. All guns function identically.
---
Grip Module Sizes
Now you're familiar with the P320's four sizes. But remember, each P320's grip module comes in three sizes, too. Each grip's measurements remain the same for each of the four P320s. That means, for example, a "Small" grip module made for the Full-sized P320 will have the same width and length as a "Small" grip made for the Compact P320.
Small Grip
Circumference: 5.5"
Grip Width: 1.1875"
Grip Length: 2.0"
Markings
Full Small grips are marked "F-S".
Carry Small grips are marked "CA-S".
Compact Small grips are marked "C-S".
Subcompact Small grips are marked "S-S".
Medium Grip
Circumference: 5.7"
Grip Width: 1.3125"
Grip Length: 2.125"
Markings
Full Medium grips are marked "F-M".
Carry Medium grips are marked "CA-M".
Compact Medium grips are marked "C-M".
Subcompact Medium grips are marked "S-M".
Large Grip
Circumference: 5.9"
Grip Width: 1.5625"
Grip Length: 2.25"
Markings
Full Large grips are marked "F-L".
Carry Large grips are marked "CA-L".
Compact Large grips are marked "C-L".
Subcompact Large grips do not exist.
Aftermarket Grips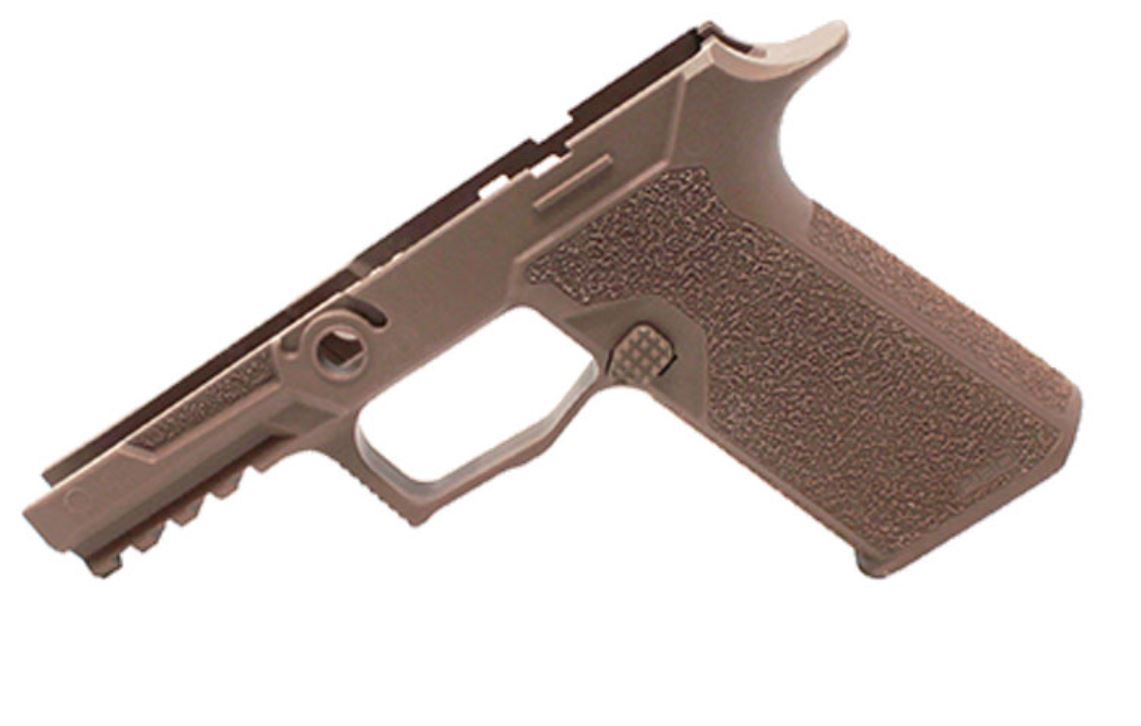 Plenty of parts manufacturers have introduced aftermarket P320 grip modules. Most of these modules do not follow Sig Sauer's method of classifying grips by small, medium, or large. Aftermarket grips will typically list which of the four P320 configurations it's compatible with, instead.
DISCLAIMER: If you are new to the world of DIY gun building, you likely have a lot of questions and rightfully so. It's an area that has a lot of questions that, without the correct answers, could have some serious implications. At 80-lower.com, we are by no means providing this content on our website to serve as legal advice or legal counsel. We encourage each and every builder to perform their own research around their respective State laws as well as educating themselves on the Federal laws. When performing your own research, please be sure that you are getting your information from a reliable source.
---