Posted by 80-Lower.com on Oct 27th 2022
The ATF wants to ban pistol braces. The agency published a list of "criteria" for determining whether your AR-15 pistol, when equipped with a brace, will instead be considered an illegal short-barreled rifle. If you want to keep enjoying your AR pistol with any accessories you want, then it's time to legally transform it into a short-barreled rifle (SBR) by registering it as an NFA gun. It's not as difficult as you think. We're about to walk you through the whole process, including step-by-step guides on how to complete every step:
Filling out and submitting the SBR application online.
Rolling your own fingerprints on FD-258 fingerprint cards.
Mailing your prints to the ATF so your application gets approved.
You can use these guides whether you want to convert a pistol or build an AR-type SBR from scratch. The steps are also the same whether you're using an 80% lower (plus engraving requirements, which we'll touch on later) or a stripped lower receiver you bought from an FFL. Let's start with common questions.
---
Converting to an SBR: FAQs
Q: What's an AR-15 pistol?

A: An AR-15 pistol is an AR-15 with a barrel length less than 16", and no vertical foregrip or stock installed on the buffer tube. If the ATF gets their way, you won't be able to use a pistol stabilizing brace with virtually any other accessories (like angled foregrips, sights, or optics of any kind) either. You also won't be able to own an AR pistol longer than 26" or heavier than 7.5 pounds (120 ounces) with a brace. It'll automatically be considered an SBR. We know, it's stupid.
Q: What is a short-barreled rifle?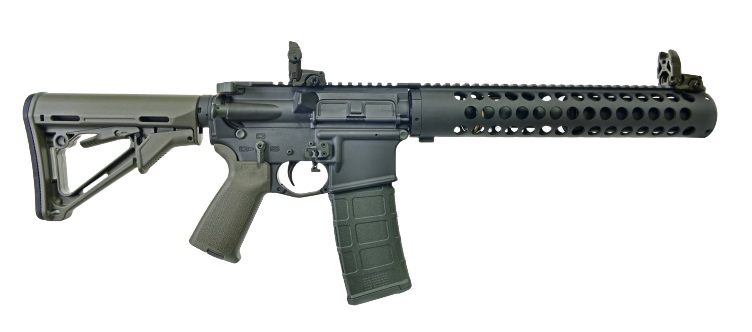 A: A short-barreled rifle, or SBR, is currently defined as a rifle with a barrel shorter than 16" and that has a buttstock installed. After the ATF squeezes its arbitrary and legally questionable rule-making through, most pistol braces will be treated as buttstocks.
Q: How do I legally convert my AR-15 pistol into an SBR?
A: You must create an account and fill out an application on the ATF's EForms website. Commonly called a "Form 1" application by gun owners and builders, it's officially labelled ATF Form 5320.1, Application to Make and Register a Firearm. Getting an approved application means your firearm is now legal under the National Firearms Act (NFA), which regulates certain classes of firearms and suppressors.
Q: Can I convert my 80% lower into an SBR?
A: Yes, you can. But this will require you engrave a model, serial number, your name, and the city and state where you fabricated it. This information needs to be provided on the Form 1 application for the ATF to approve your SBR.
Q: Is it legal to convert a pistol into an SBR in all 50 states?
A: No. Like the ATF, some states ignore federal laws. Certain states have outlawed ownership of NFA firearms, including short-barreled rifles. Always check your local and state laws before attempting to process an ATF application for a firearm.
Q: Can I turn my AR pistol into a regular rifle?

A: Yes, and you don't have to file any NFA application or deal with the ATF's bureaucracy. It's entirely legal to throw a buttstock on your AR pistol and turn it into a regular rifle if you first install a barrel that's 16" or longer. Muzzle devices do not count as part of the barrel length unless they're permanently installed (pinning and welding).
Q: What does filling out the Form 1 require?
A: The Form 1 application is like a more involved version of the background check paperwork (Form 4473) that you fill out when you purchase a firearm through an FFL.
The application can be filled out and submitted online. You'll provide your name and address, and a brief description of your future SBR. You'll list the name and location of the maker (that's you!), serial number, caliber, and the overall length of the rifle. You'll make up an alphanumeric serial number if you're using an 80% lower.
Q: How long does it take to complete a Form 1 application?
A: Filling out the online application and uploading your photo takes as little as 30 minutes. Rolling your fingerprints is surprisingly easy and only takes around 30 minutes, too.
Q: What's this about rolling fingerprints and taking my photo?
A: When you fill out your online application, you'll need to upload a picture of yourself. You can take a selfie at home with your cellphone against any bare wall and upload it. After submitting the online application, you'll need to fill out and mail two fingerprint cards to the ATF.
Q: How do I take and submit my fingerprints?
A: The ATF requires your prints be rolled on FD-258 fingerprint cards. They'll provide you with an email and a .PDF "cover letter" with further instructions. We have a guide rolling and mailing your fingerprints with the .PDF letter linked below.
Q: How long does it take for a Form 1 application to be approved?
A: Approval times can vary greatly. Currently, most Form 1 applications for SBRs appear to take between 30 and 90 days for approval. This writer submitted an SBR application on August 12th, and it was approved August 25th.
Q: What happens when my SBR's application is approved by ATF?
A: You can throw on your buttstock if you're converting a pistol, or build your SBR if you're assembling it from scratch, then hit the range! Once your application is approved, the ATF will notify you via email. You will not receive a physical, mailed copy of your tax stamp. You must instead download it and keep it for your records.
Q: Can I modify my SBR's barrel length or overall length later?
A: Yes. The ATF requests you notify them in writing of a permanent change to your SBR's length, but you are allowed to swap upper receivers, buttstocks, and even barrels at will. These modifications can be considered temporary unless you discard the original upper, stock, or barrel. In this case, such changes don't meet the requirements of notifying the ATF.
Now, let's get into the big details about how to successfully - and legally - convert your AR pistol into an SBR.
---
1. Start Your AR Build

If you don't already own an AR pistol, now is the time to start building one. Since you need some info about your future SBR's setup for the Form 1 application (like overall length and a serial number), it makes sense to start buying the parts required for your rifle before you complete your application. Even with the ATF's upcoming pistol brace ban, AR pistols will still be legal to own. You just won't be able to install a brace on your buffer tube. That means configuring your future SBR as a pistol first, then buying and installing your buttstock after the application is approved.
Pick a Lower Receiver (80% vs. Stripped)

All NFA guns require a serial number, but this doesn't mean you can't use an 80% lower for your SBR. You get to make up your own serial number and have it engraved on the 80% lower receiver you fabricated. Or, you can use a stripped lower receiver with a serial number already engraved.
(Don't build an AR-15 pistol with a rifle lower!)
If you're turning a regular AR-15 rifle into an SBR, do not convert its lower receiver into a pistol configuration before approval. It is illegal to convert an AR-15 rifle into a pistol. The ATF will consider your pistol an SBR, even if it doesn't meet the definition based on how its built. Yes, again, it's stupid. You can only convert a rifle lower to an SBR lower after approval. You must build an AR pistol with a "fresh" receiver that was never once configured as a rifle.
Calculate Your SBR's Overall Length
The overall length of your SBR is calculated by measuring from the tip of the muzzle (with no removeable muzzle device attached) to the end of the buttstock with the stock at full extension. Although you can change overall length (OAL) later, you still need to report your SBR's length on the Form 1 application. This is why it's important to get your parts figured out before submitting the application. The NFA Division of the ATF recommends estimating OAL, since you can't technically assemble your SBR for measurement without your application being approved.
---
2. Make an EForms Account

Follow the intro part of our "How to E-File Form 1 for an SBR" Guide to make an account. Once you've made an account you can start the process of seeking approval to convert your pistol to an SBR.
---
3. Submit The Form 1 Application

When you log in, you'll be brought to a dashboard with a scroll bar and a series of digital applications at the top-center of the page. Click right until you find the green icon labeled "Form 1 ATF F 5320.1". This is the application you must fill out for your SBR.
We've created an in-depth guide on how to complete the application below!
Part 1: Starting the Form 1 application.
Part 2. Payment and Applicant Info.
Trusts: Responsible Persons Questionnaire.
Part 3. Responsible Person page.
Part 4. Chief Law Enforcement Officer page.
Part 5. Line Item page (adding your SBR).
Part 6. Electronic Documents page (trusts only).
Part 7. Paying for and submitting the application.
---
4. Roll and Mail Fingerprints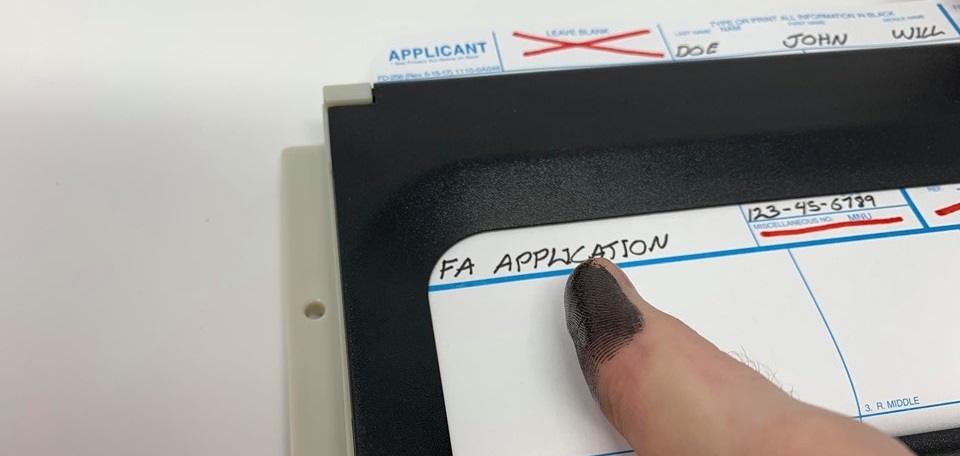 Two sets of FD-258 fingerprint cards need to accompany your Form 1 application by mailing them to the ATF. You can order fingerprint cards for free from the FBI by calling 304-625-5590. Ordering cards from the FBI will take approximately one to two weeks for processing and shipping. You can purchase an FD-258 fingerprinting kit off Amazon, too. The kit comes with ink and five cards.
How to Mail Your Prints
After you submit your Form 1 application, you'll receive an email notifying you that your application is in a "PENDING RESEARCH" status. During this time, the application will be reviewed by the ATF. Once the application has been reviewed and the ATF determines information has been entered correctly, your application will go into a "PROCESSING" status. When this happens, you'll receive a second email with a cover letter attached. The cover letter has instructions for mailing your fingerprints. You must mail two sets of prints with this cover letter to the address provided on the letter.
You'll typically receive the cover cover letter within 5 to 15 days of your application being submitted, if you don't receive it immediately. If the manufacturer of your lower receiver is in the ATF's database, you will probably receive the cover letter as soon as you submit your application.
Part 8 of our guide covers rolling and mailing prints.
---
5. Wait for Approval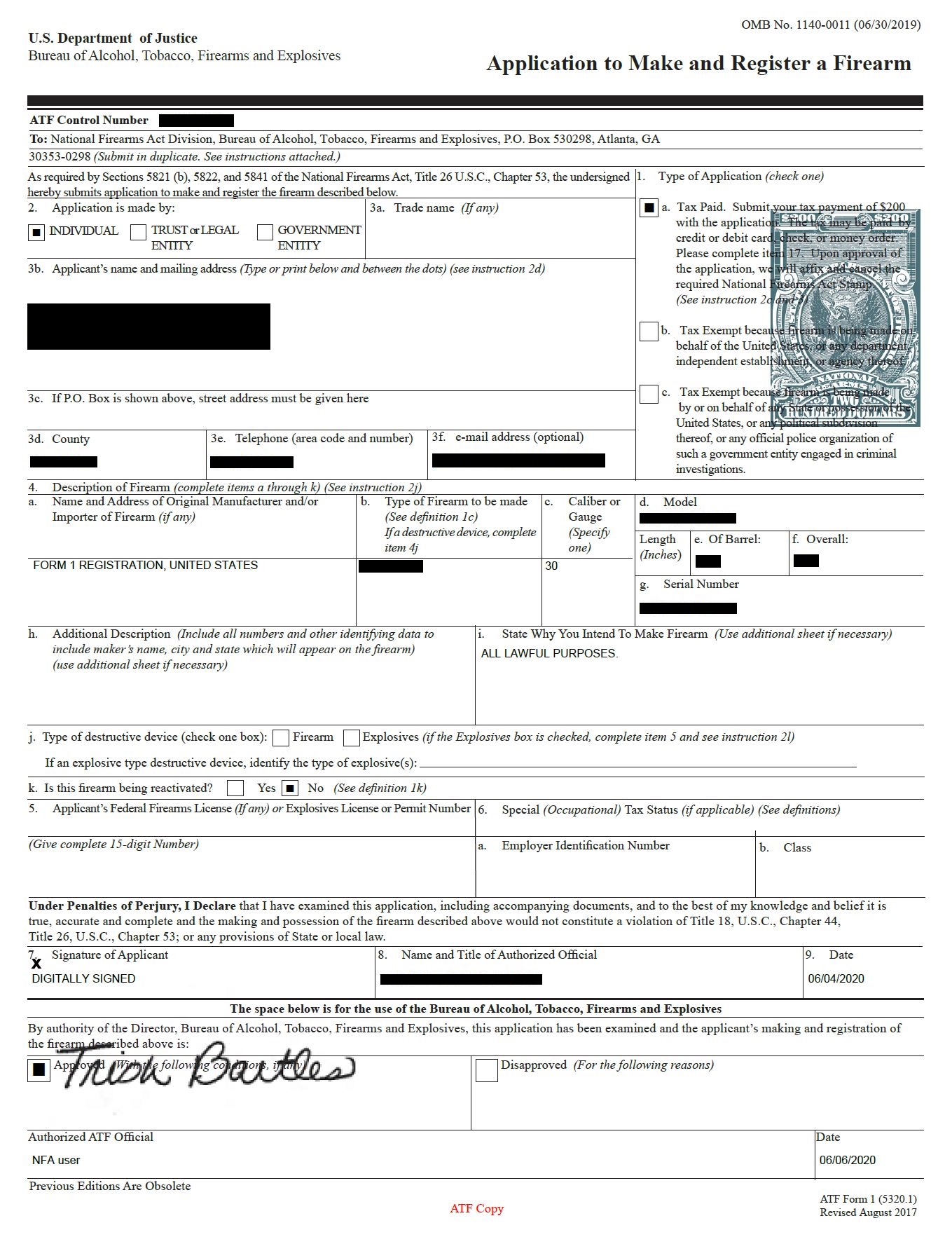 Once you mail your fingerprints, you'll need to wait around 21 to 90 days for your SBR's application to be approved. Once approved, the ATF will email you a third time. This email will contain a digital copy of your tax stamp, which you should print multiple copies of.
---
6. Get Your Receiver Engraved
NFA guns must have certain information engraved, just like any retail-bought firearm. Once your application has been approved, you must get the following information engraved on the receiver. Whether you used an 80% lower or stripped receiver, you'll need the following info engraved to a depth of at least 0.003" with a text height of 1/16":
Manufacturer: That's you! You'll need your first and last name engraved.
Location: This would be the city and state where you live, or wherever you built your SBR. It must match the address used on your application. The state can be abbreviated.
Model: This would be the model name. If you're using an 80% lower, you'll engrave whatever model name you put on your application. If it's a stripped lower you bought from an FFL, it'll be whatever the model name that was engraved by the original manufacturer. Again, this must match what you put on the application.
Caliber: The caliber will be listed exactly as you put it on the application. The ATF no longer allows "MULTI", so even if you're using a stripped lower marked "MULTI", you'll still need to engrave the specific caliber (.30, .223, 6.5, etc).
Serial Number: You get to use whatever serial number your stripped lower came with, or you get to make up a serial number for your 80% lower. If you're making up a serial number for an 80% receiver, it has to use alphanumeric characters without spaces. No special characters are allowed.
---
7. Throw On your Buttstock!

With approval and engraving requirements satisfied, you can now officially and legally transform your AR pistol into an SBR by installing your buttstock, or otherwise completing your build if you haven't already. You can even just keep your existing pistol brace installed if you wish. After all, the ATF will likely consider most braces to be buttstocks either way.
DISCLAIMER: If you are new to the world of DIY gun building, you likely have a lot of questions and rightfully so. It's an area that has a lot of questions that, without the correct answers, could have some serious implications. At 80-lower.com, we are by no means providing this content on our website to serve as legal advice or legal counsel. We encourage each and every builder to perform their own research around their respective State laws as well as educating themselves on the Federal laws. When performing your own research, please be sure that you are getting your information from a reliable source.
---