Posted by 80-Lower.com on Oct 27th 2022
Part 8: Fill Out & Mail Fingerprint Cards
Intro: Making an Account on EForms
Part 1: Starting the Form 1 application.
Part 2: Payment and Applicant Info.
Trusts: Responsible Persons Questionnaire.
Part 3: Responsible Person(s) page.
Part 4: Chief Law Enforcement Officer page.
Part 5: Line Item page (adding your SBR).
Part 6: Electronic Documents page (trusts only).
Part 7: Paying for and submitting the application.
Part 8: Rolling fingerprints and mailing them to ATF. (You're here!)
---
You've made it to the final steps of submitting your Form 1 application. You've already filed the application itself using the ATF's EForms website (if you haven't, click on the Intro to this guide, above).
While you're waiting for an email from the ATF with instructions on mailing your fingerprints, you should go ahead and complete the fingerprint cards right now. Once you receive your Cover Letter (more on that below) you can mail your prints in. Then you only need to wait for your application to be approved!
What's Needed
1. FD-258 Fingerprint Cards
Q: Where do I get these cards from?
A: You can get free FD-258 fingerprint cards from the ATF.
Fill out the agency's "Distribution Center Order Form" and request free cards be mailed to you: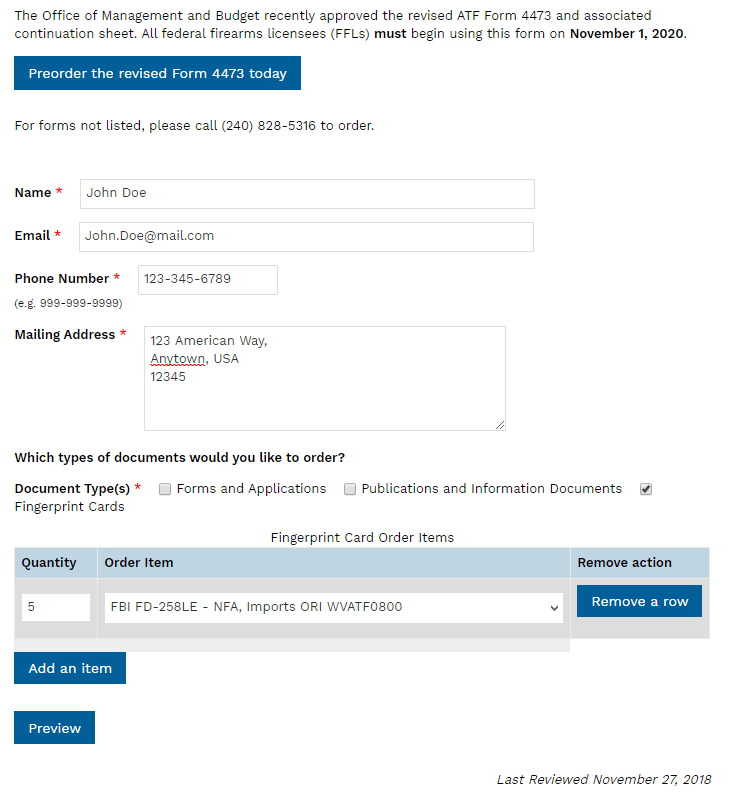 Fill out your name, email, phone number, and mailing address like below.
Be sure to check the box marked "Fingerprint Cards".
Select how many you'd like under "Quantity". You need 2 per applicant.
We recommend ordering a few extra cards for practicing prints before doing your mailed prints.
On the dropdown option under "Order Item", select "FBI FD-251LE - NFA, Imports ORI WVATF0800."
Click "Preview" to confirm your information is correct, and then place the order by clicking "Submit."
Your cards should arrive by mail in 7 to 14 business days.
Or...
You can buy a few online. You have 10 days to mail in prints once you receiver your Cover Letter, before your application's rejected. If you're ordering cards from the ATF after you've submitted your application, you may not get them quick enough. If you need cards faster, you can order them off Amazon for around $1.50 per sheet.
2. Fingerprint Ink

We recommend the Lee Inkless Fingerprint Pad. It's only a few bucks, and the pad produces clean prints easily, without any dripping or smudging.
3. Manila Mailer or USPS Priority Mail Envelope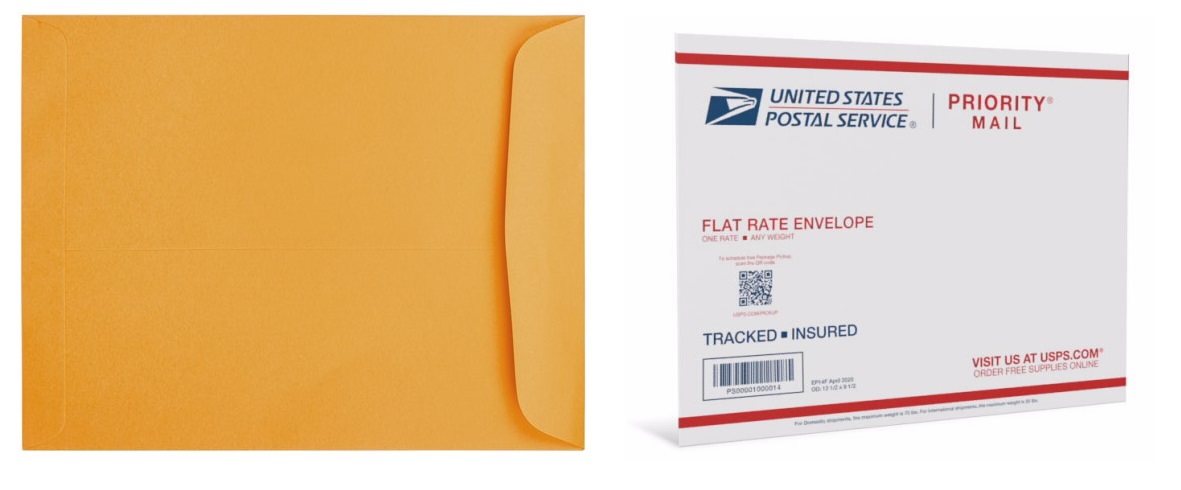 You should mail your fingerprints in a relatively sturdy manila mailer envelope, or the USPS's Priority Mail flat rate envelope. Inserting a small piece of cardboard in the mailer will prevent your cards from getting damaged or bent in transit. The ATF and FBI won't accept folded or creased cards.
4. Fingerprint Card Holder (optional)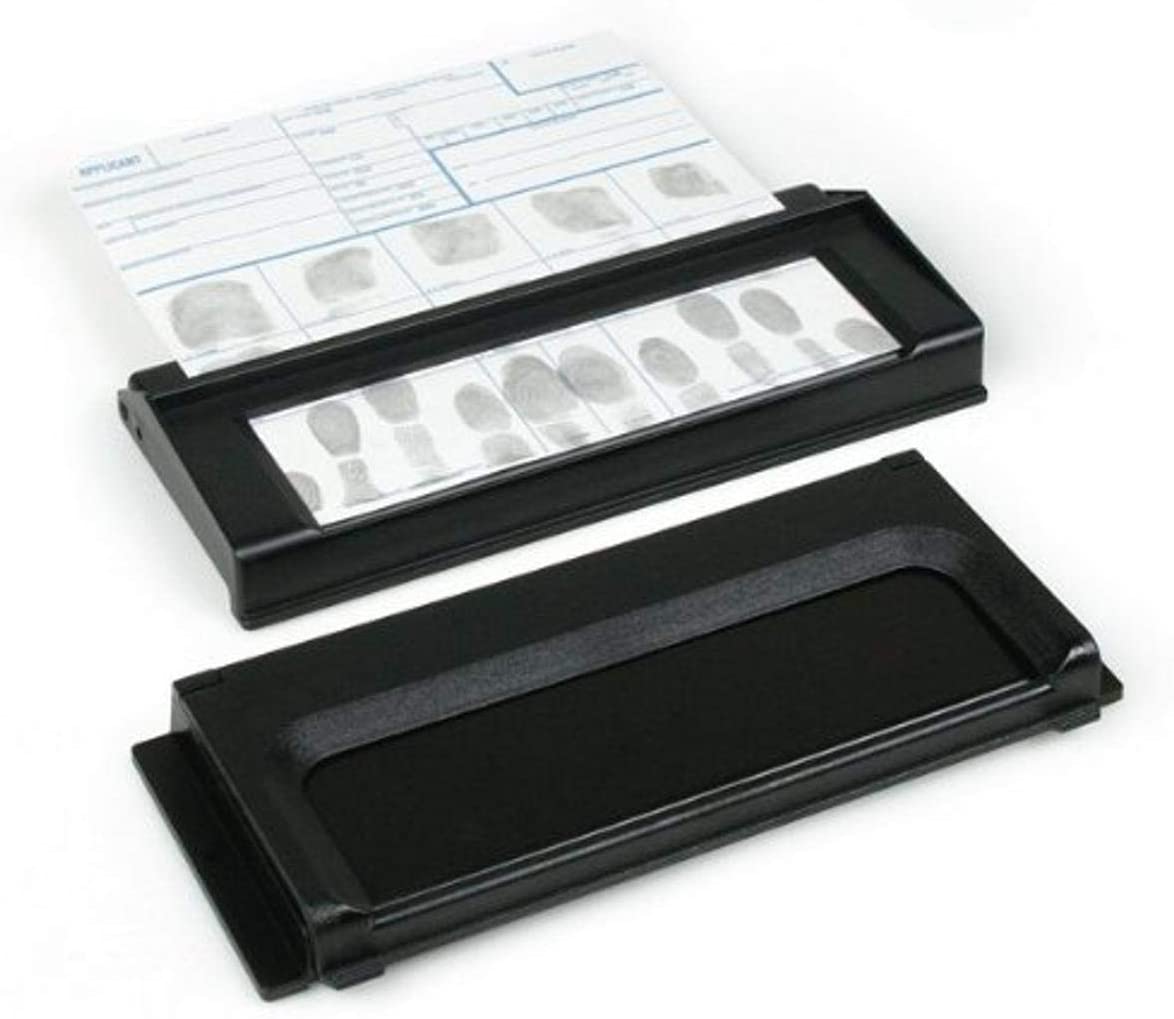 The fingerprint card holder is certainly not required, but it helps make applying your prints easier. We're using the Identicator Fingerprint Cardholder (pictured above) in this guide when we show you how to roll your prints.
5. Identicator Fingerprint Retabs (optional)

If you smudge one of your prints, you can cover it up and do it over with these FBI-approved fingerprint retab papers. You could fill out another fingerprint card instead, but you'll have to start over.
---
Filling Out The FD-258 for Form 1 Applications

1. NAME. Enter your name in the [Last, First, Middle Name] format.
2. SIGNATURE PF PERSON FINGERPRINTED. Sign as you would any document.
3. ALIASES (AKA). Enter any prior names used, like maiden names.
If your signature is different from your full legal name, print it here.
In our example, the signature "John Shooter" doesn't match the name "SHOOTER, JOHN REMINGTON".
This signed name should be printed as an alias name.
4. RESIDENCE OF PERSON FINGERPRINTED. Enter your address.
Use the [street number, street name, city, state abbreviated, ZIP code] format.
You cannot use a PO Box on the form or your application.
The address should match your Form 1 Applicant Info.
5. DATE. Enter the date you are rolling your prints.
6. SIGNATURE OF OFFICIAL TAKING FINGERPRINTS. Leave blank if you are rolling your own prints.
7. EMPLOYER AND ADDRESS. Leave blank. This is not necessary.
8. REASON FINGERPRINTED. Enter "NFA APPLICATION".
9. CITIZENSHIP (CTZ). Enter "U.S."
10. YOUR NO. (OCA). Leave blank.
11. UNIVERSAL CONTROL NO. (UCN). Leave blank.
12. ARMED FORCES NO. (MNU). Leave blank.
13. SOCIAL SECURITY NO. (SOC). Enter your social security number in the 000-00-0000 format.
14. MISCELLANEOUS NO. (MNU). Leave blank.
15. ORI. Enter the following information:
"WVATF0800
ATF-NATL TRA CTR
MARTINSBURG, WV"
16. DATE OF BIRTH (DOB). Enter your date of birth in the MM/DD/YYYY format.
17. SEX. Enter "M" for male, and "F" for female.
18. RACE. Enter your race. Use the codes below depending on your race:
A: Asian
B: Black
I: Native American or Alaskan Native
U: Unknown
W: White
19. HEIGHT (HGT). Enter your height as a three-digit number.
Round your height up or down to the nearest inch as needed.
If you're 5'10 tall, enter your height as 510.
If you're 6'01" tall, enter 601.
20. WEIGHT (WGT). Enter your weight as a three-digit number.
Do not include shorthand letters like "lbs."
21. EYES. Enter one of the following eye color letter codes:
BLK: Black
BLU: Blue
BRO: Brown
GRY: Gray
GRN: Green
HAZ: Hazel
MAR: Maroon
22. HAIR: Enter one of the following hair color codes:
BLD: Bald
BLK: Black
BLN: Blonde
BLU: Blue
BRO: Brown
GRN: Green
GRY: Gray
ONG: Orange
PLE: Purple
PNK: Pink
RED: Red
SDY: Sandy
WHI: White
XXX: Unknown
23. PLACE OF BIRTH (POB). Enter the state wherein you were born.
Spell out the state's full name.
---
How to Roll Your Fingerprints on the FD-258
Rolling your fingerprints is much easier than you think. Use the guide below and you'll be an instant pro at rolling prints for any NFA application.
1. Follow these tips:
Use a little ink.
You don't need to cake your fingertip in ink.
After applying ink, you should be able to easily see the ridges in your print, like so: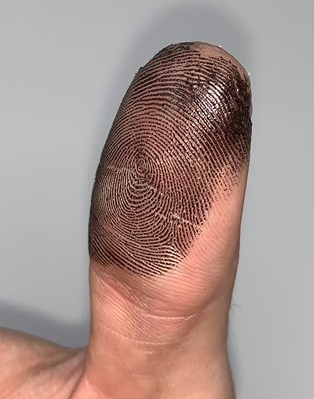 Don't press. Roll.
You need to cover your entire print by rolling it in the ink.
Roll right to left or left to right, whichever is easier. You can go either way.
Roll each finger from one edge of the fingernail to the opposite edge, like so: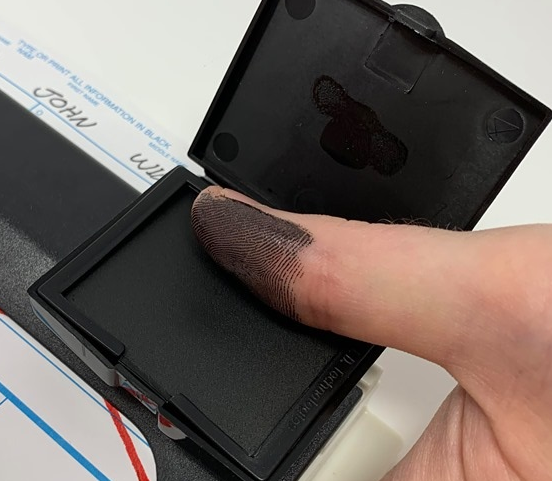 Use light pressure.
If you press too hard, you'll ruin your prints and cause them to smudge.
You should use relatively light pressure when rolling your prints onto the card.
Use the same rolling motion like you do when applying ink to your finger, like so:

Practice! Practice! And practice some more.
You should practice on any piece of plain white paper.
Practice rolling each finger before you fill out the cards.
Try rolling left to right and right to left, to see which is easier.
Save your extra FD-258 cards in case you make mistakes.
Clean each finger after printing.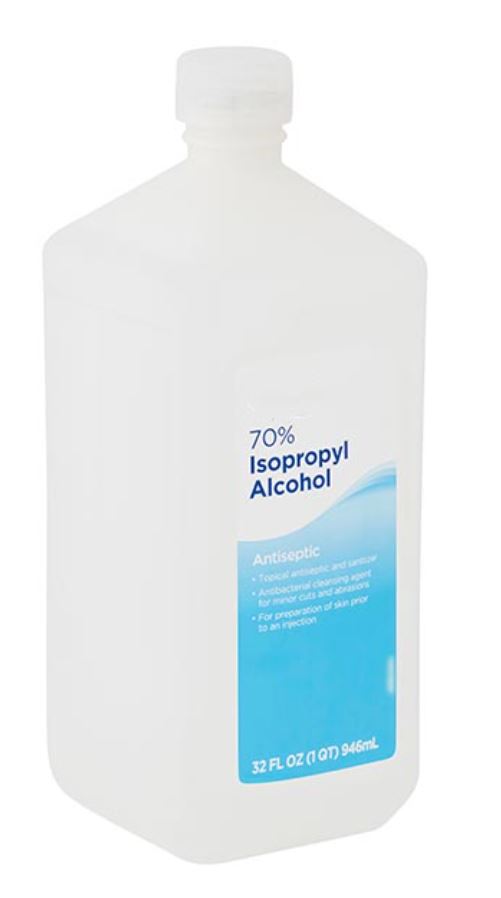 You will smudge your cards if you leave ink on your fingers.
Wet a cloth or towel with some isopropyl alcohol.
Wipe down each finger thoroughly after printing it.
2. Start with the RIGHT Hand in the first row.

Start with the right thumb, followed by the right index, middle, ring, and little finger.
3. Print the left hand on the second row.
Roll the left hand's thumb, index, middle, ring, and little fingers on the second row.
4. Press (don't roll) all fingertips on the bottom row.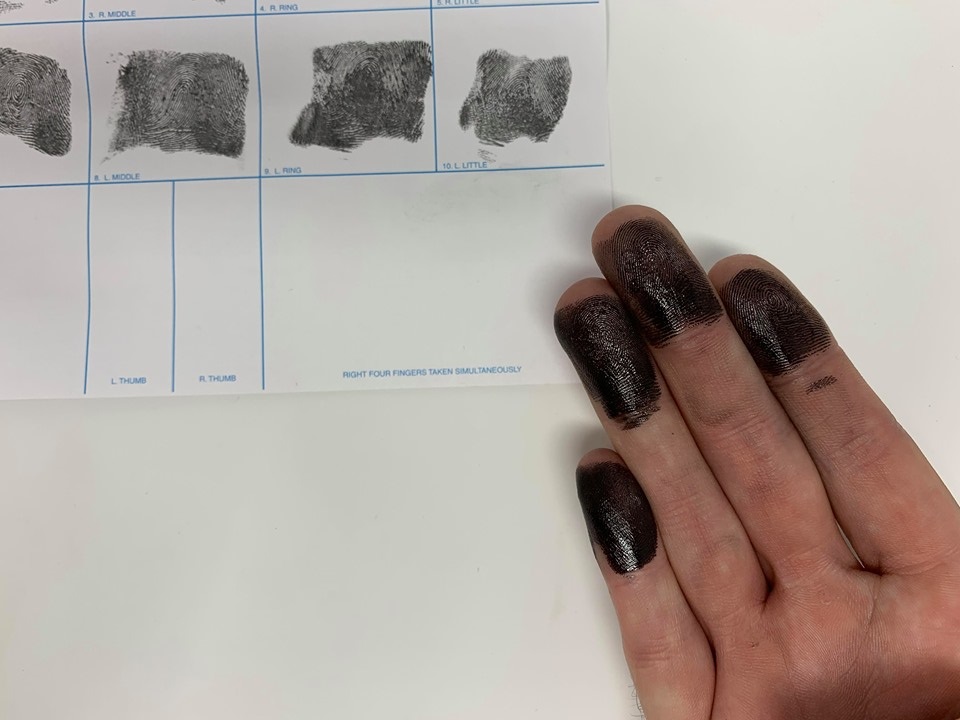 The bottom row is not for rolling.
Here, you'll simply press down your fingertips onto the appropriately marked boxes.
Print all four fingers together in the left and right boxes.
Print each thumb in the center-bottom boxes.
"L. THUMB" is for the left hand's thumb.
"R. THUMB" is for the right hand's thumb.
The right four digits go in the right box, and the left four digits in the left box.
You're done! (Almost)
With all fingerprint boxes inked as instructed above, your FD-258 card should look like this.
IMPORTANT: YOU MUST FILL OUT TWO CARDS FOR EACH NFA APPLICANT!

Ensure you complete a second FD-258 card with the same information and prints as the first one.
If you're filing as an individual on your NFA application, you need two cards for yourself.
If you're filing as a trust, you and each trustee on your application need two fingerprint cards filled out.
---
How to Mail Your Prints to ATF
Remember that all-important Cover Letter we keep referencing throughout this multi-part guide? Finally, it comes into play. You will print your cover letter and mail it to the address listed within:
BUREAU OF ALCOHOL, TOBACCO, FIREARMS AND EXPLOSIVES
NATIONAL FIREARMS ACT DIVISION
244 NEEDY ROAD
MARTINSBURG, WV 25405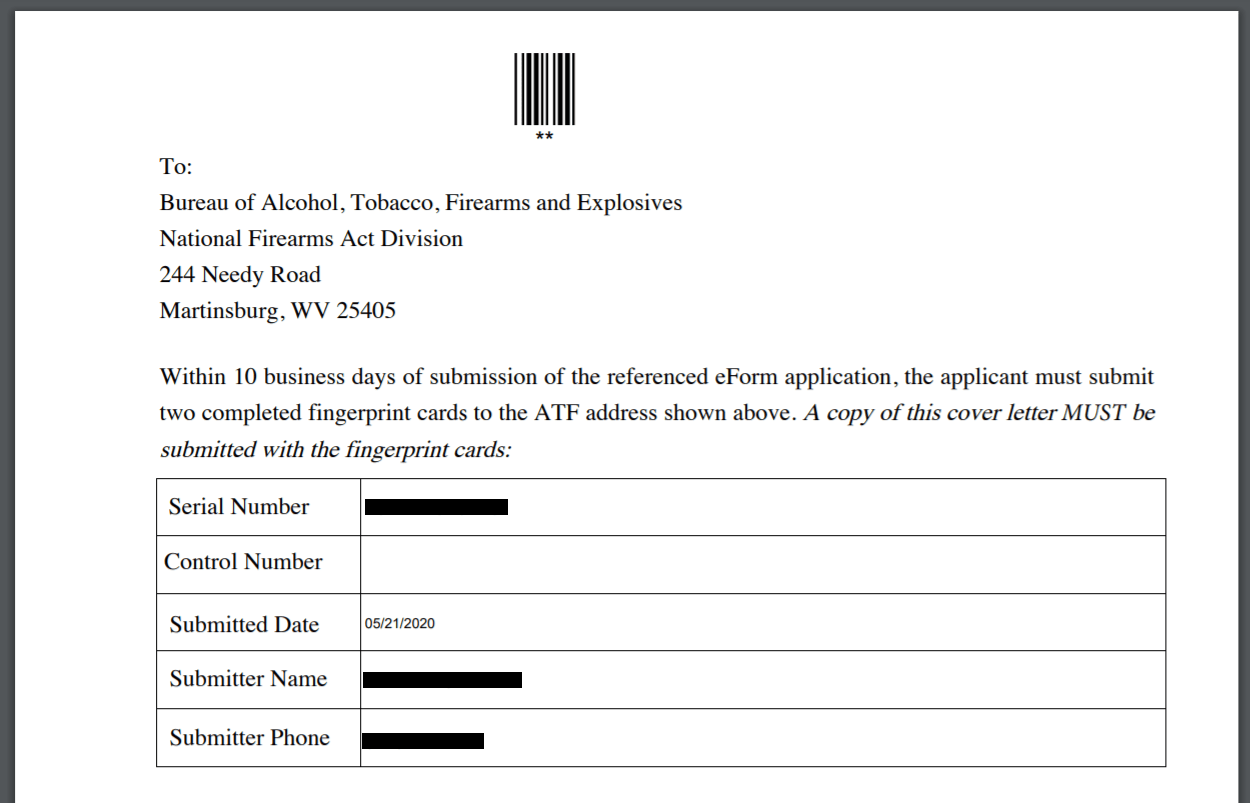 This cover letter must accompany both sets of fingerprints. The ATF uses this cover letter to match your FD-258 cards up with your Form 1 application. If you fail to include this letter in the envelope, your application will be rejected.
Mail your prints as quickly as possible.
The ATF only gives you 10 business days (from the day you receive the email containing this cover letter) to mail in your fingerprint cards. We highly recommend you mail your cards via Priority Mail, ideally Priority Express with signature confirmation, via the U.S. Post Office.
---
What happens after I mail my prints?
You play the waiting game. The ATF won't confirm that they received your fingerprint cards, so it's best to ship with tracking and signature confirmation. The ATF lists their current estimated processing times for Form 1 applications.
At the time of this publication, it'll take approximately 60 days (sometimes less, as soon as 30 days for some applicants) for Form 1 applications to be approved. Once approved, you'll receive an email from the ATF. That email will contain a digital copy of your $200 NFA Tax Stamp and approved paperwork. It'll look similar to this: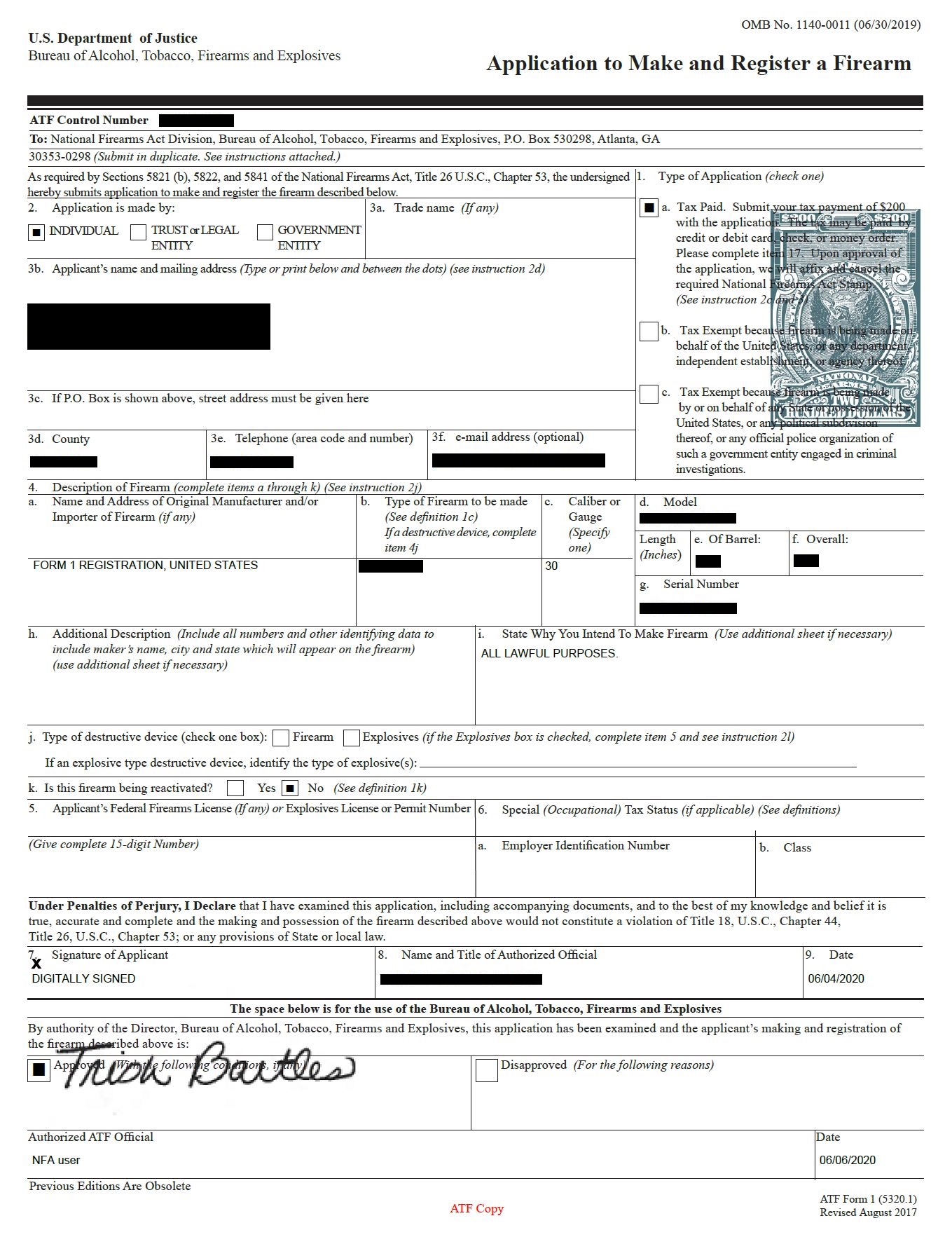 You will not receive a physical copy of your approved application, so print multiple copies and keep them for your records. Store your digital copy on a flash drive or other hard drive.
DISCLAIMER: If you are new to the world of DIY gun building, you likely have a lot of questions and rightfully so. It's an area that has a lot of questions that, without the correct answers, could have some serious implications. At 80-lower.com, we are by no means providing this content on our website to serve as legal advice or legal counsel. We encourage each and every builder to perform their own research around their respective State laws as well as educating themselves on the Federal laws. When performing your own research, please be sure that you are getting your information from a reliable source.
---