Posted by 80-Lower.com on Mar 11th 2021
You just finished putting together your first AR-15. Or, maybe you simply bought a "retail" rifle that came fully assembled. Either way, it's probably a good shooter. Good, but not perfect. The AR-15 platform's been developed for decades and it remains one of the most popular rifles sold in America. That means there are literally thousands of simple, effective upgrades you can throw on your new rifle (or AR pistol) to make it even more comfortable, accurate, and enjoyable to shoot. We're covering the best AR-15 upgrades to consider.
---
1. Drop-in Trigger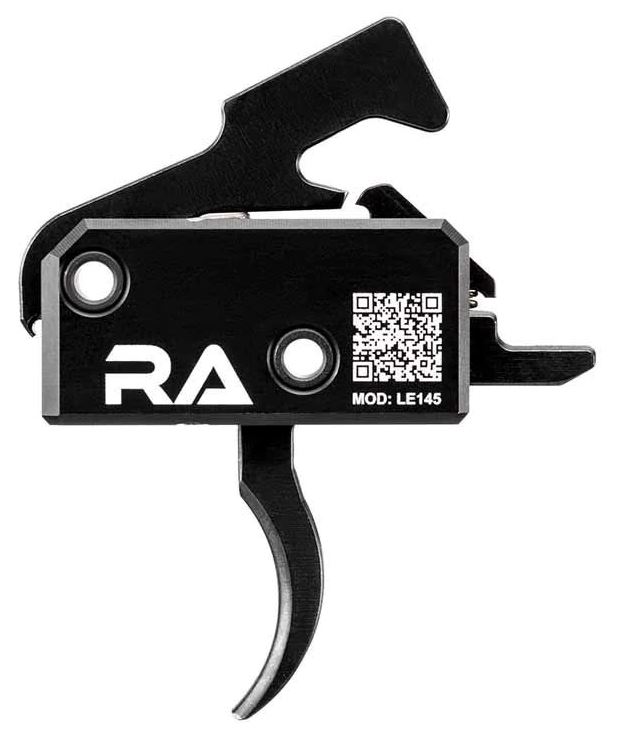 The absolute greatest upgrade you can throw in your AR-15 is the drop-in trigger. After all, the trigger is the one function you'll interact with most on your black rifle or pistol. It's also the one function most likely to hinder your groupings and overall accuracy -- especially if you're working with a mediocre factory trigger. The LE145 trigger by Rise Armament, above, provide a crisp 3.5-lb trigger pull.
Drop-in triggers are great because they're so easy to install. In fact, it's way easier than installing the actual parts kit: Simply use a punch and small hammer to tap out the hammer and trigger pins. Make sure the hammer's de-cocked first. Remove the hammer, trigger, disconnector, and springs. Literally drop the drop-in trigger into place, and reinsert the pins. You're all set! Drop-in triggers are self-contained units that have the hammer, trigger, and disconnector preinstalled.
Benefits of a Drop-In Trigger
Drop-in triggers are manufactured with incredibly tight tolerances and they often undergo strict quality control. Overall, they provide a shorter trigger reset, shorter trigger pull, cleaner break of the hammer, and generally better accuracy. Some drop-in triggers provide special functions, like two-stage functionality or binary fire (wherein a round also fires on the trigger's release). They can often be adjusted and fine-tuned to give you a lighter pull weight, too.
Parts Kit/Receiver Compatibility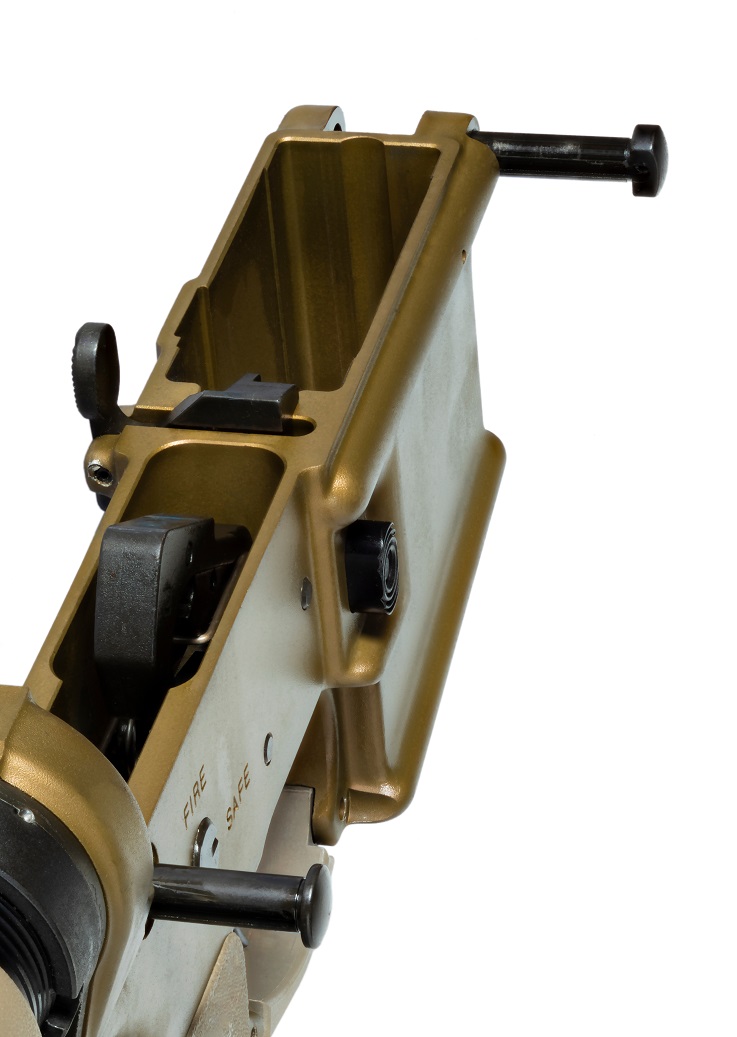 Drop-in triggers are great because they're compatible with literally every single AR configuration on the market. Whether it's a 5.56/.223 gun, a 300 BLK or 6.5 Grendel rifle or pistol, an AR-9, or even a .308-caliber AR, all drop-in triggers are compatible with all standard AR lower receivers. They don't affect the functionality of the safety and other components on the upper or lower receiver, either. They also work with any AR 80% lower.
---
2. Lightweight, Free-Float Handguard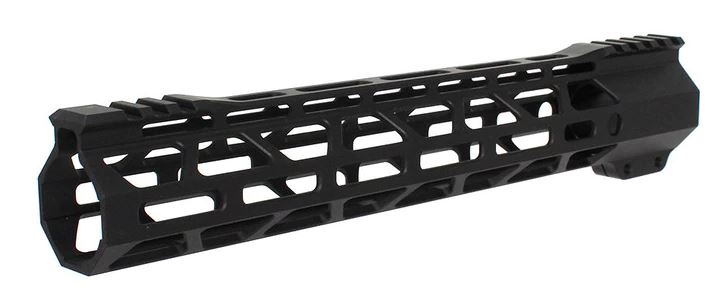 Another easy, effective upgrade that'll dramatically improve your rifle's or pistol's over ergonomics and accuracy is the free-float handguard. Unlike conventional two-piece guards, which connect to the barrel, free-float handguards literally "float" over the barrel. The install via the barrel nut and put no tension on the barrel or gas system which, over distance, can otherwise affect accuracy.
Lightweight handguards allow more of your AR's weight to be rearward, supported by your non-shooting arm and brace or buttstock. These guards are relatively easy to install, especially if you're piecing together your own AR, like this .223 Wylde kit that doesn't come with a guard.
M-LOK vs. Keymod vs. Picatinny

Picatinny rails were once the height of AR handguard tech. But now, there are M-LOK and KeyMod rail attachment systems which provide excellent strength and "rail estate" for mounting your accessories, without the bulk and heft of all those Pic rails. Here's a cool in-depth guide (courtesy of Naval Warfare Center testing) that compares both rail systems with a few torture tests.
---
3. Angled Foregrip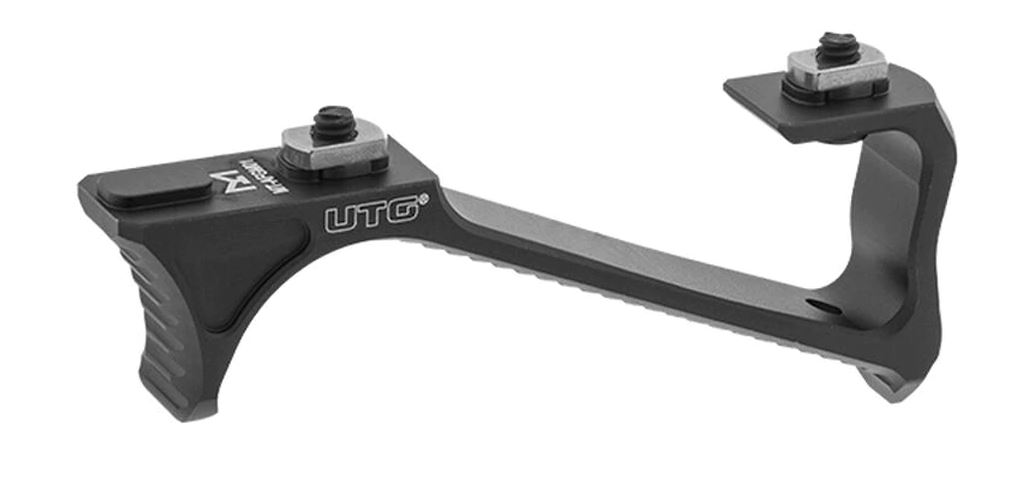 Once you've got that new handguard, you need to get some better control on your weapon to improve recoil control and shot groups. That's where something like this ultra-light angled foregrip comes in. At a little over 1 ounce, it adds no weight to the weapon, but it provides excellent ergonomics for that handguard and non-shooting/supporting arm. The one shown above utilizes M-LOK attachments and installs with simple hex-head bolts.
Pistol AR Legality

If you're upgrading an AR-15 pistol, it's important to know that you cannot legally install a vertical foregrip on your pistol. Doing so converts the pistol into an "AOW", or "Any Other Weapon", according to the ATF. An AOW is an NFA item requiring special licensing to own. The ATF claims that installing a vertical foregrip makes the design of the firearm such that it is "no longer designed to held and fired by a single hand."
Keep in mind that the ATF likes to engage in secret, in-house rulemaking. These "regulations" may change at any time. Always perform your own research on the legality of configuring your weapon before installing components like these.
---
4. Backup Iron Sights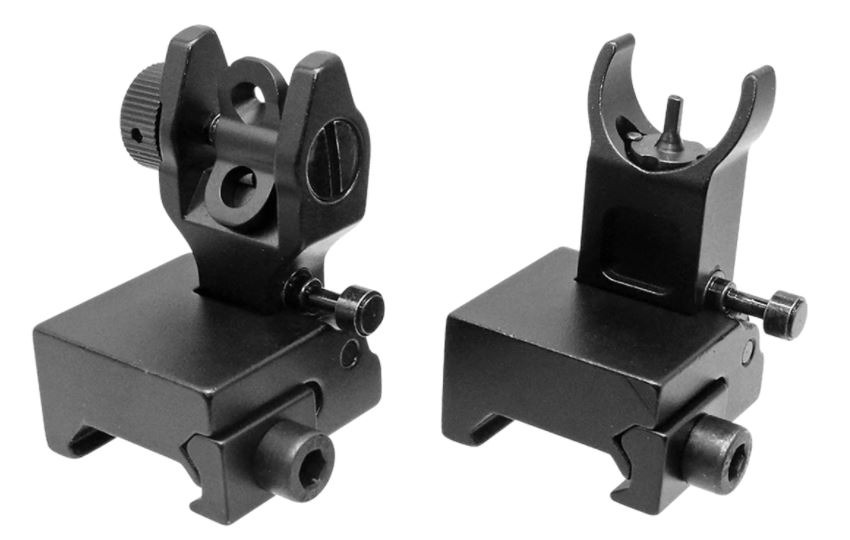 You've got to have a decent set of irons to upgrade your rifle or pistol into a truly reliable AR. Fixed sights get the job done, but they tend to interfere with sight picture once you inevitably throw on that new red dot, holographic, or scope. There's no need to obscure your target within your optic. That's why back-up iron sights (BUIS) were developed.
These sights flip up and down as needed, locking into position to provide conventional irons, or locking downward to free up your optic or primary sight. BUIS's are typically made from polymer or steel, like these mini flip-ups, which include A2-type apertures and mil-spec-style elevation and windage adjustments.
---
5. Single-Point Sling w/ Latch Plate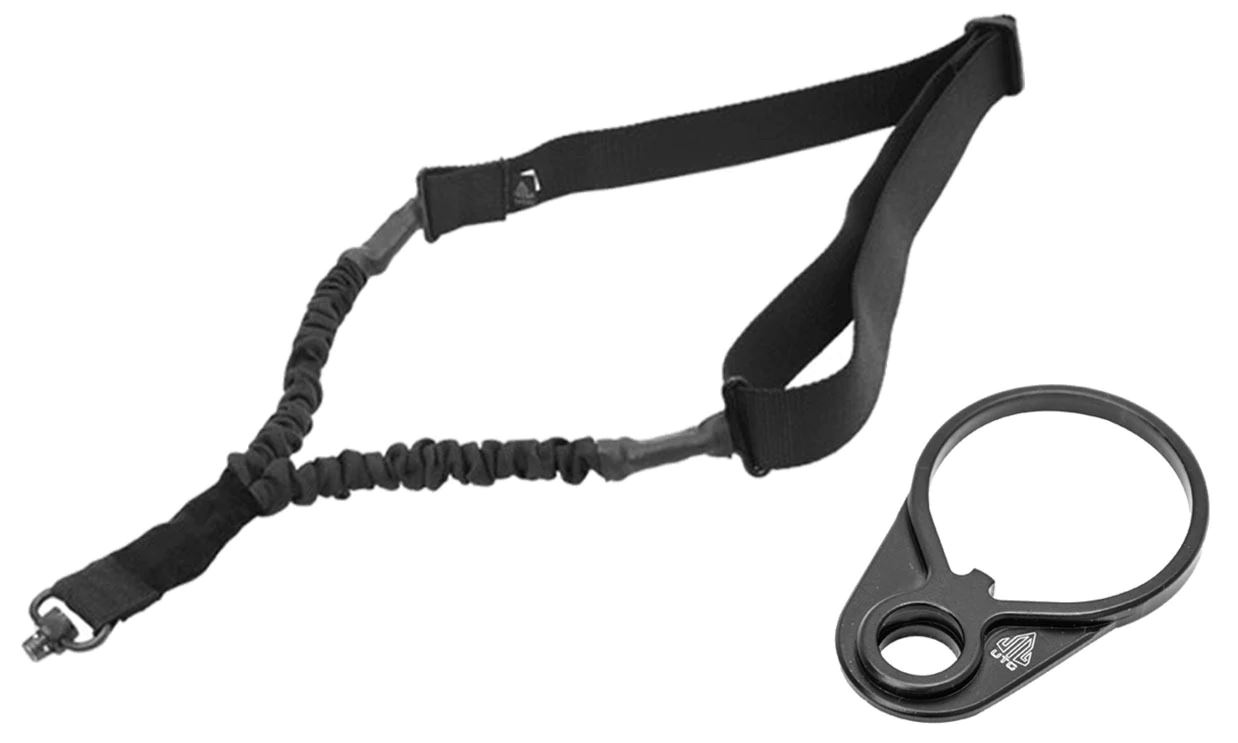 Unfortunately, many AR owners overlook one of the most important upgrades you should throw on your AR, perhaps before any other accessory: A good sling. It's simply awkward trying to maneuver with your rifle without one. Whether you're training, shooting at the range, or hunting, you need a way to keep your rifle or pistol on your person while keeping your hands free. Don't overlook this simple but critical upgrade.
The big question comes in what type of sling you'll choose. There are single-point slings, like the UTG Sling above, which are often touted as the best for "tactical" carry and range days. These slings often attach directly behind the receiver, where the buffer tube connects. This provides a good center of gravity when not holding your AR in your hands, and it allows for a quick transition to the high-ready. Two-point slings are great for hunters and long treks, allowing you to keep your AR slung behind your back without flopping around. Three-point slings are a bit more "technical" and complicated. They provide different carry positions and even offer stability while shooting in certain positions.
---
6. Oversized/Ambi Charge Handle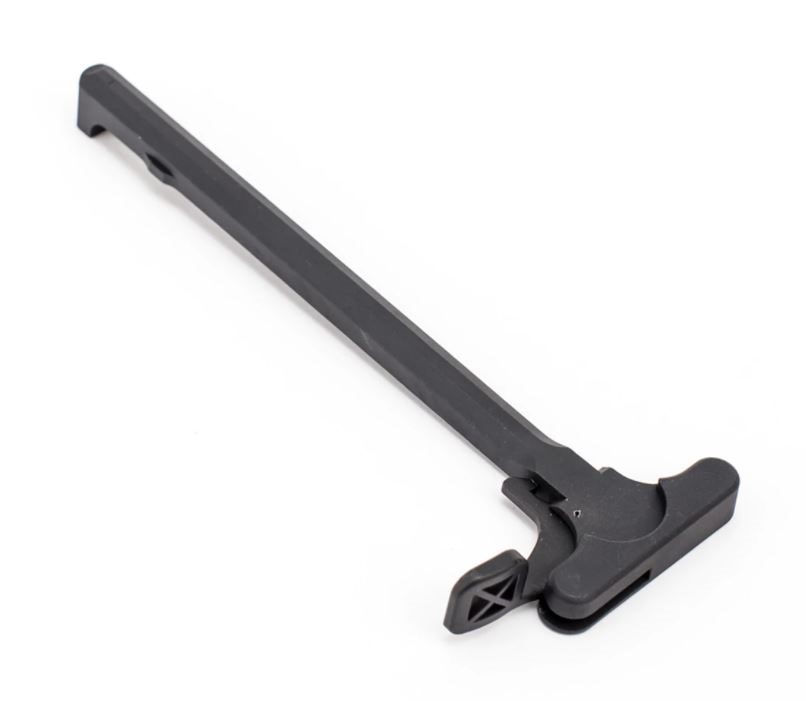 The carry handle on the AR-15 gets the job done, but it could be much easier to use with a simple upgrade. If you're a left-handed shooter, an ambidextrous charging handle makes cycling your weapon and performing reloads much easier. Even a simple oversized charge handle like the one above is more ergonomic. This is probably one of the most affordable upgrades you'll be able to find for your AR, and it takes about 10 seconds to swap out the original handle.
---
FAQ
Q: Are these parts compatible with all ARs?
A: Yes. The AR9, AR-15, and LR-308/AR-10 work with the parts we've listed here. Importantly, the .308 AR uses a larger barrel nut, so AR-15 handguards will not work.
Q: What do I need to install a drop-in trigger?
A: All you need is a punch set and small hammer. You can either reuse the trigger pins found in your receiver, or your drop-in trigger will come with new pins.
Q: Do drop-in triggers work with a 9mm and .308 lower?
A: Yes. Drop-in triggers are universal and work with any AR lower receiver.
Q: Are charging handles interchangeable, too?
A: Yes. Charging handles are universal for 9mm, 5.56/.223, and .308 receivers.
---
Recap
We've covered all the best upgrades you should consider for your AR:
Drop-in trigger
Free-float handguard
Angled foregrip
Back-up iron sights
One-, two-, or three-point sling
Oversized/ambidextrous charging handle
DISCLAIMER: If you are new to the world of DIY gun building, you likely have a lot of questions and rightfully so. It's an area that has a lot of questions that, without the correct answers, could have some serious implications. At 80-lower.com, we are by no means providing this content on our website to serve as legal advice or legal counsel. We encourage each and every builder to perform their own research around their respective State laws as well as educating themselves on the Federal laws. When performing your own research, please be sure that you are getting your information from a reliable source.
---