Posted by 80-Lower.com on Nov 22nd 2019
You're ready to become an at-home gunsmith! This project requirespicking up an 80% lower of some kind. This is the unfinished firearm receiver -- the ATF calls them receiver blanks -- that you must cut and drill at home to make it functional and ready for assembly. New to this? Learn what an 80% lower is here, first. This guide compares all available receiver blanks and 80% frames that you can currently buy and build. All AR receivers in this guide feature mil-spec fittings (a buffer tube diameter of 1.14" OD).
(Updated December 2020)
---
Types of 80% Lower Receivers
1. Forged AR-15 80 Lower (anodized/raw)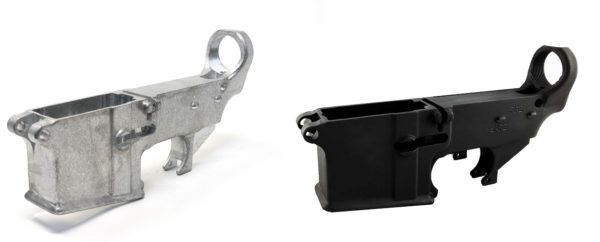 The forged 80% lower designed for the AR-15 (chambered in 5.56 NATO or .223 Remington) is the first-ever receiver blank to come to market years ago. It's made from 7075-T6 (mil-spec) aluminum. Starting at the $50 to $60 price point, it's the most affordable AR receiver blank that isn't made of polymer. The raw version is the cheaper of the two, allowing you to apply a custom coating once assembled. The anodized version is coated with a mil-spec, matte black anodized finish, so it'll match any retail AR-15 parts, upper, or built kit you pair it with.
Compatible with:
AR-15 chambered in 5.56/.223
AR-15 chambered in .300 Blackout
Can be converted to 9mm, .22 LR
Works with all retail AR-15 parts
Features & Specs:
Made of 7075-T6 forged aluminum (mil-spec)
Raw or type III hardcoat anodized finish
The most affordable metal 80% lower available
---
2. Billet AR-15 Lower (Anodized)
A step up in overall form and function, the billet AR-15 lower is the upgraded cousin to the forged 80% lower. Made from billet (6061-T6) aluminum, this unit is not forged but instead precisely machined to its final shape. It features an integrated trigger guard and unique threaded fittings: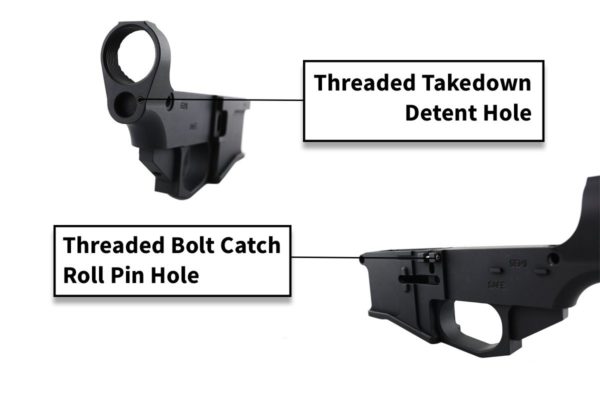 These threaded bolt catch and detent holes ditch the roll pins normally used in the lower parts kit. Roll pins can be difficult to install or remove, they require special punches, and they pose a high risk of damaging your receiver during the install. If you've assembled a lower receiver before, you know what we're talking about. For all this, the billet lower comes in around the $100 price point. This unit features a mil-spec anodized finish, too. No raw version is available.
Build compatibility:
AR-15 chambered in 5.56/.223
AR-15 chambered in .300 Blackout
Can be converted to 9mm, .22 LR
Works with all retail AR-15 parts
Features & Specs:
Made of 6061-T6 billet aluminum
Type III hardcoat anodized finish
Threaded fittings with integrated trigger guard
The easiest lower receiver to assemble
These complete rifle kits include a billet or forged 80% lower and all required parts (minus a jig).
See how to cut and drill an aluminum 80% lower receiver here.
---
3. Polymer AR-15 Lower (includes jig)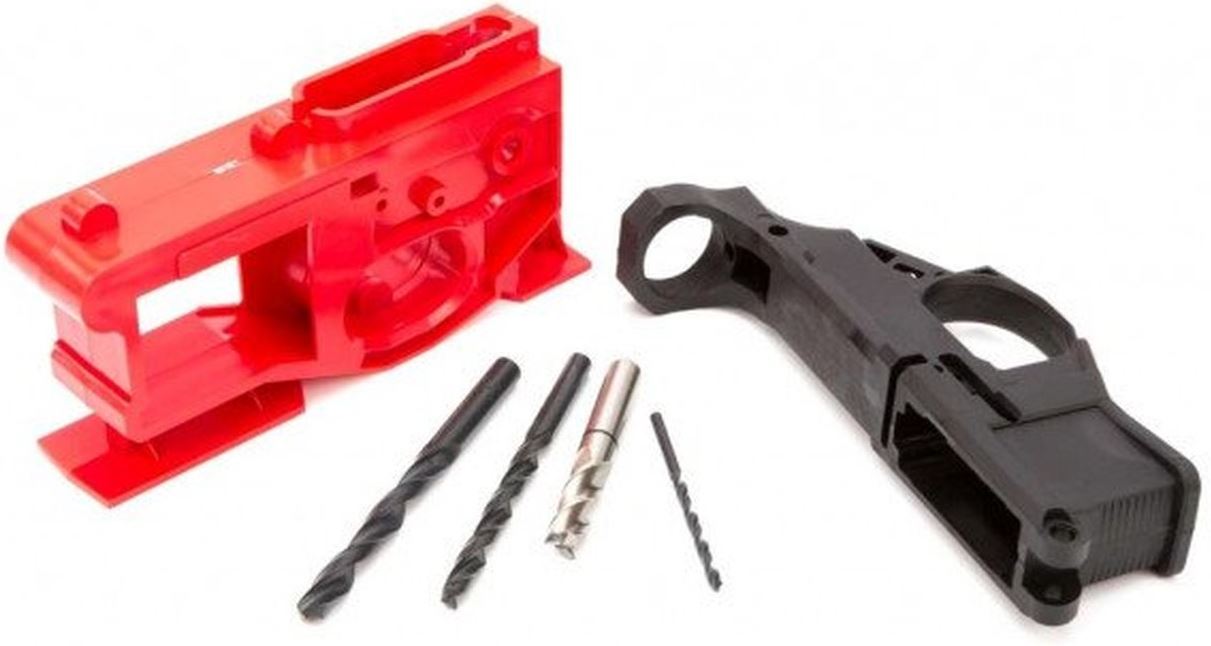 Polymer has played an important role in weapon development for decades. Some of the most popular rifles and pistols are made entirely from the stuff. Our friends over at Polymer80 took some weapons-grade polymer, reinforced it, and developed the first successful polymer 80% lower for the AR-15. These polymer units look and function just like a billet or forged receiver and they're compatible with the same retail parts and kits. Polymer receivers are popular among shooters who want to build an ultra-light AR that weighs as little as possible (this unit weighs 0.3 pounds compared to a forged or billet receiver weighing 0.6+ pounds).
BONUS: The polymer lower includes its own jig and drill bits, making this the most affordable option overall. The jig is also made of polymer and is disposable, so there's nothing to worry about if you accidentally rough it up a bit while working.
Build compatibility:
AR-15 chambered in 5.56/.223
AR-15 chambered in .300 Blackout
Can be converted to 9mm, .22 LR
Works with all retail AR-15 parts
Features & Specs:
Made of composite, solid-core nylon polymer
Easiest lower receiver to cut and drill by hand
Most affordable lower, includes its own jig
---
4. Billet and Polymer LR-308 ("AR-10") Lower

Some shooters prefer to build a larger rifle akin to the original ArmaLite AR-10 (chambered in .308) or the SR-25 from Knights Armament Company. We and our friends at Polymer80 brought to market billet and polymer 80% options for the .308 platform. The .308 lower is available in a billet (anodized or raw) or polymer configuration with the jig and appropriate bits included.
Compatibility (LR-308 vs. AR-10)
It's important to note that modern .308 ARs are not typically built on the ArmaLite or KAC platform. Instead, they're built off DPMS Panther Arms' LR-308 platform. Differences in the shape of the upper receivers, barrel nut threads, and other parts compatibility issues mean the LR-308 is not interchangeable with the AR-10/SR-25:
Build compatibility:
AR chambered in .308 Winchester
AR chambered in 6.5 Creedmoor
AR utilizing DPMS .308 components
Works with LR-308 lower parts kits
Does not work with AR-10/SR-25 parts
Features & Specifications:
Made of 6061-T6 billet aluminum
Raw or type III hardcoat anodized finish
Threaded fittings with integrated trigger guard
An affordable alternative to the AR-10, SR-25
View LR-308 rifle kits that include an 80% lower here.
---
5. Billet AR-9 80% Lower (Anodized)
Pistol-caliber carbines have become popular among the AR community. Until recently, shooters were stuck with taking an existing AR-15 chambered in 5.56 or .223, and modifying it to shoot pistol rounds (most commonly 9mm Parabellum) with something called a "conversion kit". That all went out the window with the introduction of the proprietary AR-9 80% lower. This receiver blank is essentially a redesigned AR-15 receiver that's been re-sized and shaped to accept 9mm Glock magazines (factory or aftermarket), any AR-9 upper, and the Hybrid G-9 bolt carrier group. It includes a 9mm ejector and is designed to work with standard AR-15 lower parts kits, triggers, and buffer assemblies.
Build compatibility:
AR-9 chambered in 9mm Parabellum
Works with Hybrid G-9 bolt carrier group
works with factory, aftermarket Glock magazines
Does not work with 9mm Colt SMG magazines
Works with retail AR-15 lower parts kits
Specifications:
A better alternative to box conversion
Made of 6061-T6 billet aluminum
Type III hardcoat anodized finish
Factory-installed 9mm ejector
Integrated trigger guard
These pre-configured pistol kits include an AR-9 lower and all compatible build parts.
Ready to build? Get started with the Ultimate AR-9 Pistol Guide.
---
Types of 80% Pistol Frames
Polymer 80% Pistol Frame (Glock®-Compatible)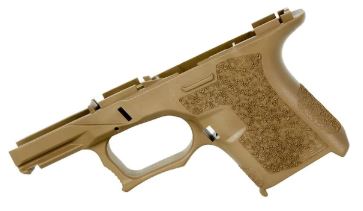 Weapons-grade polymer and Glock® handguns go hand-in-hand, so it only makes sense an 80% frame was developed for the Austrian gun maker's endless line of pistols by our friends and engineers at Polymer80. Just like the AR-15's stripped receiver, it's the empty frame of the Glock® that's considered the firearm itself by law. If you're at all familiar with Glock handguns, you already know there are a ton of different models (currently over 50), and the number grows yearly. Luckily, just a few polymer 80 frames can be used to build a handgun compatible with most models. Like polymer receivers, the pistol kits include the appropriate jig and bits for cutting and drilling the frame.
80% Frame & Glock® Compatibility
PF940v2 Frame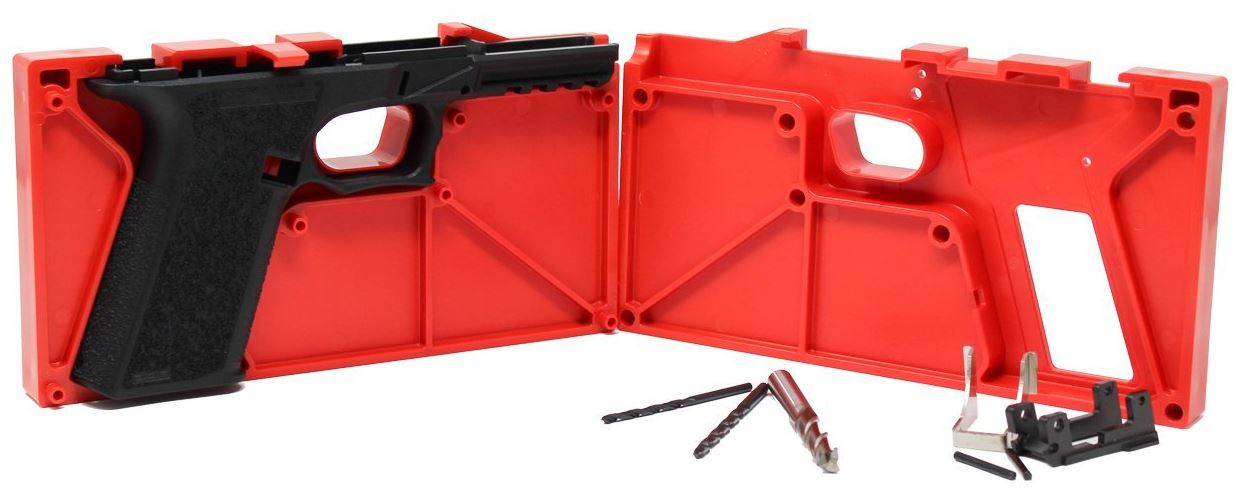 This is Polymer 80's standard pistol frame kit. It's designed to replicate a full-size Glock® like the Glock 17 or 22. It's compatible with the following 3-pin Glock® parts and models:
9mm: G17, 17L, and 34
.40 S&W: G22, 24, and 35
.357 Sig: G31
PF940C Frame

Polymer 80's compact pistol frame kit is designed to work with the compact Glock® 19 and 23 models, and it can also be chambered in either .40 S&W or 9mm by selecting the appropriate parts.
PF940SC Frame

The smallest of the three frame options, Polymer 80's subcompact pistol frame kit works with the Glock® 26 or 27, chambered in .40 S&W or 9mm.
View complete Polymer 80 pistol kits (frame and jig included) here.

This guide shows how to build a polymer 80 pistol.
---
80% 1911 Frame (raw/anodized)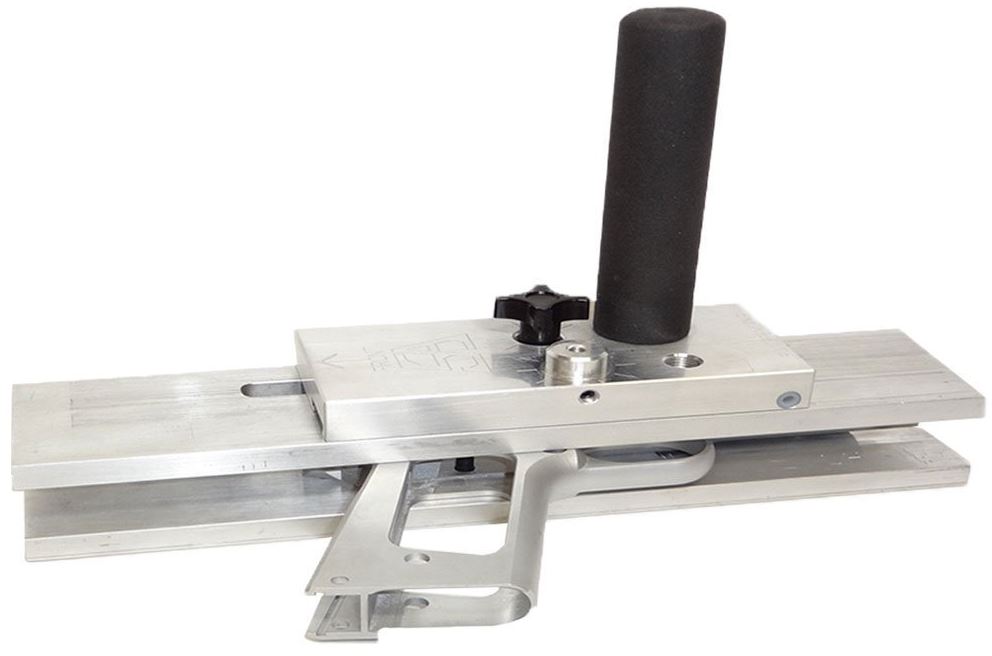 Engineers at Stealth Arms developed an aluminum 80% frame for the 1911's two most popular configurations, ditching the gun's original steel frame. This makes machining at home much easier and it reduces weight by more than 50%. The 1911 frame gets cut and drilled just like a polymer 80% frame. The Phantom jig (pictured above) used for completing the frame includes both the necessary bits and a bladed cutting car for cutting the slide rails and barrel seat. The jig isn't included with the frame by default (like polymer frame kits),so we bundled them together to keep things simple and convenient for build projects.
1911 Frame Types & Features
Government (5") 80% Frame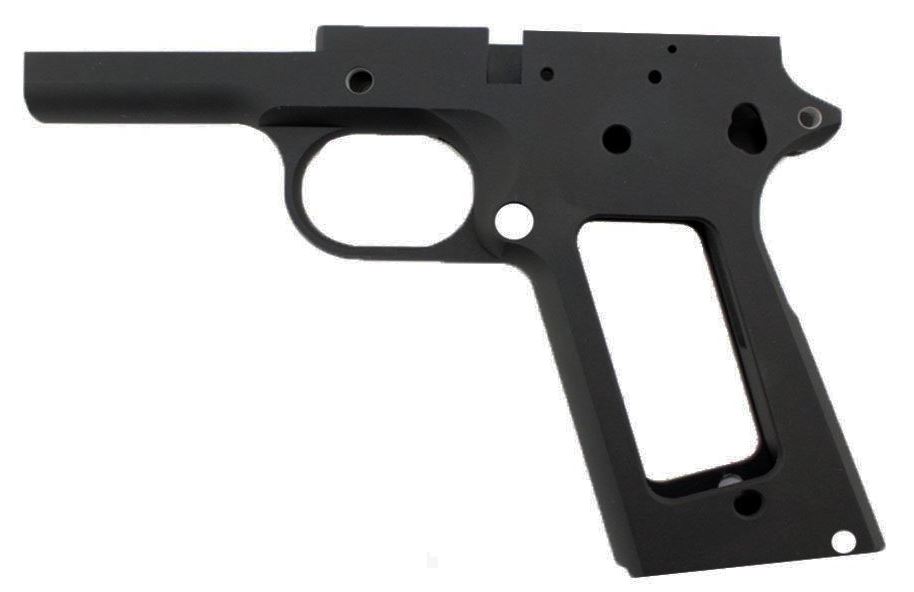 Stealth Arms'full-size (5") 1911 frame is designed to replicate the original M1911 Government's configuration. This kit is available with a frame chambered in 9mm or.45 ACP with arawor mil-specanodized finish. Builders can choose to pay a few extra bucks to pick up this frame with a standard Picatinny/MIL-STD-1913 rail for installing accessories under the barrel.
Commander (4.25") 80% Frame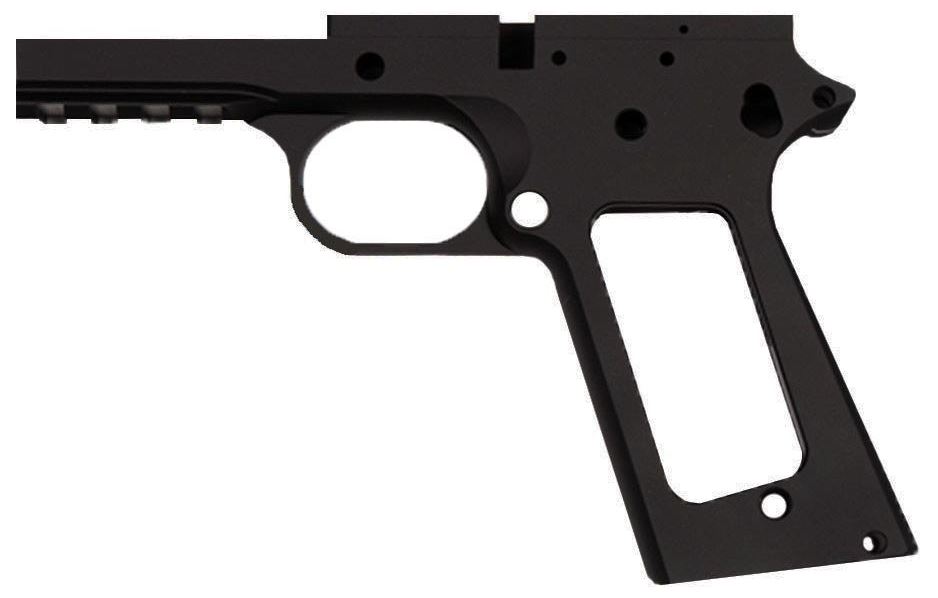 The compact (4.25") 1911 frame (chambered in 9mm) is designed to work with the shorter Commander variant. At first glance, these two frames appear to be the same.Commander frame rails and recoil spring guide abutmentare .100 +/- .007 shorter than a Government's frame rail. Commander slides also have different ejector clearance slots than Government models and relocated slide hold open notches.
View all complete 1911 pistol kits here (frame and jig included)
Read our instructions on how to build a 1911 at home.

---
Sig P320 80% Frame

Sig Sauer introduced the P320 modular handgun to replace its P250 DAO handgun. The P320 departs from Sig's usual one-at-a-time gun design and instead uses a universal "fire control unit", or FCU (a universal firearm frame), that allows owners to swap out the barrel and caliber, and overall size of the pistol. The 80% market took immediate advantage of this new fire control unit and put out a P320 "80% frame" version called the MUP1, shown above.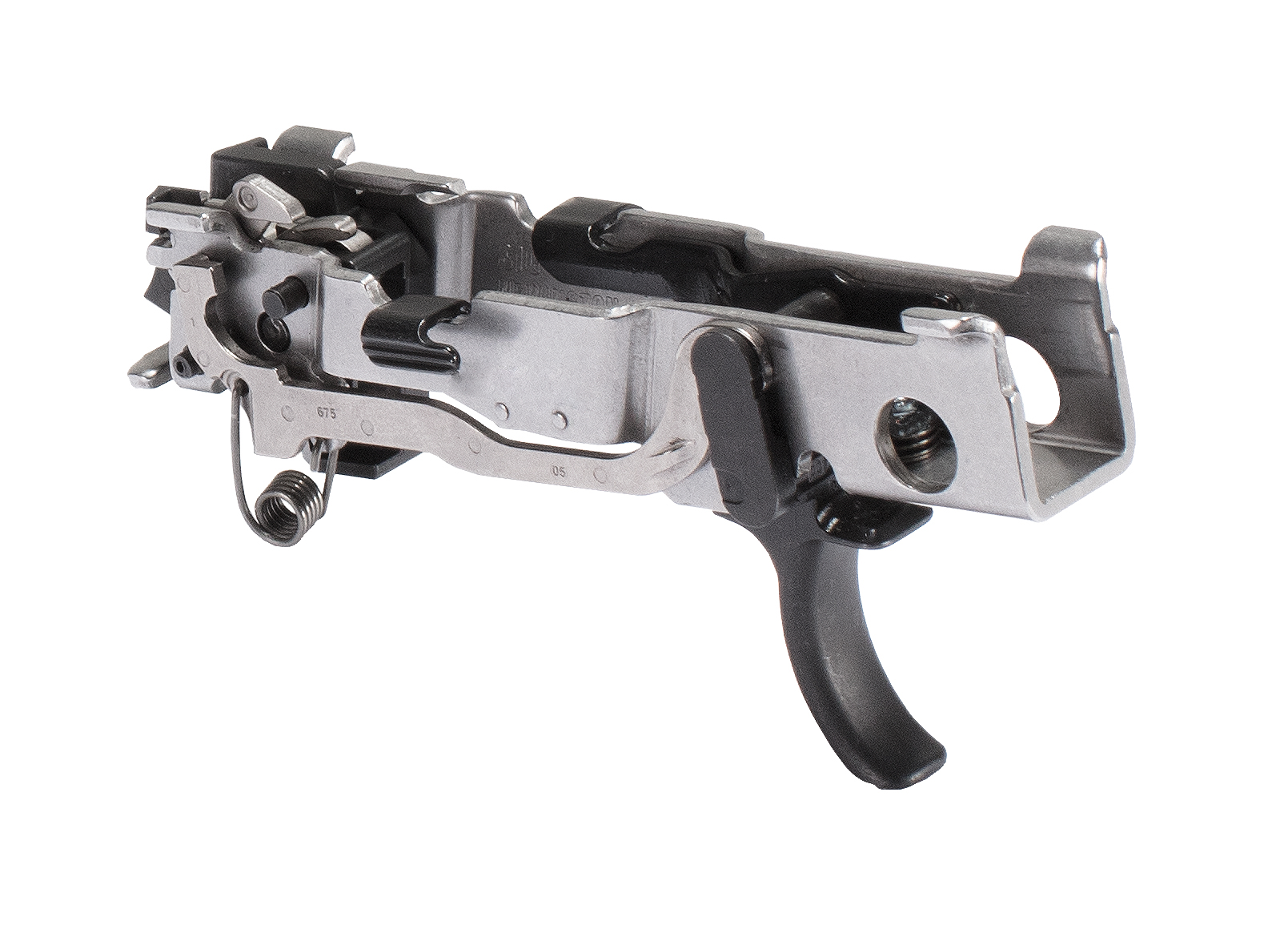 Like the stripped lower receiver for the AR-15, the FCU is the only part of the Sig P320 that's legally considered a firearm -- even though by itself, the FCU can't do anything an actual firearm can do. Completing the MUP1 and making it functional is barely different than any other 80% lower: Some metal tabs need to be bent at a certain angle to work the slide and action, and a few holes need to be drilled for the various internals and pins. A jig is provided with some drill bits to get the job done.
Once machined, the P320 FCU can be swapped out for four handgun profiles:
Full Size (4.7" barrel)
Carry (3.9" barrel)
Compact (3.9" barrel)
Subcompact (3.6" barrel)
The Compact is shorter (5.2") than the Carry (5.5"). There are also four calibers available:
9x19mm Parabellum
.357 SIG
.40 S&W
.45 ACP
Click to read the in-depth Sig P320 80% Build Guide.
---
DISCLAIMER: If you are new to the world of DIY gun building, you likely have a lot of questions and rightfully so. It's an area that has a lot of questions that, without the correct answers, could have some serious implications. At 80-lower.com, we are by no means providing this content on our website to serve as legal advice or legal counsel. We encourage each and every builder to perform their own research around their respective State laws as well as educating themselves on the Federal laws. When performing your own research, please be sure that you are getting your information from a reliable source.
---