Posted by 80-Lower.com on Jan 21st 2021
The AR platform can chamber dozens of calibers and be built in a plethora of configurations: Rifles, pistols, SBR's, pistol calibers, centerfire and rimfire rifle calibers, and more. But the biggest component of any AR build, the lower parts kit (and the 80% lower or stripped receiver it goes into), often presents some confusion to builders. This guide explains LPK compatibility, and answers some common questions.
Need to find the right 80% lower or frame? Read this guide, too.
---
Frequent Questions
Q: What, exactly, is the lower parts kit?
A: The lower parts kit, or LPK, is the collection of internal parts that install in the firearm component of the AR platform, the stripped lower receiver. The average LPK includes dozens of parts, but the main components include the:
Disconnector
Hammer
Trigger
Safety
Bolt catch
Front pivot pin
Magazine catch
Rear takedown pin
Sear (built into trigger)
Springs and retainer pins
Pistol grip (not always, though)
Most first-time AR builders choose to purchase a build kit, like these options here. A build kit comes with the upper receiver assembled, and an uninstalled LPK. You'll be the one to assemble the lower with the parts kit. That's because you need to first pick your choice of lower receiver (like an 80% lower) before building. We'll cover compatibility with lowers here, too.
Q: What is a buffer tube or buffer assembly?
A: The buffer assembly includes the aluminum buffer tube threaded to the rear of the lower receiver, which houses the recoil spring and weighted buffer for damping and returning the bolt carrier group into battery. It also plays host for your buttstock or pistol brace, if you're building an AR pistol.
Q: Do lower parts kits come with a buffer assembly?
A: Typically, they do not. Most LPKs only come with the parts that fit inside the lower receiver. However, some parts in the LPK are required for installing your buffer assembly. That includes the buffer retainer and its spring. Inversely, a buffer assembly is required to install the LPK. That's because the buffer tube's latch plate and castle nut (responsible for securing the tube to the receiver) are also responsible for securing the rear takedown pin's detent and spring.
Q: Do I need a pistol grip to install my LPK?
A: Yes. Like the buffer assembly, the pistol grip is required for completing the LPK install. The grip itself is responsible for securing the safety lever's detent and spring. If your choice of lower parts kit doesn't come with a grip, be sure to find one before attempting your installation.
Q: Are pistol grips universal for All ARs?
A: Yes. The mounting surfaces, threads, bolts, and grips themselves are universal across all AR platforms. That includes the AR9, AR-15, LR-308, and all caliber variants. Given most grips are made from polymer or rubber materials, some light sanding and fitting may be required to achieve a solid fit.
Q: How do I install the lower parts kit?
A: The installation typically requires one hour for first-time builders with basic hand tools (pliers, punches, a small punch hammer or hobby hammer, and masking tape).
---
Parts Kit and Lower Compatibility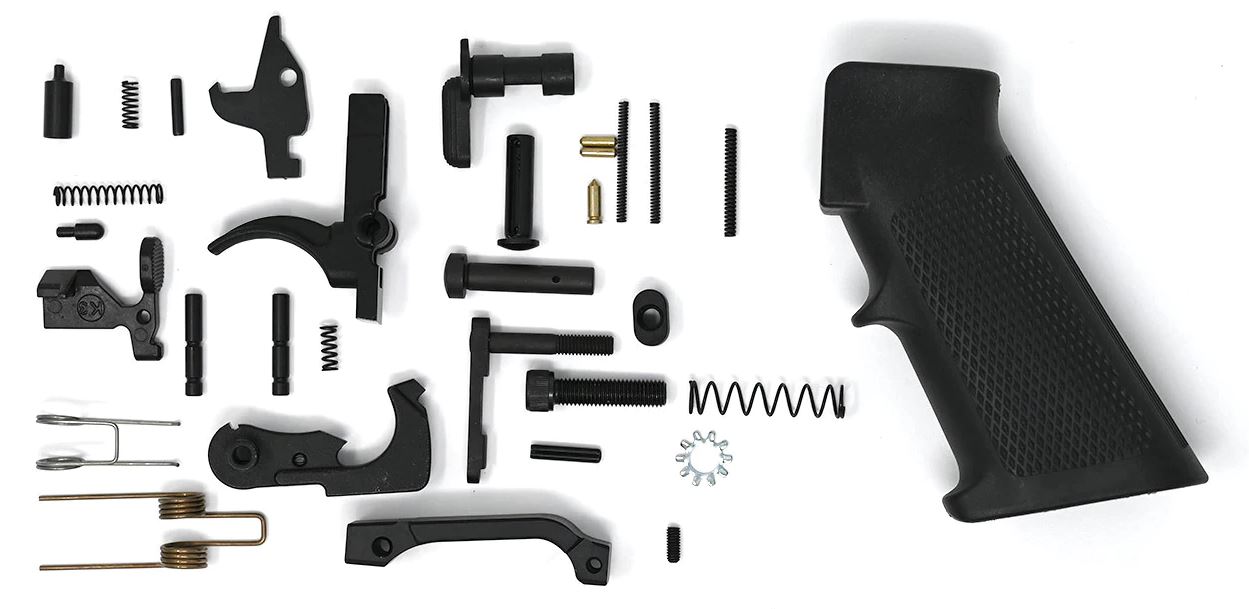 ---
AR9 (9mm) Lower & Parts Kits

The AR9 Lower uses a mil-spec AR-15 lower parts kit.
The AR9's an interesting platform, since it doesn't use a buffer or recoil spring. It relies on blow-back operation to drive its bolt, and it therefor uses a different type of ejector. This 9mm lower also uses Glock magazines, with its modified magazine catch/release shown installed temporarily. This 80% lower must first be milled before installing these components. The modified ejector and catch are included with our AR9 80% lowers.
Compatibility
Other than the modified ejector and magazine catch, the AR9 lower uses all the same components in the AR-15 lower parts kit. That includes the hammer, ejector, safety, disconnector, and all pin, springs, and retainers. Since the internals are the same, the AR9 lower can also accept most AR-15 lower parts accessories and upgrades, like a better pistol grip or drop-in AR-15 trigger.
---
AR-15 Lower Alternate Calibers & Parts Kits

Mil-spec (forged) and billet AR-15 Lowers chambered in other calibers still use a regular AR-15 LPK.
The AR-15 was originally chambered in just two cartridges: .223 Remington, and 5.56 NATO. But with decades of use and a meteoric rise in popularity, manufacturers have stuffed dozens of new calibers into the original lower and upper receiver assemblies. That includes, but is not limited to:
6.5 Grendel
300 Blackout
.204 Ruger
.224 Valkyrie
.22 LR
6.8 SPC
.350 Legend
.450 Bushmaster
.25-45 Sharps
All of these cartridges rely on the original AR-15 lower receiver and its mil-spec lower parts kit. Hammers, triggers, safeties, disconnectors, magazine and bolt catches, detents, and all springs and pins remain the same. To accommodate the lower's original dimensions, AR-15 magazines are modified with different followers and internals, but they still fit in the magazine well all the same. Modifying an AR-15 to chamber any of these cartridges involves swapping out the bolt (but typically not the carrier), barrel, buffer weight, and barrel extension.
Q: So, AR-15 kits in other calibers use an AR-15 parts kit?
A: Yes, and a parts kit with appropriate buffer system is included with our kits. You will still need to source a stripped lower receiver, either by fabricating your own 80% lower or buying a stripped lower. We obviously recommend the 80% route for its unique advantages.
---
AR-10 (LR-308) Lower & Parts Kit Compatibility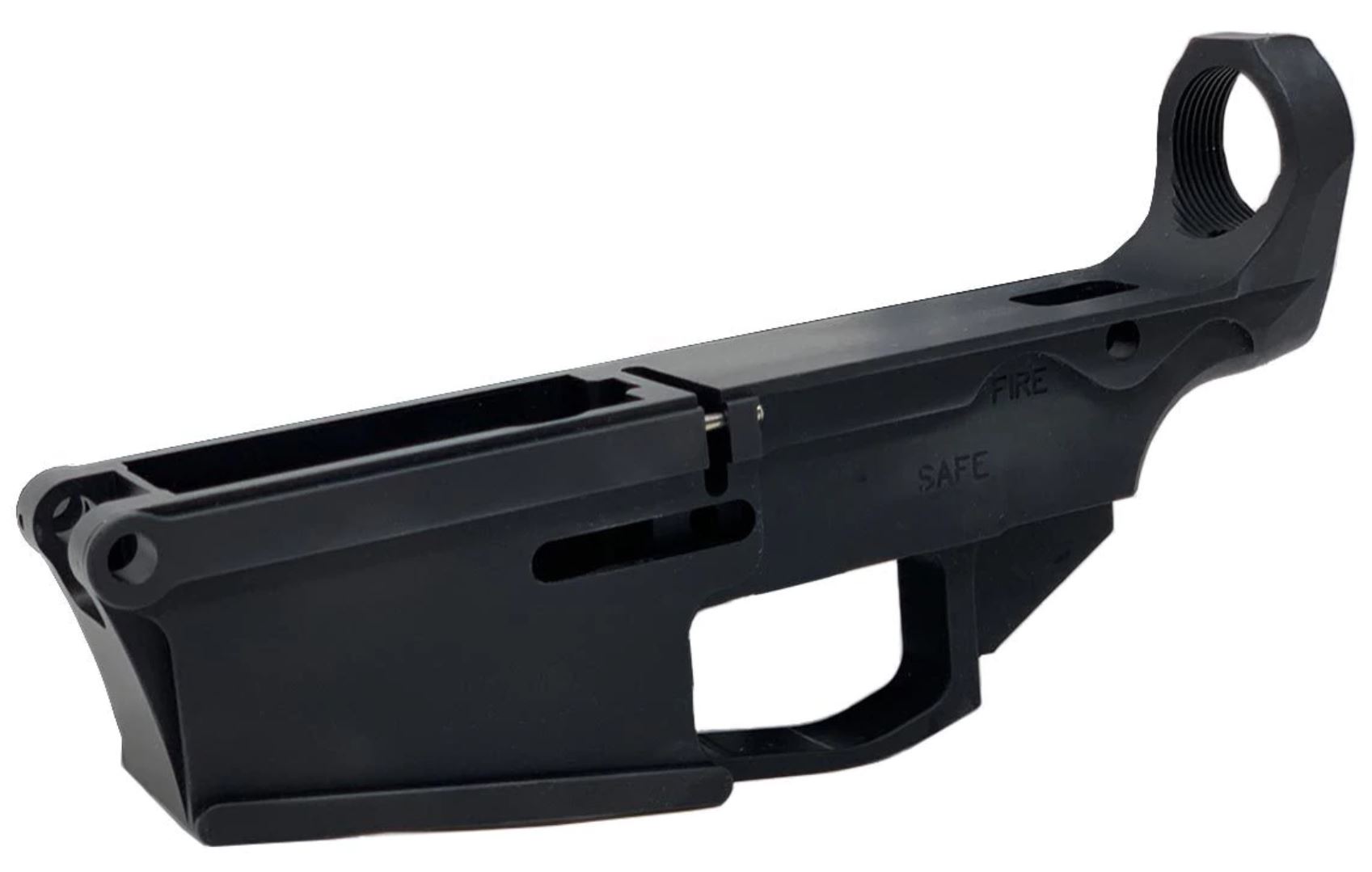 AR-10 / LR-308 lowers use an AR-15 lower parts kit, but with a different buffer assembly.
The big boy in the AR world, the AR-10 (officially called the LR-308 platform, invented by DPMS Panther Arms) is simply a larger version of the AR-15. It uses the same types of lower parts and performs the same, exact functions as any .223- or 5.56-based AR. Obviously, given its larger size, not all AR-15 parts will work on the .308 receiver. This guide covers what parts are shared between the AR-10 and AR-15, and which are incompatible.
Q: But I see kits advertised as ".308 parts kits"?
A: They are simply advertised as such to remove confusion, since it's not common knowledge that the .308 receiver uses the AR15 LPK. These parts kits are also paired with the correct buffer assembly, which includes a longer tube and heavier buffer weight. Recoil springs and buttstocks are shared between the two platforms.
Q: So an AR-15 drop-in trigger will work on a .308 AR?
A: Yes, and the trigger and hammer pins can also be reused (if new ones aren't prvoided) since they are the same diameter for both platforms.
Q: Does that mean I should use an AR-15 jig for my .308 80% lower?
A: No. Because the receiver is still physically larger than a .22-cal receiver, longer side plates and top plates are required for cutting and drilling this receiver.
---
Recap
The AR-15 lower parts kit is universal for all AR platforms and calibers.
The AR9 ditches the original bolt and uses a custom ejector and mag catch.
The LR-308 receiver uses the AR-15 kit, but with a larger buffer assembly.
Pistol grips and their bolts, washers, and mounts are also universal.
DISCLAIMER: If you are new to the world of DIY gun building, you likely have a lot of questions and rightfully so. It's an area that has a lot of questions that, without the correct answers, could have some serious implications. At 80-lower.com, we are by no means providing this content on our website to serve as legal advice or legal counsel. We encourage each and every builder to perform their own research around their respective State laws as well as educating themselves on the Federal laws. When performing your own research, please be sure that you are getting your information from a reliable source.
---