Posted by 80-Lower.com on Feb 5th 2020
Building an AR chambered in .308 is wildly popular, especially with the introduction of ready-to-fire uppers, 80% lowers chambered in .308, and complete build kits. But the original AR-10 has few to no aftermarket components for sale, prohibiting a custom build. This is not a concern with the introduction of the commercial LR-308 platform, designed by DPMS Firearms. This guide explains the differences between the AR-10, its cousin the SR-25, and the commercial LR-308 platform. We'll also explain what configuration's best for an all-around reliable and accurate rifle.
---
The AR-10 and SR-25 Rifle Platforms
Today, you can generally mix and match any AR-15 parts from any manufacturer to complete a rifle, SBR or pistol build: Uppers and lowers always fit together, parts kits mesh up with BCGs just fine, and every .223 or 5.56 NATO barrel and chamber are guaranteed to fit any receiver. The same goes for the gas systems. The same cannot be said for the AR-10 and its Knight's Armament Company counterpart (also designed by Stoner), the SR-25.
The AR-10 in a Nutshell
The ArmaLite AR-10 came before the AR-15. Eugene Stoner designed the .308 rifle in 1956 before scaling down its size and caliber (converting it to .223 Remington) in 1957 to develop the AR-15. Financial troubles forced ArmaLite to sell both designs to Colt, who then provided the smaller of the two to the U.S. Army. The military adopted the .223 rifle and designated it the M16. Colt also focused on making AR-15s in semiautomatic-only configurations for civilian sale, leaving the AR-10 on the backburner. When Colt's patent expired on the AR-15, the market exploded with new manufacturers. This is why the modern AR-15 is so universal in its design. But the AR-10's design remained produced in relatively small numbers by ArmaLite and later, Knight's Armament.
The SR-25 in a Nutshell
The SR-25 (Stoner Rifle-25) was produced specifically for NATO forces, chambered in proper 7.62x51mm NATO instead of .308 Winchester. The name was created simply by adding "SR-10" and "AR-15" together, denoting the rifle's similarities with the original AR-10 and AR-15 platform. Eugene Stoner designed the SR-25, having continued his work at Knight's Armament in the 1990s after ArmaLite's version of the AR-10 lost favor to the M14 rifle for military service. Stoner placed emphasis on magazine capacity and accuracy, developing a 20-round steel magazine and contracting Remington to develop its sub-MOA barrel assembly.
SOCOM took interest in the rifle for these two reasons, eventually adopting it for service in May of 2000, designated the Mk 11 Mod 0 (Navy and Marines) and the M110 (Army). The SR-25 saw service with special operations units for over a decade, before being replaced by the SSR Mk 20 from FN.
AR-10 and SR-25 Parts Compatibility
Because the AR-10's' design saw so many iterations -- and because the SR-25 emphasized interchangeability with the M-16 considerably more than the AR-10 -- attempting to describe parts compatibility between these two rifles is beyond the scope of this guide. With that said, most AR-10 and SR-25 parts are interchangeable.
---

The DPMS LR-308 Platform
To put it simply: If you're gunning for a .308 AR build, this is the platform you should stick to. DPMS Panther Arms ( Defense Procurement Manufacturing Services) was founded in 1985 as a precision machine shop tasked by the U.S. Military with manufacturing parts for the M203, M14, and M16 weapon platforms. As the company grew, the firm graduated to developing Colt-licensed 19112 and AR-15 parts for the general public. Eventually, DPMS introduced their own AR-15 platform.
As the company's popularity grew -- and having worked with Colt and seeing a gap in the .308 rifle market -- it worked to develop it's own take on the AR-10 in 2005. The company introduced the Panther LR-308 to wide critical acclaim. The rifle performed well enough to earn the NRA's "Golden Bullseye: Rifle of The Year" award. Popular firearms publication The Firearm Blog reviewed the LR-308's 24"-barreled configuration, citing great ability to maintain 0.5 MOA (1" groupings at 200 yards) out of the box, with as little as 1 MOA of accuracy at 400 to 800 yards.
---
LR-308 vs. AR-10 Platform
Parts Compatibility
The AR-10 and LR-308 share a number of smaller components. Larger components (like receivers) are incompatible because of physical differences in both rifles' dimensions and specifications, which we'll illustrate next.
The AR-10 and LR-308 share these components:
Upper Receiver
Forward Assist Assembly
Ejection Port Dust Cover
Gas Tube Roll Pin
Charging Handle
Gas Block
Barrel (w/ out extension)
Lower Receiver
Safety Selector Lever
Safety Spring & Detent
Trigger & spring
Hammer & spring
Disconnector & spring
Bolt Catch (roll pin incompatible)
Bolt Catch Spring & Plunger
Magazine Release Button
Pistol Grip, Screw & Washer
Takedown Spring and Detent
Pivot Spring and Detent
Trigger Guard & Pins
Buffer Retainer
Receiver End Plate
Castle Nut
These AR-10 and LR-308 parts are not compatible:
Upper Receiver
Lower Receiver
Buffer Tube (Receiver Extension)
Buffer & Recoil Spring
Handguard/Rail
Barrel Extension
Barrel Nut
Gas Tube
Bolt Carrier Group
Magazine Catch
Bolt Catch Roll Pin
---
Upper and Lower Receiver Incompatibility
The AR-10 and SR-25 upper and lower receivers are shaped with an acute, relatively straight angle in front of the buffer tube housing and behind the rear takedown pin. The LR-308's upper receiver uses a rounded profile. This prevents an AR-10 and LR-308 lower from being mated together, and vice versa: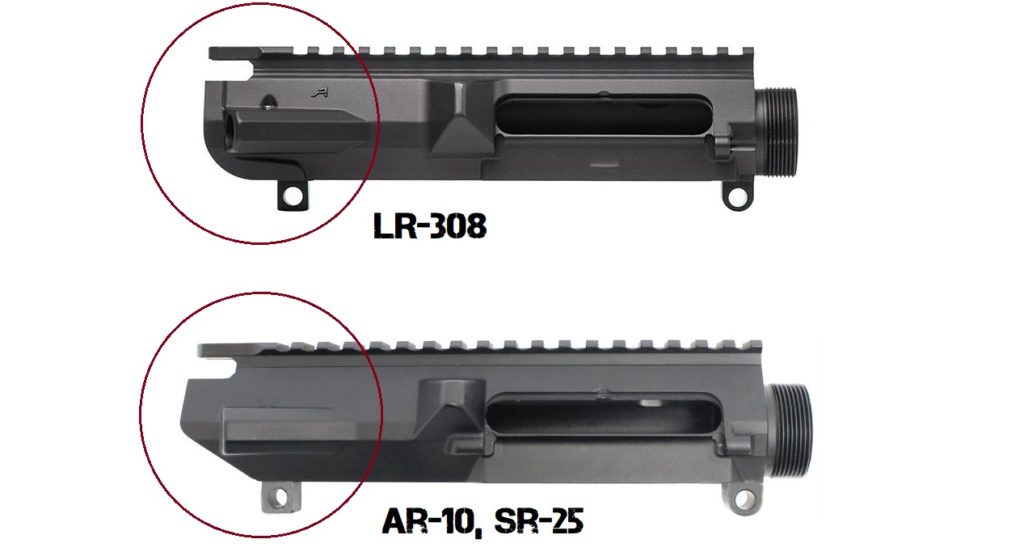 ---
Bolt Carrier Incompatibility
Although both BCGs appear similar, the AR-10's bolt is different from the LR-308's BCG in measured headspace by approximately 0.004" to 0.006". This difference in headspace would cause a failure to lock when a round is seated or case separation when fired if either bolt is utilized in the opposing platform. Pictured at top is the AR-10 BCG. Middle is the LR-308 unit. Pictured at the bottom is an AR-15 bolt carrier for reference.
---
Gas Tube Incompatibility
The DPMS gas tube measures 15.125" while the AR-10 gas tube measures 15.5".
---
Buffer & Tube Setup
The AR-10, SR-25, LR-308, and AR-15 all use the same buffer tube threads and diameters. This means the buffer tube itself is interchangeable between all four platforms. However, because of differences in the bolt carrier groups, the LR-308 and AR-10 platforms must both use a specific combination of tube length and buffer length to work reliably. There are five buffers that can be used in the LR-308 platform.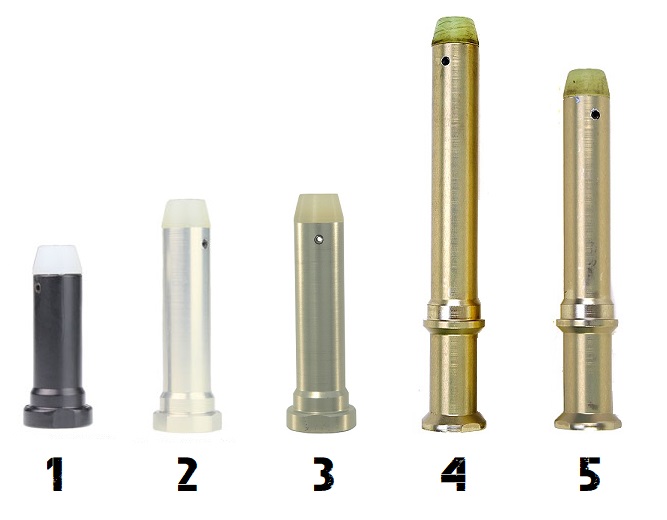 DPMS .308 "shorty" buffer
ArmaLite carbine buffer (identical to #3 but heavier)
AR-15 carbine buffer
AR-15 rifle buffer
ArmaLite rifle buffer
Depending on which buffer length you choose, you'll need to pair it with one of the following tubes:
Carbine / AR-15 (7.125")
.308 / AR-10 (7.9375")
M16 A2 / Rifle (9.625)
The following rules apply to all .308 platforms, regardless of manufacturer:
If you want to use a DPMS "shorty" buffer, you'll need a standard (carbine) AR-15 buffer tube.
For the AR-15 carbine or ArmaLite carbine buffer, you'll need an AR-10 medium-length tube.
If you wish to use an AR-15 rifle or ArmaLite AR-10 rifle buffer, you'll need a rifle-length tube and A2 stock.
---
Total Cost
Perhaps the greatest immediate benefit in choosing the DPMS .308 platform over the AR-10 (and even more so, the SR-25) is total cost of investment.
A "retail" LR-308 rifle (24" SS barrel) starts at approximately $700.
A "retail" ArmaLite AR-10 (20" SS barrel) starts at approximately $1,700.
You're probably here because you prefer to build your rifle, rather than buy at the gun store. The other major benefit of the DPMS platform is its wide availability of individual parts, build kits, uppers, barrels, and receivers. This availability and volume reduces overall average cost of individual components. Because numerous manufacturers produce parts for the DPMS platform, competition also drives cost down.
If you prefer to own a real SR-25, expect to pay at least $3,500 for a preowned model, up to at least $5,000 for a new unit. Military-issued or configured systems like the Mk 11 or M110 start at approximately $9,000, well into five digits.
---
Accuracy Compared
The DPMS platform performs just as well as an AR-10 or SR-25, and in some cases, it may actually outperform the latter. We'll keep this short and sweet since other publications have taken both rifles to task on accuracy. Both rifles were configured similarly, with 20" factory barrels sporting 1:10 twist rates. Ammo used also similar: The AR-10 shot 165-grain while the DPMS handled 168-grain. The DPMS rifle used for review had two advantages, including a 3-lb. match trigger and muzzle brake. The AR-10 maintained a stock trigger (4-lb. pull) and A2 flash hider.
At 200 yards, the LR-308 grouped approximately 1.0", or 0.5 MOA (Courtesy of The Firearm Blog)
At 100 yards, the AR-10 grouped approximately 1.5", or 1.5 MOA (Courtesy of Guns America Digest)
Even accounting for minor advantages with an upgraded trigger and recoil-reducing muzzle brake, it's clear the LR-308 performs as well as (if not better than) the ArmaLite AR-10 with a matching barrel and twist rate.
---
Summary
For the black rifle builder who wants a custom .308 rifle, the LR-308 platform by DPMS is a great alternative to simply purchasing an AR-10. Its comparable performance and accuracy, coupled with wider parts availability, makes it a top choice for doing a "from-scratch" build. If you're ready to consider your own build, be sure to check out the available build kits.
DISCLAIMER: If you are new to the world of DIY gun building, you likely have a lot of questions and rightfully so. It's an area that has a lot of questions that, without the correct answers, could have some serious implications. At 80-lower.com, we are by no means providing this content on our website to serve as legal advice or legal counsel. We encourage each and every builder to perform their own research around their respective State laws as well as educating themselves on the Federal laws. When performing your own research, please be sure that you are getting your information from a reliable source.
---