Posted by 80-Lower.com on Nov 17th 2022
The GLOCK® and 1911 handguns are perhaps two of the most popular firearms in America. It's no surprise 80% frames have been made for custom builds. This guide compares frame blank compatibility with handgun models, calibers, and parts.
All P80 Frames Are "Gen 3"
The Polymer80 line of frames are compatible with Gen 3 GLOCK® parts. Some Gen 4 and newer GLOCK® parts are not compatible with 80% frames.
These Gen 4+ parts are incompatible with Gen 3/P80:
Slide
Frame
Recoil spring
Trigger housing
Magazine release button
These Gen 4+ parts are compatible with Gen 3/P80:
Trigger bar
Connector
Ejector
Magazine
---
Types of 80% Pistol Frames
There are five GLOCK® 80% frames available: The PF940C, PF9SS, PF940V2, PF45, and the PF940SC. These are developed by Polymer80.
There are two variants of the aluminum 1911 80% frame: .45 ACP (Full-Size / 5"), and 9mm (Full-Size / 5"). These are developed by Stealth Arms.
Polymer80 PF940C Frame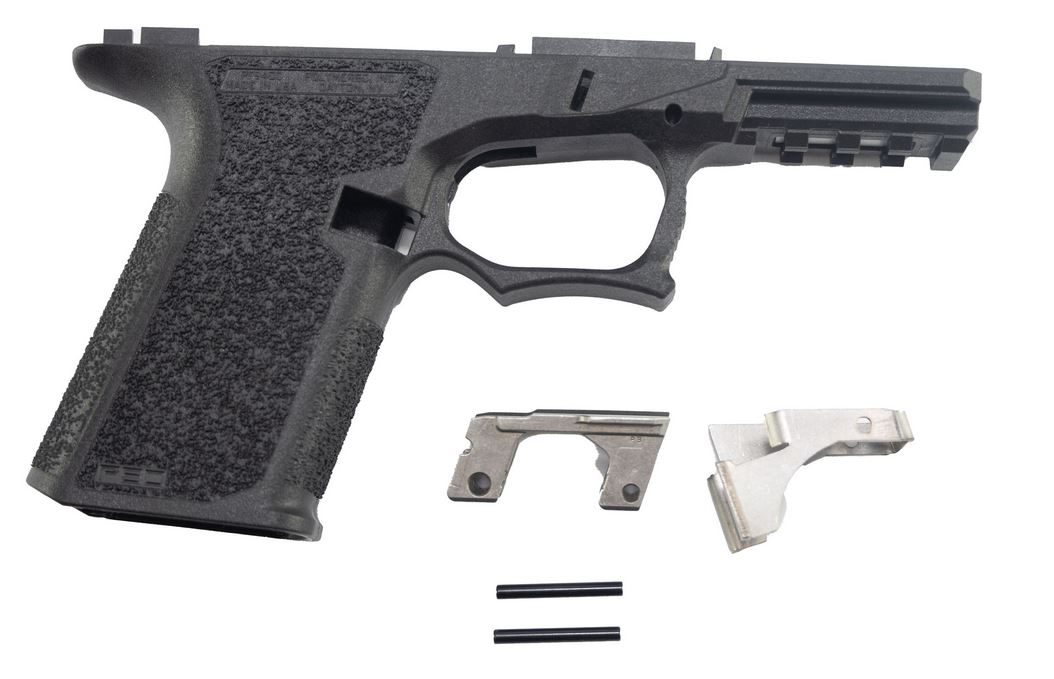 The PF940C is the most popular Polymer80 frame available today. It's used to build a handgun like the GLOCK® 19 (9mm), G23 (.40 S&W) and G32 (.357 SIG).
Frame & Parts Compatibility
---
Polymer80 PF9SS Frame
The PF9SS 80% frame is a compact 9mm frame, designed to work with the Glock® 43 (9mm) platform only.
Frame & Parts Compatibility
---
Polymer80 PF940V2 Frame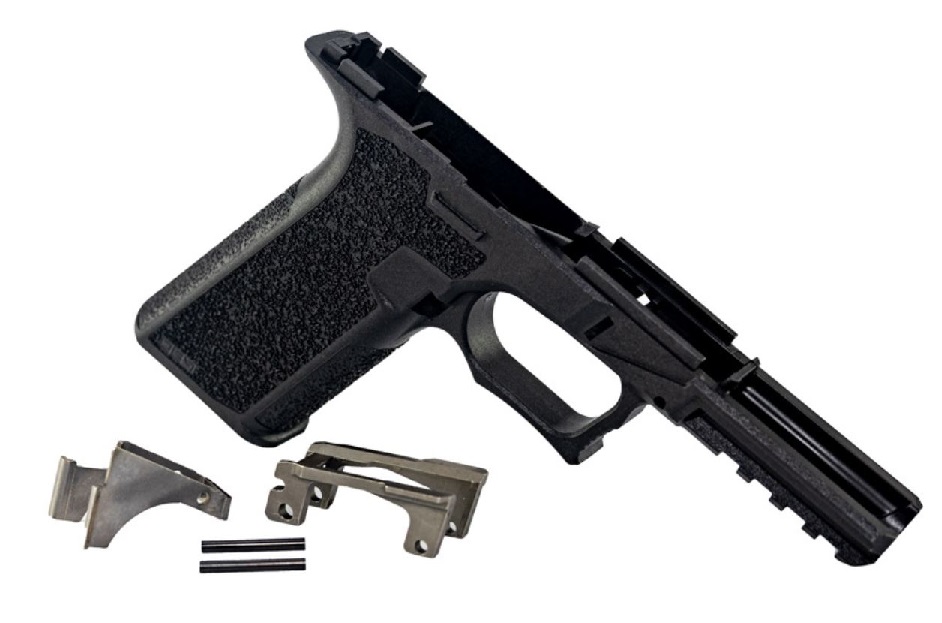 The PF940V2 frame is Polymer80's most widely compatible option. It is designed to work with the GLOCK® 17 and G17L (9mm), G22 and G24 (.40 S&W), G31 (.357 SIG), G34 (9mm) and G35 (.40 S&W) handguns.
Frame & Parts Compatibility
---
Polymer80 PF45 Frame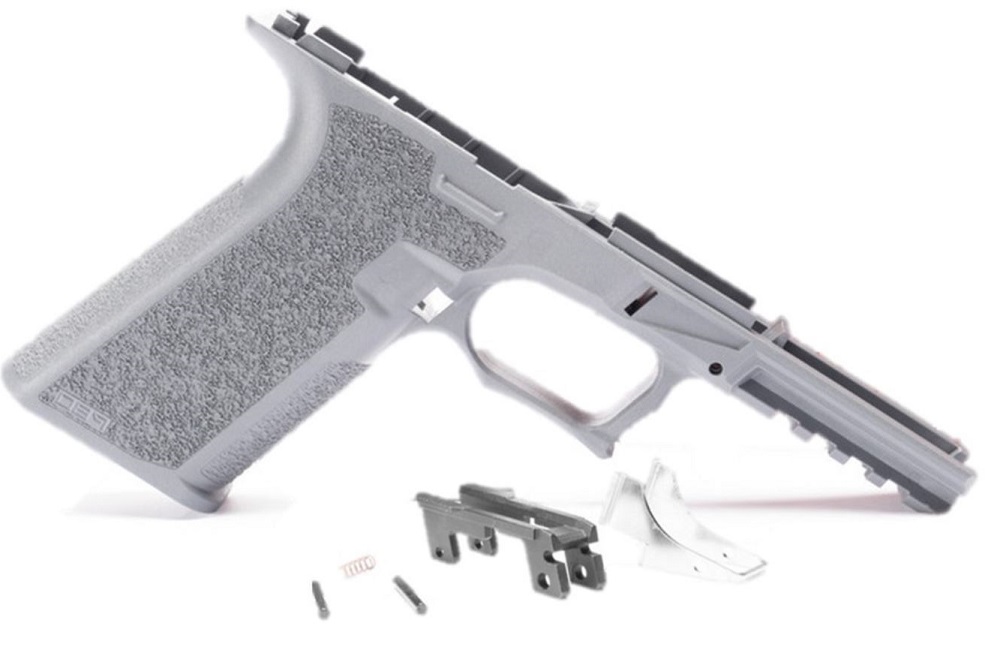 The PF45 is one of Polymer80's largest caliber frames. It's designed to work with the GLOCK® 20 (10mm Auto) and G21SF, also called the "G21 Short Frame" (.45 ACP).
Frame & Parts Compatibility
The PF45 is not compatible with standard G21 parts.
The PF45 is compatible with G20 and G21SF parts (sold elsewhere).
---
Polymer80 PF940SC Frame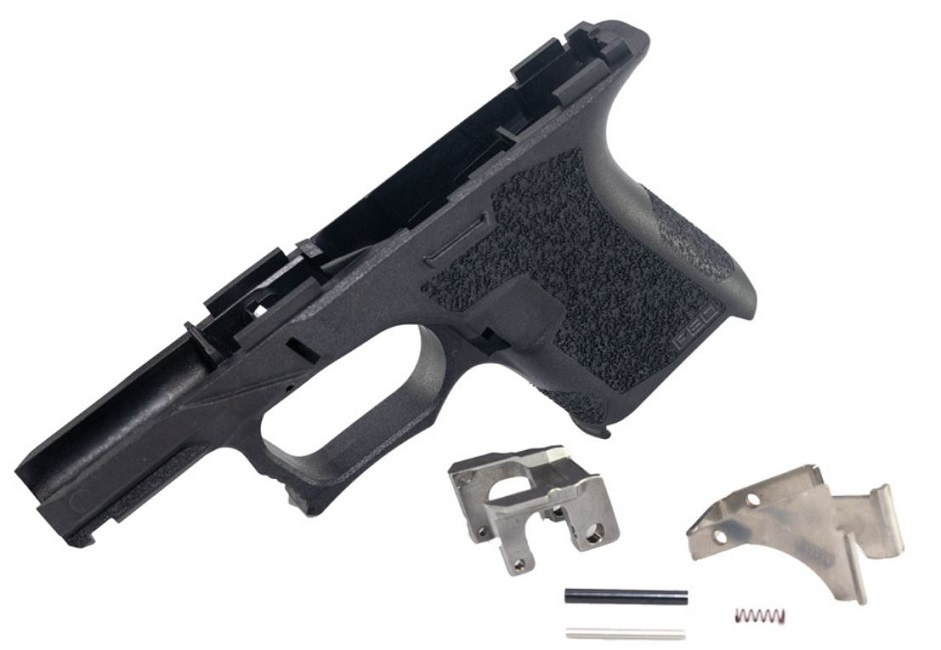 The PF940SC is designed to work with the GLOCK® 26 (9mm) and G27 (.40 S&W) platforms.
Frame & Parts Compatibility
Grab a P80 Build Kit For Your Frame
---
80% 1911 Frame
Stealth Arms' 1911 80% frame are made from aluminum instead of steel, providing easier fabrication before assembly.
Frame Options
The full-size (5") 80% 1911 frame is designed to replicate the original M1911 Government frame. Stealth Arms frames are available with a raw finish or black hardcoat anodizing. Each frame is available with or without an under-barrel Picatinny rail.
Features & Specs:
Forged and machined from 7075-T6 aluminum.
Accepts standard steel 1911 magazines.
---
P320 80% Frame

Sig Sauer introduced the P320 modular handgun to replace its P250 DAO handgun. The P320 departs from Sig's usual designs and uses a universal "fire control unit", or FCU. The modular FCU is considered the firearm-by-legal-definition. All other P320 parts are unregulated.
This allows owners to easily swap the barrel, slide, magazine, caliber, and even size of the pistol. The 80% version of this new fire control unit is compatible with all factory and aftermarket P320 parts.
The P320 FCU can be swapped out for four sizes/profiles:
Full Size (4.7" barrel)
Carry (3.9" barrel)
Compact (3.9" barrel)
Subcompact (3.6" barrel)
Although they share the same barrel, the Compact P320 is shorter (5.2") than the Carry version (5.5").
The P320 accepts four calibers:
9mm
.357 SIG
.40 S&W
.45 ACP
Read the P320 Grip & Size Guide to learn more.
DISCLAIMER: If you are new to the world of DIY gun building, you likely have a lot of questions and rightfully so. It's an area that has a lot of questions that, without the correct answers, could have some serious implications. At 80-lower.com, we are by no means providing this content on our website to serve as legal advice or legal counsel. We encourage each and every builder to perform their own research around their respective State laws as well as educating themselves on the Federal laws. When performing your own research, please be sure that you are getting your information from a reliable source.
---