Posted by 80-Lower.com on Jul 20th 2021
A sling makes carrying your AR-15 easier. It allows for quickly switching from your rifle to a sidearm, too. But most of all, a good sling is a valuable shooting aid. It improves accuracy and stability without a bench or shooting rest. With the right sling, you'll nail shot placement and reduce felt recoil and muzzle rise. This guide breaks down the AR's sling mounts, materials, features to consider, types of slings, and how to use one while carrying and shooting. This writer's recommendations are based on range time and backwoods stints, and eight years humping around various rifles in uniform.
---
Types of Sling Mounts

Folks call these things studs, swivels, QD mounts, attachments, and hooks. They're all the same thing: Sling mounts. Sling mounts are either fixed or swivel. They install as a fixed (permanent or requiring tools to remove) or quick-detach mount.
---
Fixed vs. Swivel Mounts
Standard vs. Quick-Detach (QD) Mounts

Quick-detach mounts typically use a small button and four ball bearings to connect and disconnect. This uses the same principle as as sockets and a ratchet wrench. Standard sling mounts will typically use pins or direct-to-rail fasteners made for the rail type (Picatinny, M-Lok, or Keymod).
---
HK Snap Hook
The most universal sling mount (some argue it's the best) is the HK Snap Hook. It'll snap onto any loop or fastener that's wide enough. It works like a carabiner, with a spring-loaded snap guard that prevents the hook from coming loose. The hook can be used on anything from an AR's FSB to a buttstock, most types of sling mounts, and most latch plates. It offers swivel movement and works with any nylon sling. The HK hook is this writer's sling mount of choice.
---
Sling Materials
Sling material matters just as much as the number of attachments and the sling's design. Some materials have stretch while others are semi-rigid. Each material provides advantages and disadvantages.
---
Ballistic Nylon
Nylon is the most common material you'll find on a modern sling, especially if it's made for an AR-15. Nylon is a favorite because it has zero stretch or give. If you're trying to size up your sling just right for rock-solid support while shooting, nylon is a great choice. Because it's a thin and cloth-like material, nylon provides the most pliable and lightest sling. It's one of the strongest materials and it's affordable. A small strip of nylon is capable of holding hundreds of pounds without fraying or tearing. Because of its strength and tight weave, a nylon sling makes a great back-up tourniquet.
---
Leather

Leather is the original material used for making rifle slings. Leather provides the most padding and surface area, and it's favored among shooters handling larger calibers. Although typically not as finely adjustable as nylon, leather slings provide the most support when shooting. You'll find leather slings on AR-type rifles but they're mostly used on bolt guns, bench rifles, and for hunting.
---
Neoprene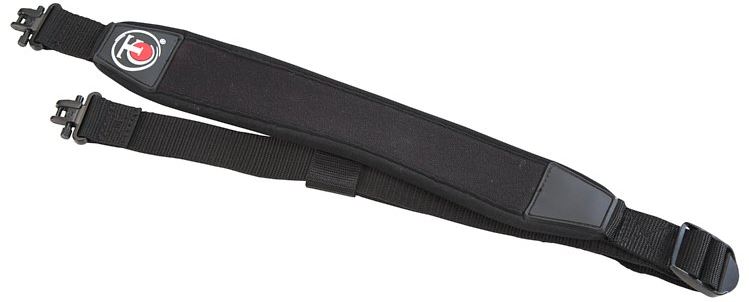 Neoprene is never used as the only material in a sling. You'll find this material used in leather and nylon to provide added padding, comfort, and stretch. Neoprene's elasticity can help add tension and stability to a sling hold while shooting and it does a great job of damping your rifle while walking and traveling.
---
Braided Paracord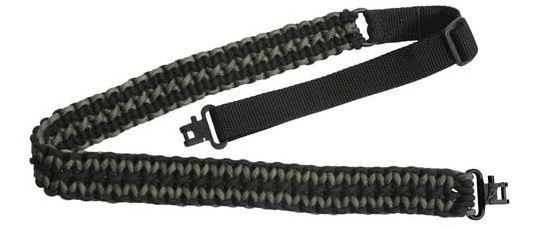 Paracord has made its way into the sling world, made popular in recent years by its entrance to the prepper and survivalism community. Paracord is normally used as the rigging and lines for U.S Military airborne units' parachutes. This braided fabric is one of the strongest types of nylon. A single strand is capable of holding up to 1,000 pounds of static weight. These braided slings are favorites among woodsmen and preppers because when unraveled, they provide a few hundred feet of Paracord. This can be incredibly useful in an emergency for fastening traps, fishing, storing food, and creating an improvised shelter.
---
Types of Slings & Holds
The type of sling you pick will determine how you carry your rifle and how you create sling holds for improving sight picture and shot placement. There are five widely used types of rifle slings.
Single-Point Sling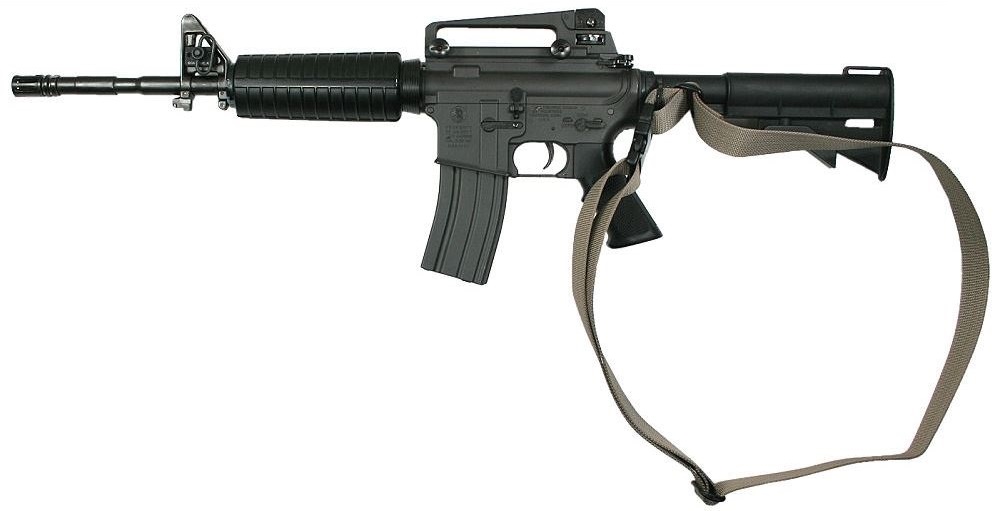 The single-point sling is the simplest of the bunch. It's the most universal and works with practically any rifle, SBR, or pistol and it sizes up for any shooter, large or small, without issue. It's the most affordable thanks to its design. This sling loops over the shoulder of your shooting arm, and under the armpit of the supporting arm.
Pros
Since it attaches at just one point on the rifle, usually near the buffer tube housing, the single-point sling isn't affected by the length of your AR's adjustable buttstock. Sized up correctly, this sling keeps your rifle hanging right by your shooting shoulder so it's easy to go from hands free to the high-ready in a hurry. It doesn't attach near the handguard or muzzle, so it can't get tangled up or caught on any accessories, like a bipod or tactical light. The single-point sling is the easiest to use and offers the most freedom of movement, making it a favorite among AR owners.
Cons
The single-point sling can't act like a good shooting aid. It won't improve stability and it doesn't do much for helping accuracy. If you don't have a hand holding your rifle, the single-point sling will allow your rifle to move freely. That can get annoying or painful.
---
Two-Point Sling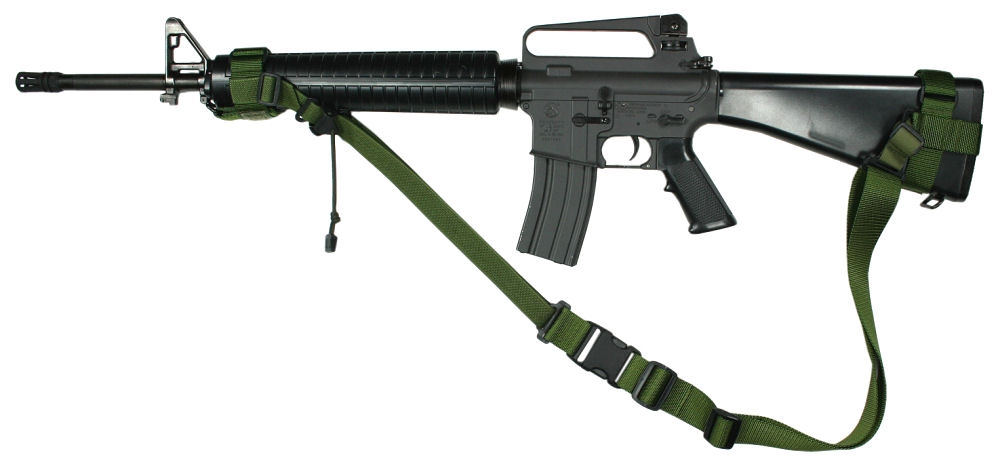 The two-point sling is the original rifle sling first used by the world's first marksmen. The 2-point sling provides various easy methods for carrying your rifle. It's also the most versatile when used as a shooting aid.
Two-point sling carry styles
American Carry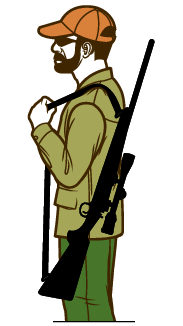 The American Carry's been made famous by so many wartime films. This carry requires slinging the rifle behind the nonfiring shoulder, with the muzzle up.
Pros: The American Carry is the most comfortable. It keeps the rifle secure and is convenient for long-distance travel on foot, and the non-firing hand can act as a lazy anchor without tiring.
Cons: The American Carry provides the slowest response time when transitioning to a firing position. It isn't ideal for tactical situations.
European Carry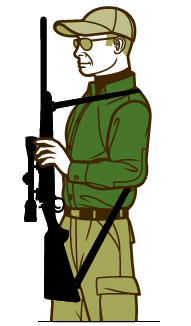 Slung over the front of the shoulder with the muzzle up, the European Carry is an "old-school tactical" carry. This method uses the sling to create tension and stability between the rifle and shooter.
Pros: It allows for a relatively quick transition to the high-ready shooting position and the shooter maintains better positive control of the rifle.
Cons: The European Carry is the least comfortable and requires more engagement from the non-firing hand. This carry can also be awkward for semiautomatic rifles with box magazines, since the bottom of the receiver faces the shooter.
African Carry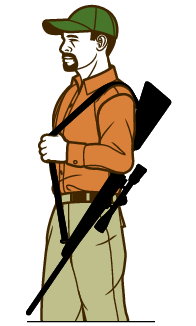 With the rifle slung over the back of the shoulder, muzzle down, the African Carry is designed to provide the quickest transition into a shooting stance from a carrying position.
Pros: The African Carry is the best tactical carry method with a two-point sling. It a quick, intuitive, and easily repeatable transition from the shoulder to the high-reading shooting position.
Cons: This method requires carrying the rifle with the muzzle facing the dirt. This could cause your muzzle to clog if you're not aware of it while crouching or kneeling.
Improvised Hasty Sling
Also called the USGI Sling or Loop Sling, the Hasty Sling is made by detaching the rearward point of the sling from the rifle's buttstock and loosening the length-adjusting buckle to fit the supporting arm through. The Hasty Sling is demonstrated below:
This provides tension against the muzzle end of the rifle, improving stability and shot placement when standing or crouched.
---
Three-Point Sling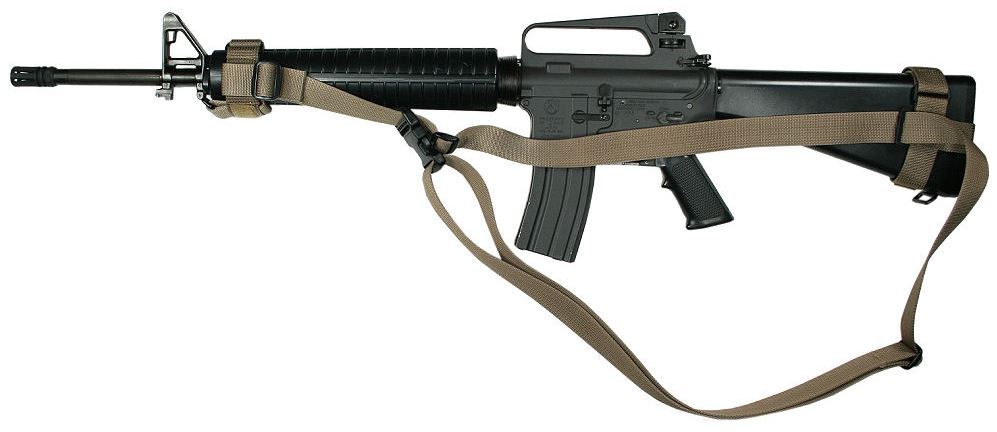 The Specter Gear M-16 / AR-15 QBC 3-Point Sling
The three-point sling is the latest sling to hit the market. It was designed exclusively for shorter carbines and tactical rifles like the AR-15. This sling is meant to facilitate a quick transition to the high-ready from a low-ready or patrol carry. It also provides better comfort than a single- and two-point sling. Lastly, it offers different carry methods with one or no hand on the rifle.
Three-point sling carry styles
The three-point sling provides various carry methods include the off-side drop, military patrol, port arms, rear sweep, climbers' carry, the hasty carry, and many others.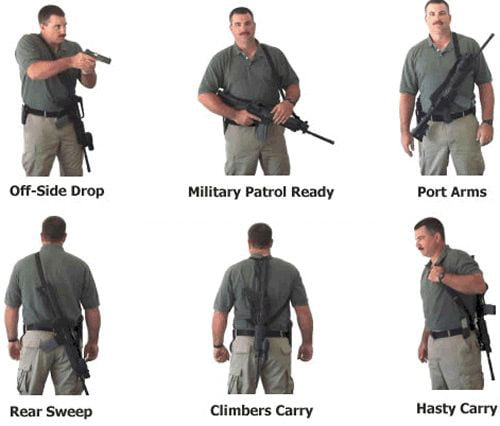 By providing so many carry methods, the three-point sling works for military and security personnel who may be tasked with different operations that require carrying one's rifle a particular way. The three-point sling works with plate carriers, various rifle accessories and attachments, and it provides stability when the rifle is slung hands-free.
---
Other Sling Types
DISCLAIMER: If you are new to the world of DIY gun building, you likely have a lot of questions and rightfully so. It's an area that has a lot of questions that, without the correct answers, could have some serious implications. At 80-lower.com, we are by no means providing this content on our website to serve as legal advice or legal counsel. We encourage each and every builder to perform their own research around their respective State laws as well as educating themselves on the Federal laws. When performing your own research, please be sure that you are getting your information from a reliable source.
---