Posted by 80-Lower.com on Feb 22nd 2023
Under federal law, it's legal to make a firearm at home, for personal use, without a license. Most choose to build a firearm using an 80% lower: An un-serialized, unfinished firearm receiver. We're often asked if you have to put a serial number on your finished firearm. Let's cover whether that's the case, and how to serialize your 80% lower if your state requires it.
---
"Do I need to serialize my 80% lower?"
Under federal law, no. The Gun Control Act of 1968 does not require a homemade firearm to have a serial number. The federal laws that require firearms to have serial numbers only apply to licensed manufacturers making firearms for sale.
The Bureau of Alcohol, Tobacco, and Firearms (ATF) recommends that all homemade firearms have a unique serial number engraved on them. This would help trace that firearm if it were ever stolen. But it is not a legal requirement under federal law.
(Some States Require Serialization, Anyway)
Certain states have passed their own laws requiring homemade firearms to be serialized. In some circumstances, you need to engrave a serial number on your 80% lower before you fabricate it. This is the case in California, Connecticut, and other states.
For this reason, we recommend you always check your local and state laws before attempting to fabricate a homemade firearm. In the states that require serialization, they typically adopt the federal guidelines that govern what information needs to be imprinted on the firearm, and how:
Firearm Serialization Guidelines
To ensure you're compliant with state guidelines, make sure your engraving meets the following requirements:
The engraving must measure at least 0.0003% deep.
The text of the serial number must be at least 1/16" tall.
In addition to the serial number itself, you may be required to engrave:
The firearm make and model
Your first and last name
Your city and state
The firearm's caliber
---
How to Serialize Your 80% Lower in California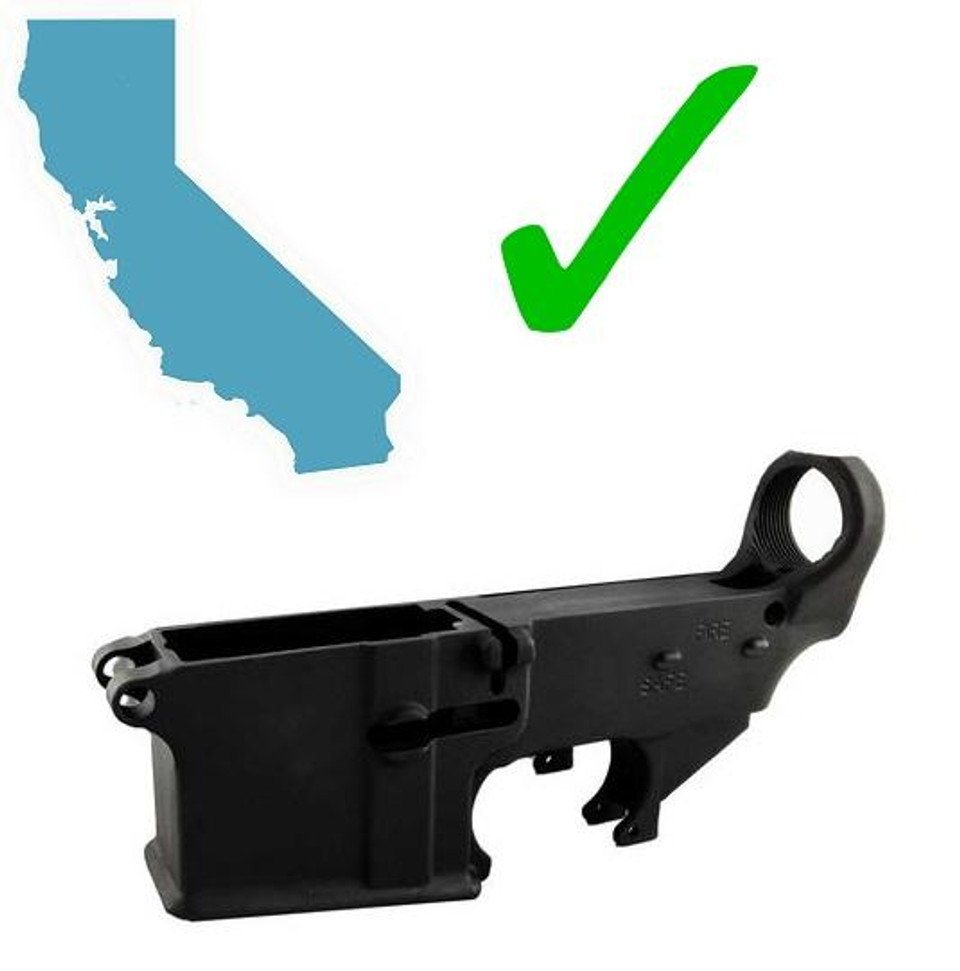 There is one law that affects California residents who want to build a firearm using an 80% lower receiver: State legislation which was passed in 2018, titled AB 857.
California's AB 857 legislation requires:

All firearms in the state must have a serial number engraved.
Any 80% lowers fabricated prior to July 1, 2018 require a serial number to be engraved on the weapon.
Any 80% lower fabricated after July 1, 2018 must have a serial number assigned by the California DOJ.
You can still legally buy and own an 80% lower in California without any paperwork. But you can't legally fabricate it and turn it into a firearm until you have a serial number assigned by the state.
"How do I get a CA serial number for my 80% lower?"
You must first submit to a state-level background check, called a Personal Firearm Eligibility Check, or "PFEC."
1. Submit a California PFEC Background Check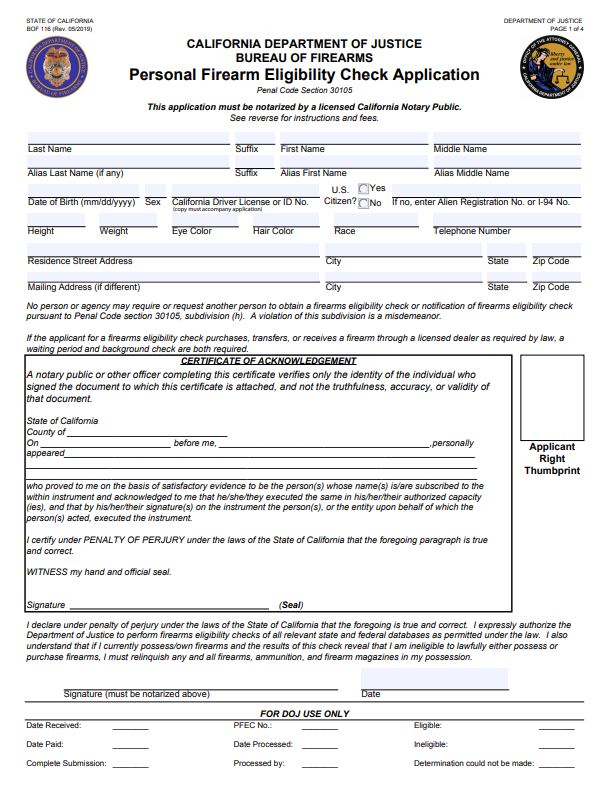 Download the PFEC Application Here.
The PFEC must be completed as a paper application and mailed to the California DOJ with a $20 check or money order. The application must be notarized and you must apply a thumbprint fingerprint to the application itself. Instructions are provided on the application for where and how to mail it. Once your application has been submitted, you must wait for the PFEC to be approved by the state before submitting an application for a unique serial number for your lower receiver.
2. Complete the California Unique Serial Number Application
Once your PFEC is approved, you can register on the California Firearms Application Reporting System. This is the website where you'll make an account and apply for a unique serial number for your 80% lower receiver.

Once you've registered on CFARS, you'll be able to log in and see an application for a unique serial number on the website's dashboard. Simply fill out the application, submit a $15 payment via your debit or credit card, and then wait patiently for your application to be processed.
Filling Out the "Firearm information" Section
The only required fields you should fill out under "Firearm Information" are:
Firearm Type
Firearm Color
Date of Manufacture
Material
Leave the optional fields blank and do not upload any files to the application. Once you've submitted your serial number application, it'll take approximately 15 calendar days for it to be approved or rejected. Once your application is approved, you'll have 10 calendar days to engrave your assigned serial number on your receiver. You must also upload a picture of the finished engraving onto the CFARS website, or your application and serial number will be retroactively rejected.
3. Serialize Your Lower Receiver Within 10 Days
The serial and markings on your lower receiver must meet these guidelines in order to be a legal firearm in California:
Markings must be at least .003" deep.
Markings must include the serial number.
Marking font size cannot be smaller than 1/16".
Markings must use "A-to-Z" letters and "0-to-9" numbers only.
Markings must include the caliber.
Markings must include the maker's name (that's you).
Markings must include the city and state of manufacture (where you live).
Markings must include the weapon model (if you entered one on the CFARS application).
Serializing your lower can be a messy process if you try doing it at home without the right tools. There are aluminum engraving tools available, but these are expensive and usually not worth the one-time cost if you're an at-home builder. We recommend taking your unfinished lower to a CNC shop or metallurgist so they can serialize it before you begin machining yourself. Since an un-fabricated 80% lower isn't considered a firearm, any engraving service can complete this for you. It doesn't have to be a gunsmith or FFL who engraves your receiver.
4. Cut and Drill Your 80% Lower
Once you've finished the engraving process and uploaded a picture of the finished results to CFARS, you can now legally fabricate your 80% lower into a stripped receiver a firearm by definition.
---
DISCLAIMER:We're not law makers or lawyers, nor can we provide legal advice to you. Seek legal counsel if you're uncertain about the legality of building a firearm in your state.
DISCLAIMER: If you are new to the world of DIY gun building, you likely have a lot of questions and rightfully so. It's an area that has a lot of questions that, without the correct answers, could have some serious implications. At 80-lower.com, we are by no means providing this content on our website to serve as legal advice or legal counsel. We encourage each and every builder to perform their own research around their respective State laws as well as educating themselves on the Federal laws. When performing your own research, please be sure that you are getting your information from a reliable source.
---