You asked for it, we answered: Polymer 80 Pistol Kits (and other P80 products for AR builds) are available at 80-lower.com! All polymer 80% frames and pistol kits include factory-style (OEM) Glock® parts. They're also compatible with Gen 3 Glock® components of the same caliber, affording you tons of customization. We're comparing all available P80 frames and kits today, and answering some of the most common questions.
Not sure what a Polymer 80 pistol is? Read this quickly, then come back!
---
Polymer 80% Pistol Kits
Filed under our GLOCK-Compatible Build Kits are all of Polymer80's various frames bundled with all the other parts you need to assemble a working handgun.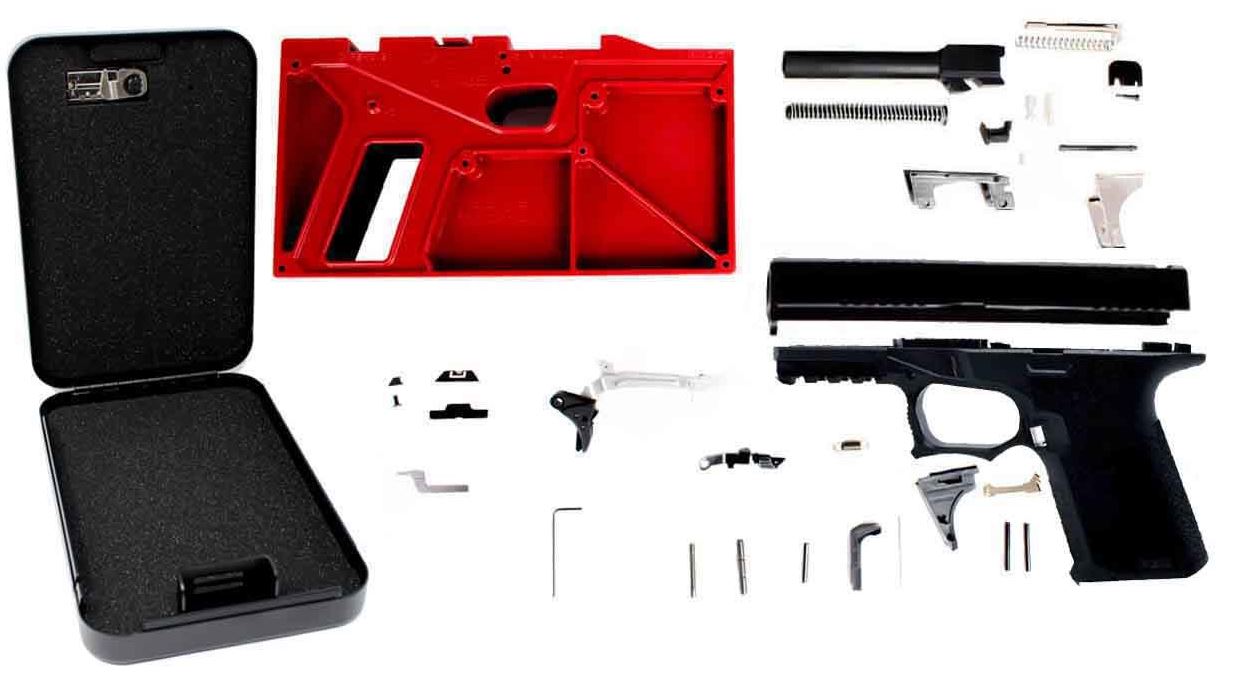 ---
What's Included
1. 80% Frame, Jig, and Tooling

Each pistol kit comes with the requisite finishing jig and bits for fabricating the 80% frame. The frame is a single piece of polymer that includes two parts -- a stainless steel locking block and rear rail module -- that must be installed in the frame with your trigger, slide, and springs. The jig provides the templates for fabrication. Using the jig, bits, and a hand drill, you'll drill all pin holes and cut away some excess material for final assembly and a test-fire.
2. Pistol Parts Kit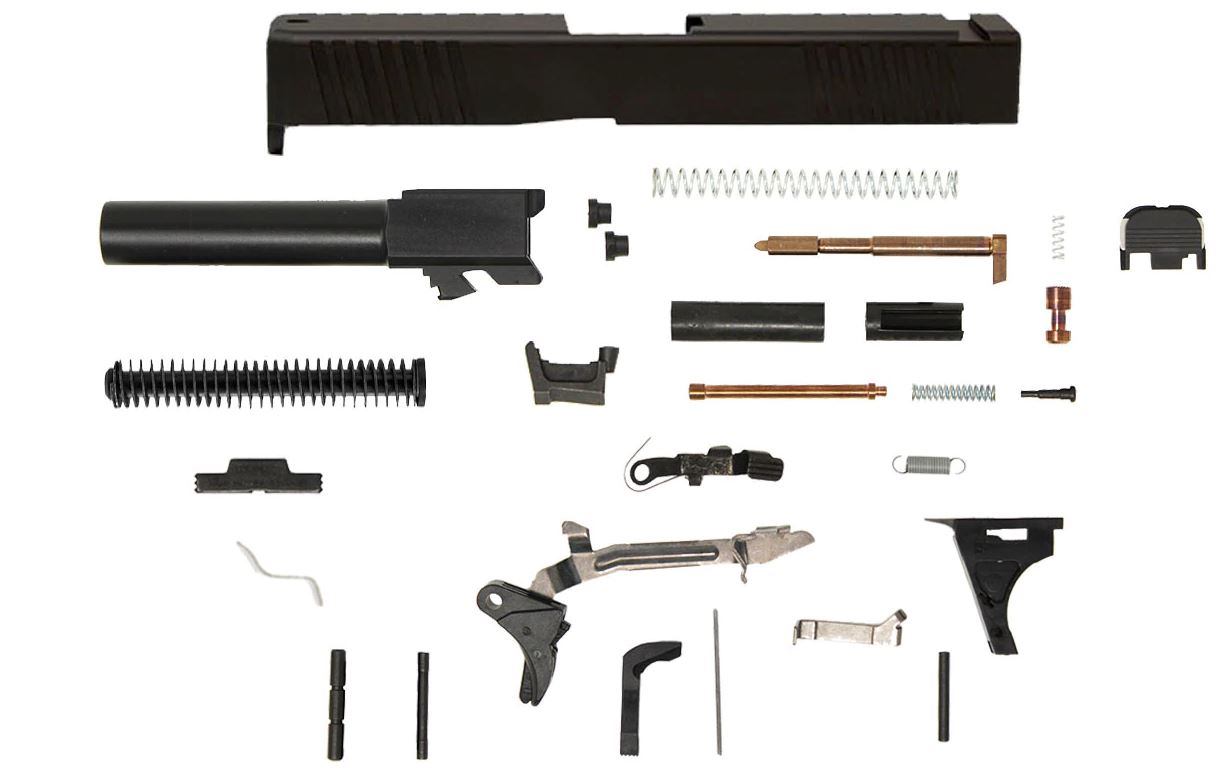 The parts kit included with each kit allows you to fully assemble your pistol. It uses factory and aftermarket (but still OEM-equivalent) components.
3. Gen 3 Glock® Barrel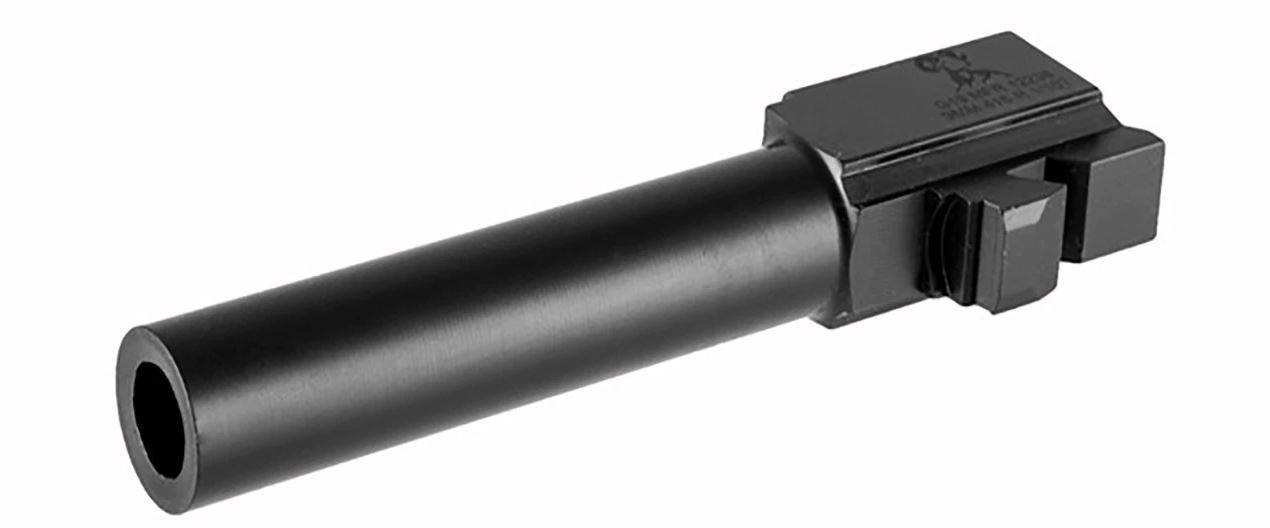 The included barrel is button-rifled, forged from high-end Crucible 416R stainless, and it comes with a 1:10 twist rate to reliably stabilize most pistol cartridges found in the Glock® series. It's machined with an 11-degree target crown and finished with a QPQ nitride treatment. Nitriding provides corrosion resistance for the exterior and rifling inside, increasing barrel life.
4. Front and Rear OEM Sights

To keep things familiar for all your current Glock owners, OEM sights are included for the front and rear of your slide. They stick with the original white, high-contrast, open leaf style for quick target acquisition and a simple sight picture.
5. Upgraded OEM-Style Slide

The slide you receive is OEM-equivalent in every except for upgraded serrations near the front of the muzzle. This provides a bit more grip while chambering. It's a nice addition if you're going with one of the compact kits like the PF940SC (G26/G27 compact-equivalent), which has an incredibly short slide. The slide is also finished with a QPQ Nitride coating to match the barrel, and it's made from heat-treated 17-4 stainless to provide high wear and rust resistance.
6. Portable lockbox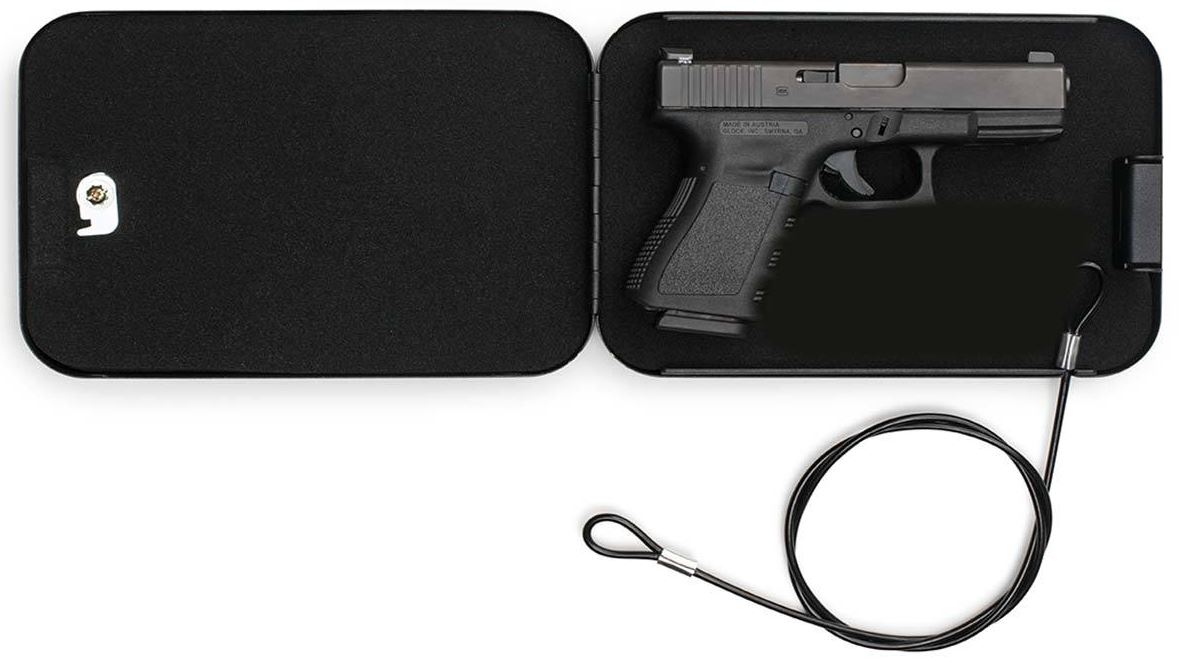 To top everything off (and to keep your proudly built pistol safe) we threw in a portable lockbox with a steel cable anchor. It's a great way to transport your new pistol to and from the range, store it in your vehicle, or keep it safe from prying eyes and small hands when stored at home. It's small enough to fit inside a dresser or drawer, it locks with a simple key, and it's made from stainless plating with a metal hinge. It's pretty robust for its small size, and makes for a nice little bonus for building instead of buying.
---
Available P80 Frames
Polymer80's kits include both the frame and the parts required to fabricate a working handgun. But the Glock is perhaps the most customizable pistol in the world, and you may want to customize it further. You don't need to buy a full kit. Instead, you can buy only the frame and jig, fabricate it into a working firearm, and then assemble your pistol piece by piece.
Note: The pistol kits and frames share the same model numbers. Reference the compatibility of the frames and retail Glock models below to determine which pistol kit you want to purchase, if you prefer a ready-to-fire kit instead. Although not pictured, all standalone frames still come with the 80% jig and bits.
PF940C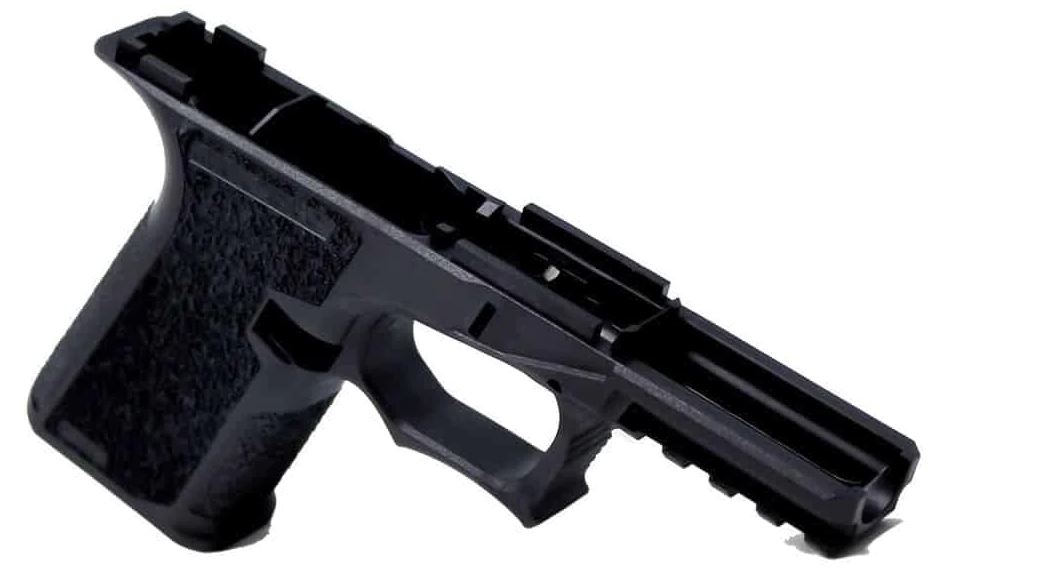 The PF940C is Polymer80's full-size version of Glock's G19, G23, and G32 frame.
Calibers
9mm Parabellum
.40 S&W
.357 SIG
PF940v2

The PF940v2 is Polymer80's equivalent of Glock's G17, 22, 24, 31, 34, and 35 frames. It's their most "universal" options.
Calibers
9mm Parabellum
.40 S&W
.357 SIG
PF940SC

The PF940SC is Polymer80's subcompact frame, made to be compatible with Glock's G26 and 27 models.
Calibers
Optional Colors

Don't like flat black? We get it, every handgun looks the same. Customizing is an opportunity to change appearances, not just function. If you prefer, you can opt for an OD Green or Desert Tan P80 frame instead. They're available here for the PF940C, PF940v2, and PF940SC.
---
Frame & Kit FAQs
Q: What generation of Glock are Polymer80's products compatible with?
A: All P80 frames and Polymer80 Pistol Build Kits are compatible with Glock's Generation 3 components.
Q: Do generation 4/5 Glock parts fit on Polymer80 or Glock Gen 3 components?
A: Some do. It's a case-by-case basis. For example, the Gen 3 Glock 23 frame and G23-equivalent P80 frame (the PF940SC) can accept a Gen 4 G23 slide. However, damage to the frame may result over time. This is a result of the Gen 4 slide's dual recoil spring exerting more force on the Gen 3 frame. For safety, you must confirm fitment before attempting cross-compatibility with Polymer80 and Glock Gen 4/5 parts.
Q: Are these frames and build kits actually legal?
A: Under federal law, yes. Certain states have banned Polymer80's products and other gun-making kits. We encourage you to read through this guide: Are 80% Lowers Legal? It covers the legality of fabricating firearms from scratch using 80% receivers and frames like these.
Q: What tools do I need to build my Glock-compatible P80?
A: To fabricate the frame, you will need a handheld drill and a small vise. You'll also need a handheld cutter of some kind, to cut the frame for the slide and barrel. A Dremel, snips, or even simple hand files will suffice. This instructional guide covers how to fabricate your frame.
DISCLAIMER: If you are new to the world of DIY gun building, you likely have a lot of questions and rightfully so. It's an area that has a lot of questions that, without the correct answers, could have some serious implications. At 80-lower.com, we are by no means providing this content on our website to serve as legal advice or legal counsel. We encourage each and every builder to perform their own research around their respective State laws as well as educating themselves on the Federal laws. When performing your own research, please be sure that you are getting your information from a reliable source.