To make things simple for builders who want all the popular versions of the AR-15's 80% lowers, we bundled them up with this Patriot Pack. It includes the .308, 9mm, and classic 5.56/.223 lower receivers. Let's take a closer look and cover some build info. We'll also cover FAQs and provide you with some How-To's, so you can get straight to building if you decide you want that multi-caliber 80% arsenal (we know, you do!).
---
The Patriot Pack: What's Included
First up is the most popular, the original forged 80% lower for the standard AR-15.
#1: Forged 80% Lower (5.56, .223)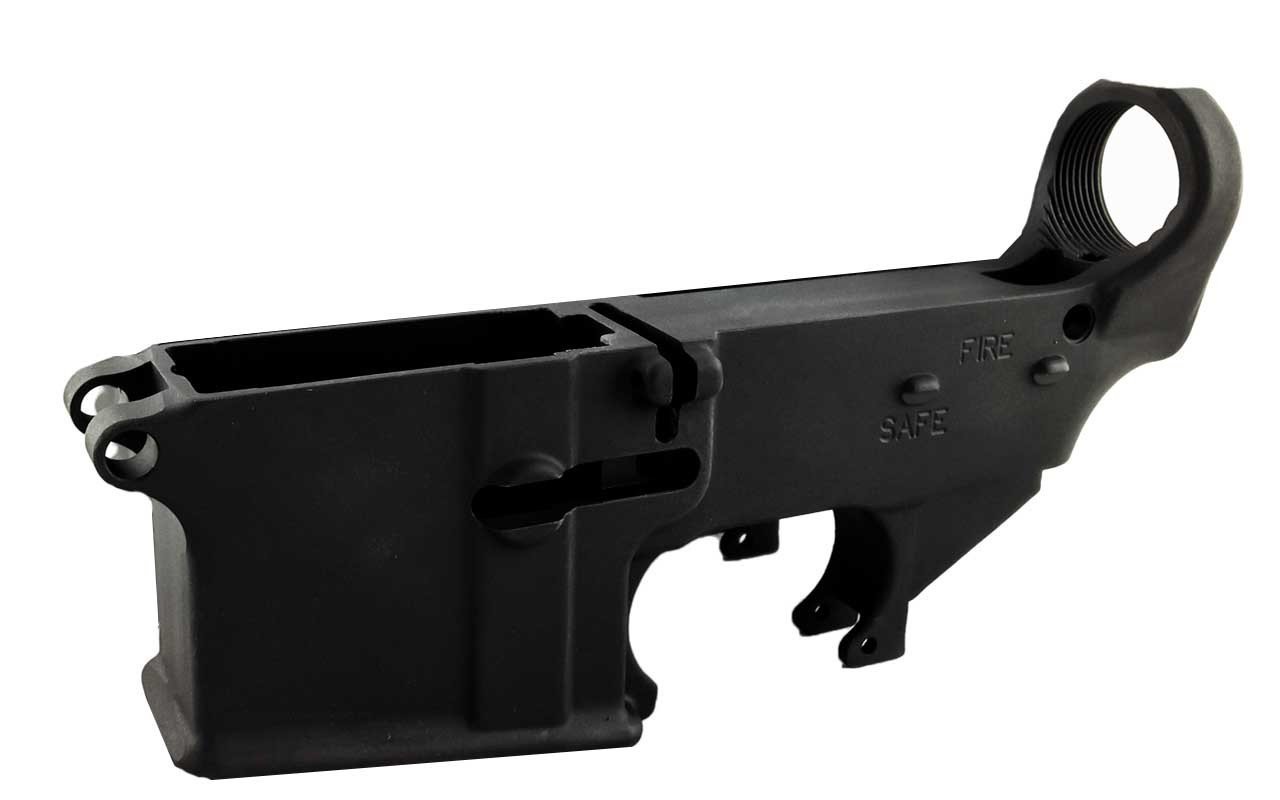 This forged receiver is mil-spec in its construction. You can check out our quick 60-second summary it here. Once its machined, this lower will accept all AR-15 parts made by other manufacturers who stick to mil-spec of manufacturing. That covers about 99% of all parts and makers. So, this is a good choice for ensuring the most parts compatibility and the easiest assembly. Its mil-spec anodizing will match any upper receiver and barrel you pick. All receivers in the Patriot Pack sport the same mil-spec finish so your completed rifles and pistols' uppers and lowers will match.
Specifications
Mil-spec black anodized finish
Forged from 7075-T6 aluminum
Made in the U.S.A. by gunsmiths
Engraved with "FIRE" and "SAFE"
Uses regular parts kit roll pin fittings
Capable of chambering 5.56, .223, 300 BLK, 6.5 Grendel
#2: Billet LR-308 80% Lower (.308, 7.62x51 NATO)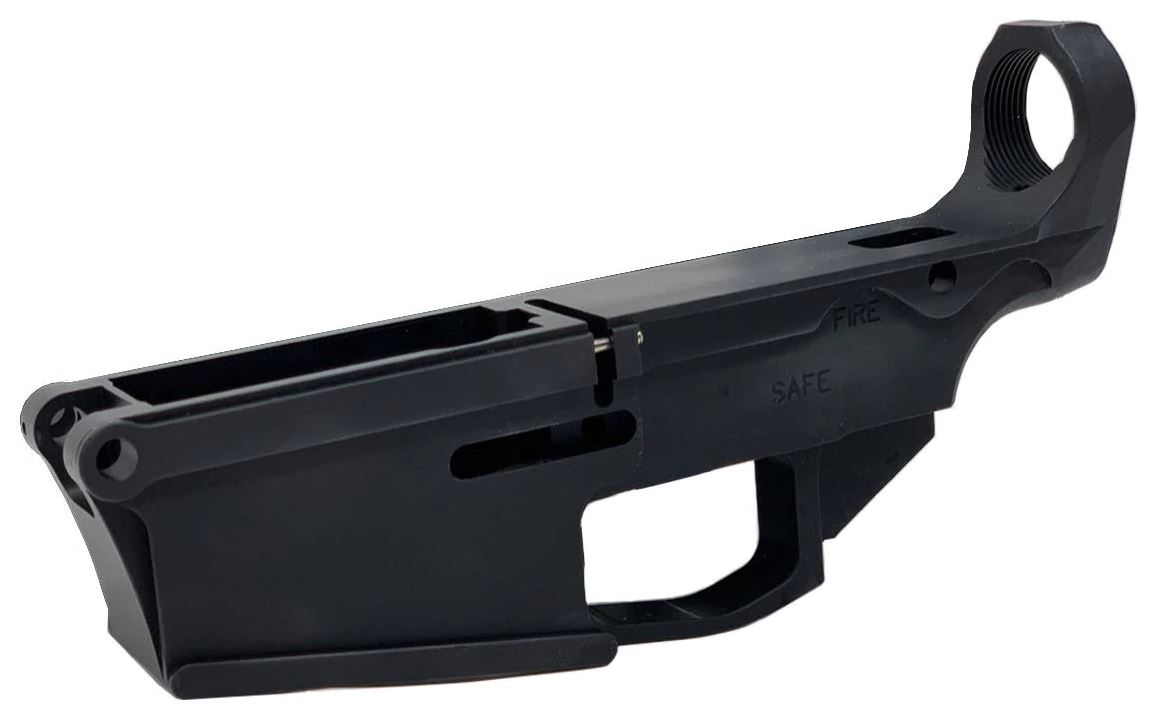 The AR-15 was actually first designed with a .30-caliber cartridge. We're getting back to its roots with the LR-308 80% lower, made from billet aluminum on a CNC. This lower is capable of chambering 7.62x51 NATO (.308 Winchester) as well as 6.5 Creedmoor for those 1,000-meter shots. It, too, sticks with "mil-spec" fittings, so it can use any regular AR-15 buffer tube, recoil spring, and .308 buffer. Since it's billet, the .308 lower also gets some upgrades: Roll pins are replaced with threaded fittings, and the trigger guard is integrated into the receiver. It's important to note this receiver is not compatible with the original AR-10. No modern AR-10 parts are available for custom builds these days. The LR-308 from DPMS has taken over the .30-cal AR market, and that's why we're including this receiver with the Patriot Pack. You can check out this receiver in more detail here.
Specifications
Cut from 6061-T6 aluminum
Compatible with DPMS LR-308
Chambers .308, 6.5 Creedmoor
Mil-spec fittings for AR-15 parts
Uses conventional lower parts kit
Roll pins replaced with threads
Also made in USA from CNC
The LR-308 lower is compatible with:
All DPMS LR-308 barreled uppers
CMMG's Mark 3 .308 Lower Parts Kit
SR25 and LR-308 magazines (not AR-10)
#3: Billet AR-9 80% Lower (9mm Para.)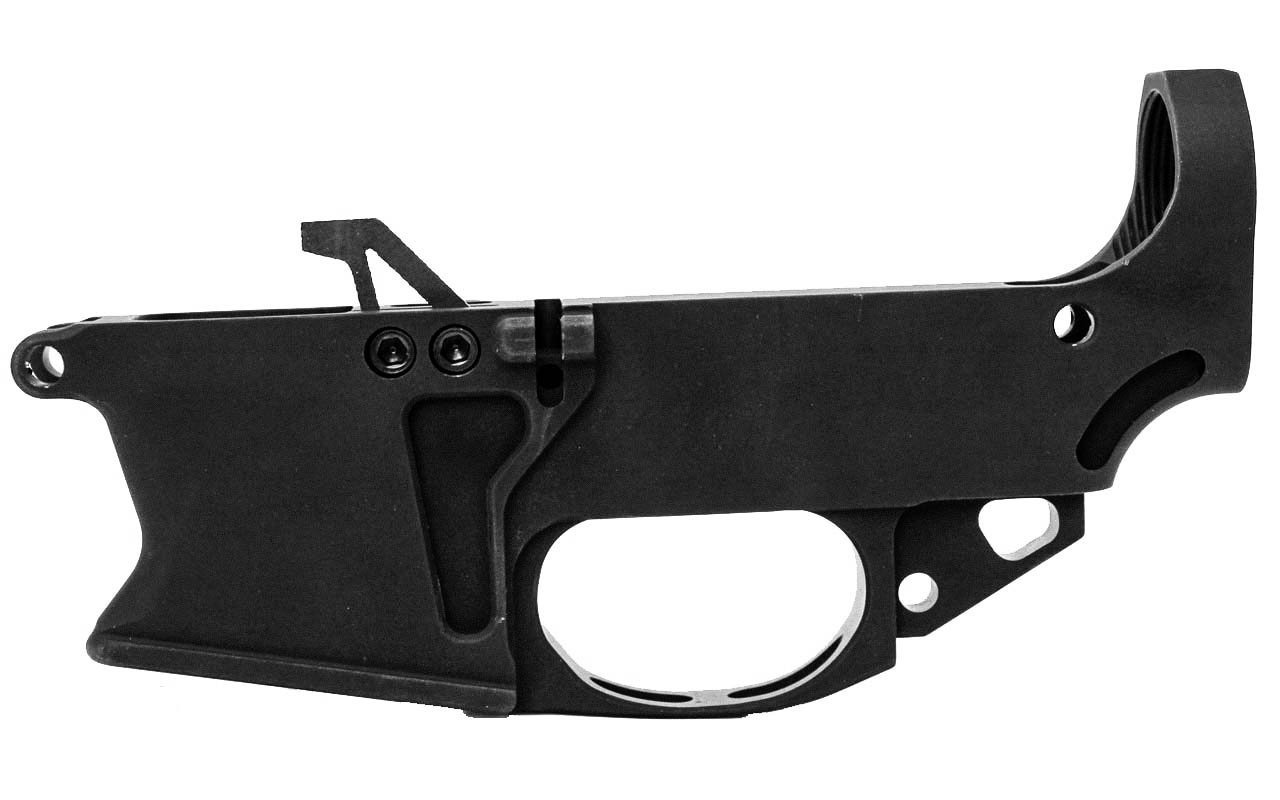 It's finally here! Ever wanted to build a proper AR pistol, chambered in 9mm? Now you don't need to worry about compatibility or silly conversion kits. This lower is designed specifically for the job. The Billet AR-9 80% Receiver is the best way to build a pistol-caliber carbine (or proper AR pistol) chambered in 9mm.
Specifications
Cut from billet 6061-T6 aluminum
Broached mag well for fast reloads
Mil-spec anodized finish
100% made in the U.S.A.
Ejector preinstalled for BCG
The AR-9 80% Lower is compatible with:
AR-9 uppers
G-9 BCG
Glock magazines
Standard AR-15 Lower Parts Kit (trigger, hammer, disconnector, sear, springs and pins)
---
Builder's FAQ
Q: Is this kit legal to buy without an FFL?
A: Yes. Under federal law, nothing in this kit is considered a firearm. No 80% lower is considered a firearm by the Bureau of Alcohol, Tobacco, and Firearms. We wrote an in-depth guide covering related questions and answers about this, too.
Q: What about my state? Are 80% lowers banned?
A: As of October 2020, the following states have restricted the sale, shipment, ownership, and use of 80% lowers. We cannot ship to these states:
New Jersey
New York
Connecticut
Washington state
Washington, DC
Rhode Island
Q: What calibers can I build with the Patriot Pack?
A: Between all three lowers, the following calibers can be chambered with the right parts: 5.56 NATO, .223 Remington, 9mm Parabellum, .308 Winchester, 6.5 Grendel, 6.5 Creedmoor, 300 Blackout, .22 LR, and more.
Q: What else do I need to build these lower receivers?
A: A toolkit called an 80% jig is required to fabricate any 80% lower. Thankfully, all three lowers can be completed using a single jig, as long as the jig in question has the right parts and tools. The Elite Builder Jig: Patriot Pack Edition comes with everything you need, minus power tools.
Q: How do I go about finishing these receivers?
A: It's easy. If you go with the Elite Builder Jig, it'll show you where to cut and drill each receiver, and with what bits. This instructional guide also shows how to complete your 80% lowers, step by step with measurements.
Q: What else do I need to complete each rifle or pistol?
A: You'll need the following components to assemble a functional AR from each receiver:
Barrel w/ extension
Upper receiver
Gas system
Pistol grip
Buffer tube
Buffer
Recoil spring
Lower parts kit
Bolt carrier group
Buttstock or brace
That's a great segue into the next section: Optimizing your build for reliability and accuracy. Each caliber/cartridge you'll use with the Patriot pack varies wildly in the required specs: Barrel length, twist rate, gas system (or none at all). Let's go over it all:
---
Building The AR-9

Optimal Specs
Twist rate: 1:10
Barrel length: 9"
Lower parts kit: AR-15
Buffer weight: 5.0-5.5 ounces
Recoil spring: AR-15
Magazine: Glock 9mm
Check out the ultimate AR-9 Build Guide to learn more. The short n' sweet is that the AR-9 works best as a proper "pistol". That is, it uses a barrel much shorter than 16" because the cartridge is designed to burn its powder quickly. After all, it was made for handguns first. The AR-9 will be wildly accurate with a 9" barrel, capable of hitting MOA groupings at 100 meters or more.
Building The AR-15

Optimal Specs
Twist rate: 1:7, 1:8, or 1:9
Barrel length: 7.5" to 16"
Lower parts kit: AR-15
Buffer weight: Varies
Recoil spring: AR-15
Magazine: AR-15
Building the AR-15 in this kit will perhaps be more complicated than the AR-9 or LR-308. That's because the AR-15 can be chambered in 5.56 or .223, or it can use unique cartridges like 300 Blackout and 6.5 Grendel. It's best to determine which cartridge you plan on building first, then determine what specs and features are best. We've covered some of the popular choices to make assembly a bit easier:
Building The LR-308

Optimal Specs
Twist rate: 1:10
Barrel length: 18" to 24"
Lower parts kit: AR-15 (extended mag release)
Buffer weight: 5.3 ounces
Recoil spring: AR-15 or AR-10
Magazine: SR-25 or LR-308
The LR-308 is standardized in its specifications, so building one is pretty simple. It's probably the easiest rifle to build with the Patriot Pack, since the most important specifications are one-and-done: You want a 1:10 twist rate, and a barrel measuring 20" to 24", though some go with an 18" barrel for weight savings on the hunting trail. You may have some questions (or you're rightfully confused) about how, exactly, this .308 AR is different from an AR-10. Most think they're the same, and they almost are. This detailed build guide compares the LR-308 and AR-10, including loads of info on parts compatibility for building.
The Patriot Pack Jig
The key to completing all three lowers is that jig we talked about earlier: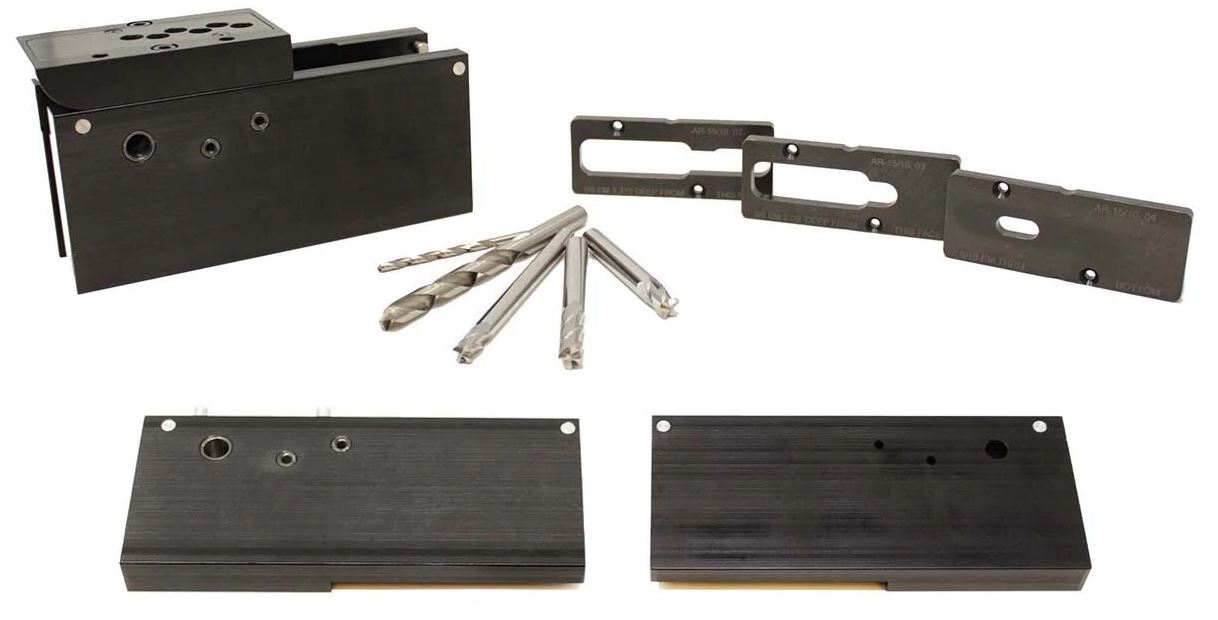 If you browsed through the instructional guide above, you should have a warm n' fuzzy about how this kit works. The Patriot Pack Edition of the EB Jig includes two longer side plates, made to accommodate the LR-308's physically larger dimensions. The drill and end mill bits required for all three 80% lowers are identical, since all the receivers use the same lower parts kit. That means all pins and components fit the same across all three (and thankfully, the lower parts kit install itself is identical.) The required measurements during fabrication are the same, so the instructions provided in our guide above apply to all the lowers.
Recap
The 3-lower Patriot Pack is a great way to dive right into building multiple AR-type rifles and pistols. It's an affordable kit that bundles together three of the most popular types of 80% lower receivers, allowing you to easily and confidently fabricate, from scratch, an AR-15, AR-9 and LR-308. Have more questions about ordering or building? We build AR's in our garages and basements! We're happy to answer questions and assist new builders with their receivers and parts kits. Get in touch with us via chat, email, or phone.
DISCLAIMER: If you are new to the world of DIY gun building, you likely have a lot of questions and rightfully so. It's an area that has a lot of questions that, without the correct answers, could have some serious implications. At 80-lower.com, we are by no means providing this content on our website to serve as legal advice or legal counsel. We encourage each and every builder to perform their own research around their respective State laws as well as educating themselves on the Federal laws. When performing your own research, please be sure that you are getting your information from a reliable source.