Posted by 80-Lower.com on Nov 12th 2019
Sig Sauer® introduced the P320 modular handgun in 2014 and it quickly became one of their most popular pistols, ever. The U.S. Military adopted this new platform (designated the XM17 and XM18) and it now sees service globally. Naturally, we felt the P320's modular, multi-caliber design made it the perfect candidate for getting the at-home-gunsmithing treatment. Here's Build Guide to get you started!
---
What is the Sig Sauer P320?
The Sig P320 is many handguns in one. Using interchangeable parts – barrels, slides, grip modules (frames) and recoil assemblies – you can transform it into any configuration without having to do any paperwork. There are a ton of configurations available, by the way.
Available Pistol Configurations
Sig wanted to make the P320 available for nearly every shooter's needs, so they introduced four calibers: 9MM, .357 SIG, .40 S&W, and .45 ACP. Sig also introduced modular kits for full-size, carry, compact, and subcompact builds:
P320 Full-Size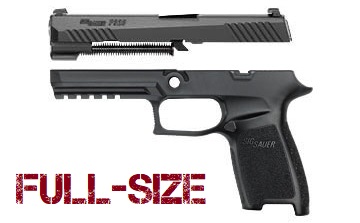 Length: 8.0"
Barrel length: 4.7"
Width: 1.4"
Height: 5.5"
Weight: 833g (29.4 Oz.)
P320 Carry
Length: 7.2"
Barrel length: 3.9"
Width: 1.4"
Height: 5.5"
Weight: 737g (26.0 Oz.)
P320 Compact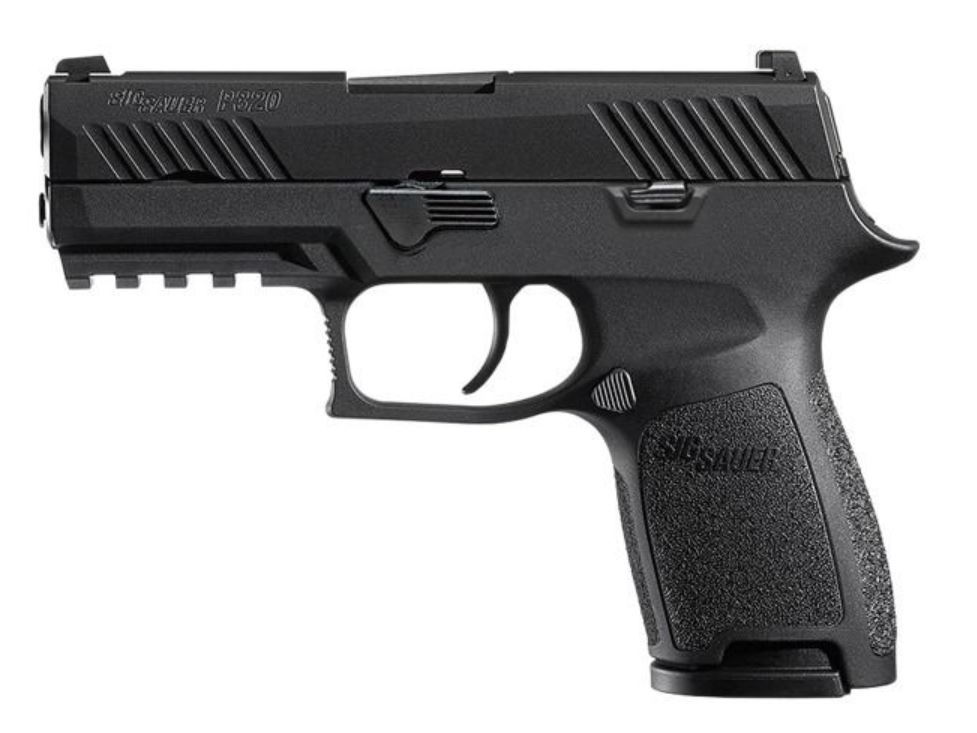 Length: 7.2"
Barrel length: 3.9"
Width: 1.4"
Height: 5.2"
Weight: 737g (26.0 Oz.)
P320 Subcompact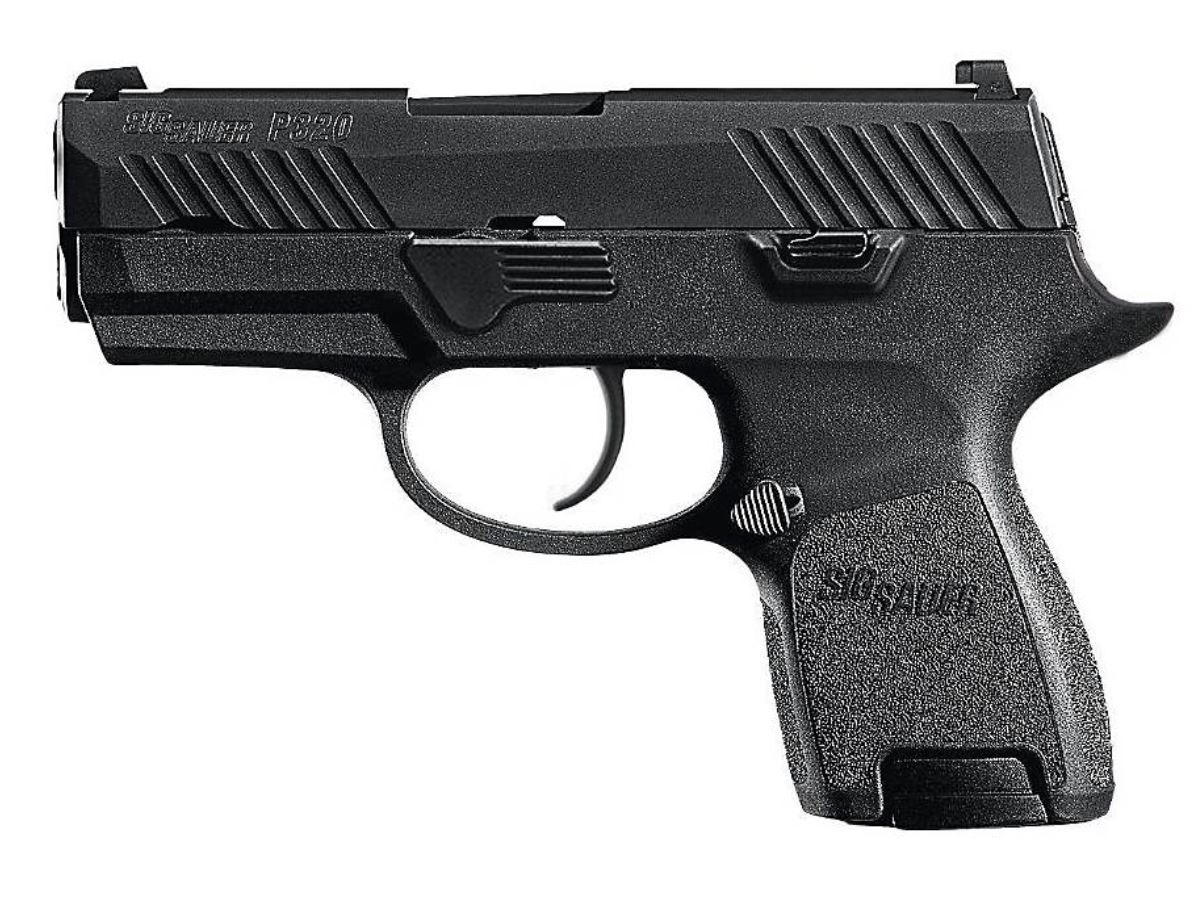 Length: 6.7"
Barrel length: 3.6"
Width: 1.3"
Height: 4.7"
Weight: 708g (25.0 Oz.)
---
Unique Features & Quick Review
The P320 has received some pretty rave reviews, averaging 4.5- to 5-star ratings across most seller's platforms. The P320's biggest features – aside from its modularity – are a short-reset tactile trigger; striker-fired operating system; classic SigLite Night Sights or contrast sights; integrated M1913 accessory rail (subcompact excluded); and not one but five safeties. That includes a striker safety to prevent accidental discharges; a disconnect safety to prevent out-of-battery firing; a 3 point takedown safety, and a magazine disconnect safety.
Converting your P320 from one configuration or caliber to another takes just a few minutes. You can swap out a full-size configuration chambered in .45 ACP for a subcompact chambered in 9mm – essentially an entirely new gun – and legally, it's still considered the same firearm. That's because the "core" of the P320, the firearm itself (by legal definitions), is a universal chassis that works with all the P320's available parts. This genius little device is called the Fire Control Unit:
---
Sig 80% Fire Control Unit
Since the FCU, insert, lower, chassis – whatever you want to call it – is the only part considered the firearm in the P320, this is the component we re-engineered with our partners and fellow gunsmiths. We now have a quality unit available for the P320 called the MUP-1, or "Modular Universal Pistol-1" 80% insert: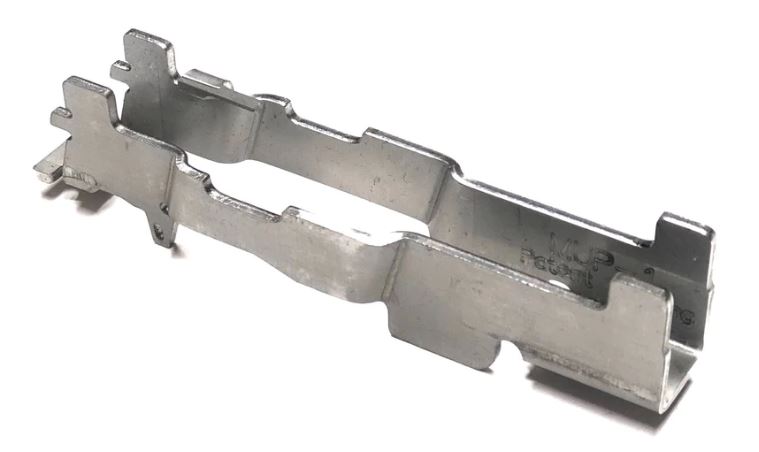 It's made from 316 stainless steel and boasts the same dimensions and specs as a factory chassis inside a store-bought gun. The MUP1 is compatible with the P320's "drop-safe" upgraded parts and all calibers (.45 ACP requires slight modification). Transforming the MUP1 into a legal-by-definition firearm means cutting and machining it much the same way you would the typical 80% lower for the AR-15. To do that, you'll need the 80% P320 jig. The "Sig Jig" includes everything needed to drill the right holes, open up the trigger slot, and bend and trim the slide rails. Check out the quick video to see how the jig works.
MUP1 Jig Instruction Video
This completes the fabrication required to turn the 80% insert into a functional firearm, ready to accept a lower parts kit and trigger, and build kit. At this point, you own a legal-by-definition firearm that isn't functional – it's equivalent to owning an AR-15's stripped receiver.
---
Assembling the Completed FCU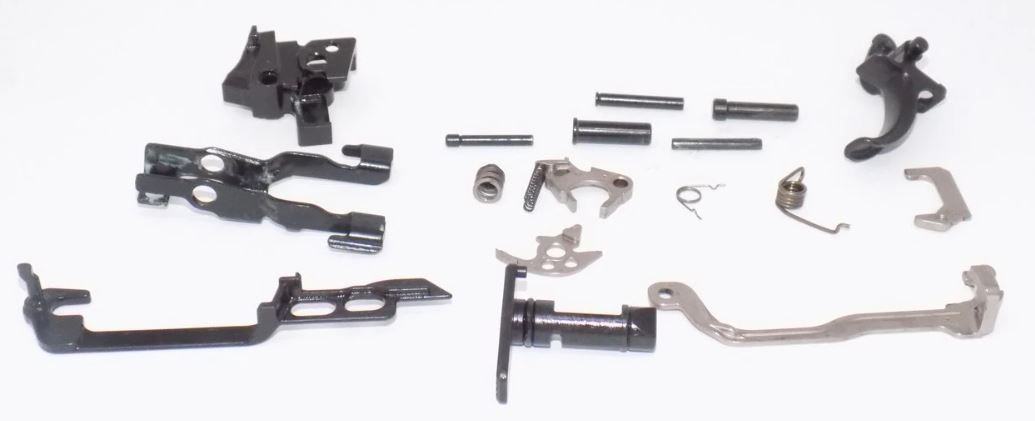 Once your FCU/insert is machined, you can make it ready to fire by installing a P320's lower parts kit in the configuration of your choice (full, compact, et al). Since the completed FCU is universal, each configuration installs the same. Parts kits include the internals, barrel, slide, frame skeleton, and other internals:
Trigger stop pin
Slide catch lever pin
Safety lever pin
Sear pivot pin
Split coil pin
Slide catch lever spring post
Take down safety lever
Safety lever
Slide catch
Sear
O-ring
Take down lever
Slide catch assembly
Spring, slide catch lever
Spring, sear (2)
Trigger bar spring
Spring, takedown lever
Trigger
Trigger bar
Sear housing
Manual disconnector
---
Completing Your P320 Build (Choosing a Configuration)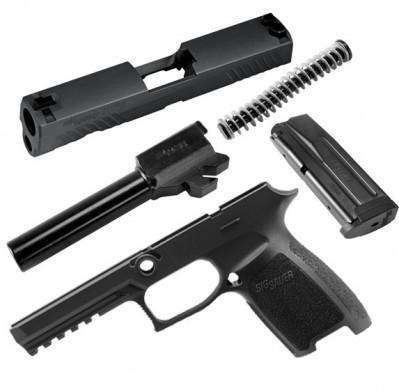 At this point, you technically own a functional Sig Sauer P320! It just needs the right suit of armor to complete the look and send live rounds downrange. To do that, you'll need to buy a P320 Build Kit which means choosing your pistol's configuration – full-size, carry, compact, or subcompact. All the available build kits include the grip module (frame), slide, barrel, operating rod and recoil spring, magazine and preinstalled sights required to complete the build.
---
The Legal Stuff & FAQ
Building a gun from scratch is legal to do at home in most states, if you can otherwise legally own a firearm. However, there are restrictions on what you can build. At the federal level, the ATF says building a gun is legal:
"Firearms may be lawfully made by persons who do not hold a manufacturer's license under the GCA provided they are not for sale or distribution and the maker is not prohibited from receiving or possessing firearms. However, a person is prohibited from assembling a non-sporting semiautomatic rifle or shotgun from 10 or more imported parts, as set forth in regulations in 27 CFR 478.39. In addition, the making of an NFA firearm requires a tax payment and advance approval by ATF. An application to make a machinegun will not be approved unless documentation is submitted showing that the firearm is being made for the official use of a Federal, State or local government agency (18 U.S.C. § 922(o),(r); 26 U.S.C. § 5822; 27 CFR §§ 478.39, 479.62, and 479.105)."
State Laws May Vary
Some states have banned 80% lowers and certain firearm parts, or have otherwise restricted the sale and ownership of products we sell. So, be sure to check your local and state laws. New York, New Jersey have banned these kits, among other states. So, we can't ship our products to certain states. Please check our Shipping & Return Policy before placing an order (see restrictions).
DISCLAIMER: If you are new to the world of DIY gun building, you likely have a lot of questions and rightfully so. It's an area that has a lot of questions that, without the correct answers, could have some serious implications. At 80-lower.com, we are by no means providing this content on our website to serve as legal advice or legal counsel. We encourage each and every builder to perform their own research around their respective State laws as well as educating themselves on the Federal laws. When performing your own research, please be sure that you are getting your information from a reliable source.
---