We're well into 2019, and tons of new AR-15 accessories have made building your next black rifle even better! Not sure what you need for your new rifle or pistol? What about irons and glass? Maybe you're looking for the right accessories to finish your 80% lower build. Let's break it all down! This is your ultimate AR-15 Accessories Guide for 2019.
In this guide, we'll break down the top accessories for doing some basic gunsmithing work. We'll also help you pick out a nice set of flip-up sights that co-witness perfectly with our top-pick red dot. Lastly, we'll point you in the right direction for some basic maintenance and range day toys that'll come in handy. Let's begin!
Top AR-15 Gunsmith Accessories for 2019
Piecing together a new black rifle should be easy. Nonetheless, gunsmithing mishaps do happen. Assembly mistakes do get made - especially while drilling or milling that shiny, new 80% lower. Let's make it all a little easier, shall we?
1. Easy Jig GEN 2 Multi-Platform with Tooling (AR-9, AR-15, LR-308)
The first step of your AR project obviously centers on completing your 80% lower. To do that, you'll need a quality jig. All the jigs we sell are guaranteed to get the job done with little worry, but our own customers have crowned one particular jig the King: The Easy Jig GEN 2 Multi-Platform!
The Easy Jig Multi-Platform reigns supreme for a few reasons:
It's the fastest jig available
It's compatible with ALL 80% lowers
It requires no drill press, only a hand drill!
Setting up and swapping lowers takes about 10 seconds
It includes all the tooling and bits you need!
With loads of customers rating the GEN 2 a solid 4.8 out of 5 stars, this jig is our top pick for 2019. If you're new to the game, this is also the easiest-to-use jig. It lives up to its name!
[ Shop all 80% Lower Jigs here ]
2. Porter Cable Handheld Laminate Router
Next to the 80 lower jig, a proper handheld router is the most important gunsmithing accessory you'll need to complete your 80% lower. Routers are a dime a dozen at the local hardware store, but only a few are well-suited for gunsmithing work. We've made it easy for you by finding the best router for the job! The Porter Cable 6430 Laminate Router is the router of choice for nearly every 80 lower jig.
Most jig manufacturers build their units with the Porter Cable 6430 in mind, so it only makes sense that you invest in one for your 80% lower project. The Porter Cable's powerful, easy to use, and most jig guide plates are built to accept this particular router.
3. Easy Jig GEN 2 End Mill Bit (5/16 Hybrid)
The Easy Jig GEN 2's end mill bit is one of the best 80% lower end mill bits available. Even if you don't own the GEN 2, this bit's still compatible with any jig and router designed to accept a 5/16" end mill bit.
This solid-carbide bit is optimized for 80% lowers and milling forged or billet aluminum, making it the perfect choice for your 80% lower. We recommend picking up at least a single spare for your first build.
[ Need jig replacement parts? Get 'em here! ]
3. AR-15 Roll Pin Punch Set + Brass Gunsmithing Hammer
These next two gunsmithing accessories complement each other - and they make final assembly of your finished 80% lower way easier. Once you've finished drilling and milling your lower, you'll need to install the roll pins included with your AR-15's Lower Parts Kit.
Put plainly, those roll pins can be a real pain in the ass. Also called tension pins, roll pins work by compressing as they enter the hole they're to be seated in. Because of this, roll pins are larger in diameter than the hole itself.
Roll pins have chamfered ends to facilitate getting them in place. Regardless, it takes simple pressure (and a little bit of "precise" brute force) to get them seated. Trying to seat a roll pin without the right punches and hammer will result in said pin flying off into oblivion (like your carpet), never to be found again.
Save yourself the headache and pick up a proper AR-15 Roll Pin Punch Set and a Brass Gunsmithing Hammer. It'll make the most difficult assembly step in your project rather easy.
4. AR-15 Armorer's Wrench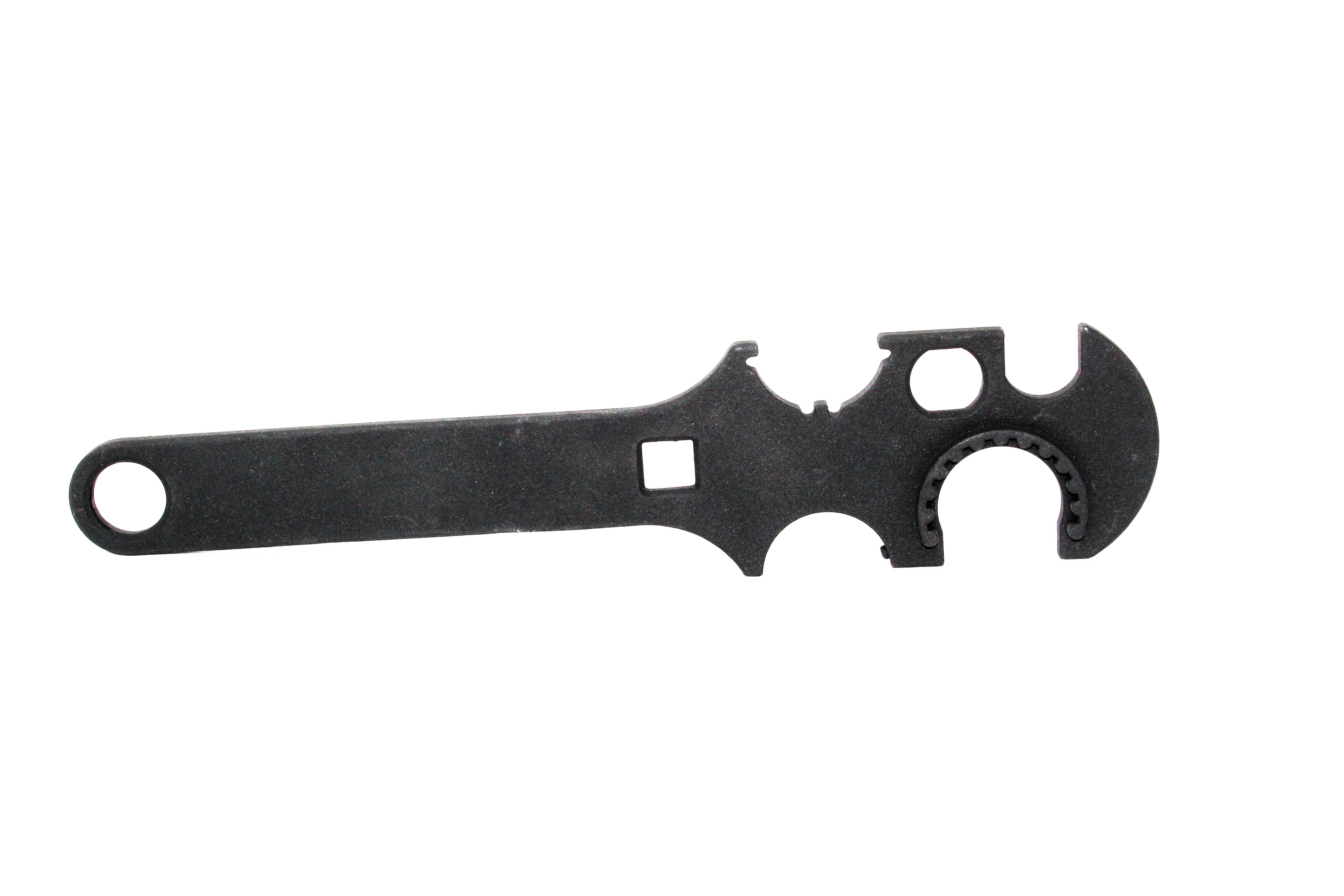 If you hadn't guessed by now, the AR-15 requires some specialty tools for proper assembly. Next up: The Armorer's Wrench. This is a must-have tool for any AR-15 owner - whether you built or bought your rifle.
The Armorer's Wrench is specifically designed for installing (and removing) your buffer tube's castle nut and muzzle device. More importantly, you'll need an Armorer's Wrench if you're swapping out barrels on your upper receiver. Unless you'd rather take a hammer and screwdriver to your AR-15, we strongly recommend picking one of these bad boys up.
5. Birchwood Casey Aluminum Black
You've finished your 80% lower, installed your lower parts kit, slapped on a buffer and upper… and realized you scratched the Hell out of your receiver in the process. That's okay!
A small bottle of Birchwood Casey Aluminum Black will do the trick. This is a simple, quick-acting formula that will restore and hide scratches in your AR-15's finish.
This is not just paint. Aluminum Black is a room temperature-activated chemical that, when applied to raw aluminum and exposed to the open air, reacts by applying a new coating to the bare metal, protecting it permanently.
Just dab a little one, and let it work its magic. Voila! Brand-new finish.
Top AR-15 Rifle & Pistol Accessories
Now that your shiny new build is ready to hit the range, let's take at the top AR-15 accessories you'll want to improve shot groups and make range day all the better:
1. RA LE145 Tactical Drop-in Trigger
The trigger you get with any standard AR-15 lower parts kit will get the job done. But if you really want to break clean with every pull (and get tighter shot groups), then a drop-in trigger like the new RA LE145 Tactical Drop-in Trigger is the ticket.
Rise Armament went to extreme lengths to produce a precision trigger as good at this one, at this price point. Built to AS9100 (that's aerospace and NASA) certified requirements, the LE145 boasts a machined tolerance of 0.000001 inches. That's one-millionth of an inch.
The result is a trigger with a perfectly tuned 4.5-lb. Pull. You'll suffer no creep, take-up, or overtravel with this trigger. The LE145 uses KNS pins or standard lower receiver pins, guaranteeing compatibility with your finished 80% lower!
2. Tactical Made 3 MOA 1x20mm Advanced Micro Red Dot Sight
There are so, so many red dots flooding the AR-15 market. We decided to keep things simple by taking all the best features from the top red dots and combine them into one small, simple unit.
The Tactical Made 3 MOA Red Dot is the perfect close- and medium-range optic for any AR build. It sports the best features and build qualities from the industry's top picks:
50,000-hour battery life (that's 833 days!)
High-contrast, multi-coated amber lens
Fog-proof, water-resistant, and nitrogen-filled
Capable of withstanding up to 500G's of recoil
O-ring seals for moisture and dust
Solid 6061 T6 billet aluminum housing
(8) illumination settings for high- and low-light conditions
The Tactical Made Red Dot also includes a CR2032 Lithium battery, a rubber lens cover, dust-free cleaning cloth, and an Allen wrench. Weighing just 4 ounces and measuring 2 inches by 2.6 inches, this compact red dot is the perfect, affordable, bomb-proof optic for your AR build.
3. Magpul MBUS Flip-Up Sights
What if you'd rather rock old-school irons at the range? No problem! We picked the best flip-up sights on the market: Magpul's MBUS Flip-Up Front and Rear Sights. Made from weapons-grade polymer, the MBUS Sights weigh just over 2 ounces (in total), and they provide the same height-over-bore as standard A2 front sights.
That means if you're rocking an AR-15 upper with an A2 front sight post, the MBUS Rear Sight will coordinate perfectly. These sights also co-witness perfectly with our Tactical Made Red Dot!
Compatible with standard Picatinny rails
Spring-loaded buttons for quick flips
Positive-click knob for windage adjustments
Small and large apertures for close-/long-range work
Easy, A2-style front sight adjustment
4. Magpul Angled Foregrip
Getting tight shot groups on the range is everyone's goal. One surprisingly easy way to get better at grouping is with a simple, angled foregrip! The Magpul Angled Foregrip is a top contender among seasoned shooters because of its ergonomic profile and simplicity.
Slightly smaller than the AFG 2, the Magpul Angled Foregrip is perfect for any rifle. The ATF also says that yes, you can install an angled grip (not a vertical grip) on an AR-15 pistol!
Made of heavy-duty, impact-resistant polymer, the Magpul Angled Foregrip is compatible with M-Lok handguards and weighs just 1.2 ounces.
5. Quick-Release AR-15 Takedown Pin
Rounding out our list of AR-15 rifle accessories is one that often goes overlooked, yet is incredibly convenient. You'll definitely appreciate using this simple mod whenever you hit the range: The AR-15 Quick-Release Takedown Pin.
This nifty little pin costs just a few bucks, but it makes disassembling your rifle (or pistol) way easier. Forget "grabbing a rock or something" (thank you, MREs) to push out your rear takedown pin. Got a jam or need to clean? Simply pull on the quick-release pin and voila, you're upper and lower are separated immediately. The pin even stays in place once pulled!
This is quite a nice alternative to scratching up your upper and lower receivers every time you need to pop out your bolt carrier group or pick out some stuck brass.
Top AR-15 Range Accessories for 2019
With so much care spent building your AR-15, it's easy to forget all the stuff you'll want when you hit the range or hunting trail. We've got you covered - here are the top AR-15 range accessories you'll want to consider:
1. AR15 MagPump Magazine Loader
You've built your rifle or pistol, you've hit the range, and all is well - until you've got a bunch of spent magazines, that is. Face it, no one likes cutting up their digits hand-loading lil' 5.56 or .223 rounds into their PMAGs.
Introducing the AR15 Magazine Loader! Officially dubbed the MagPump, this Mag Loader's capable of loading up a 30-round magazine in 30 seconds! The MagPump automatically aligns loose rounds that get fed into the hopper, and it's compatible with any mil-spec AR magazine.
It's backed by a lifetime warranty and it's 100% made in the U.S. of A. Spitting out mag after mag? Forget stopping down for 15 minutes to reload by hand. This is the perfect range-day companion.
2. Tactical Rifle Case
This accessory should require no introduction. We all need a good, sturdy case to safely carry our AR-15s in. Would you rather go with a floppy soft case, or spent hundreds of dollars on a hard case named after a particularly large water bird whose name starts with "P"?
Or, you could check out our very own comparable alternative: the Tactical Rifle Case! This no-frills hard case is designed specifically for transporting your AR-15 and it securely locks for easy long-term storage.
It measures 43" x 13" x 5" and includes pre-scored foam inserts so you can customize it for your kit! The Tactical Rifle Case is 100% watertight and airtight, and features built-in pressure-relief valves - just like the big, expensive "brand name" cases. A heavy-duty carrying handle and double-lock with keys make the Tactical Rifle Case the perfect storage and transport solution for your freshly-built black rifle or pistol.
Conclusion
At 80-lower.com, we work hard to offer you only the best AR-15 accessories and at-home gunsmithing tools. We thank you for supporting an American-owned business like ours. Be sure to check back during this Holiday season for new deals and big savings on all things AR-15!
DISCLAIMER: If you are new to the world of DIY gun building, you likely have a lot of questions and rightfully so. It's an area that has a lot of questions that, without the correct answers, could have some serious implications. At 80-lower.com, we are by no means providing this content on our website to serve as legal advice or legal counsel. We encourage each and every builder to perform their own research around their respective State laws as well as educating themselves on the Federal laws. When performing your own research, please be sure that you are getting your information from a reliable source.