By now you've figured out that you can use an 80% lower receiver -- a non-functioning firearm blank -- to build an AR-15 from scratch. But what's the point? Why not just go buy a pre-built, stripped lower receiver or even just an assembled rifle from the gun dealer down the road? Let's review the benefits of instead building your new rifle (or pistol) using an 80% lower.
---
New AR builder? Start here.
If you're unfamiliar with what an 80% lower actually is, start with this intro guide. It covers the general purpose and legality of using an 80% receiver to build your AR-15. Already familiar? Let's go over the advantages you receive in choosing this route compared to buying a retail stripped receiver from an FFL.
---
Your build is truly custom

When you buy an AR-15 that's already assembled, you're buying into all those parts it comes with: The handguard, buttstock, pistol grip, iron sights, and trigger might not suit your needs. With how modular and customizable the AR platform is, you'll likely wind up replacing many components. Buying an 80 percent receiver for your AR build allows you to build a truly custom shooter from the ground up. You can even get your own roll mark or custom engraving completed to show off your new build as your own handiwork. In a world filled with millions of AR-15s that all look and perform the same, having the opportunity to make a one-of-a-kind gun is a great advantage.
---
Potential cost savings
According to industry research, most firearm dealers and FFLs employ a 10% to 35% dealer mark-up on sales of retail AR-15s and other firearms. This is to accommodate for the razor-thin margins most commercial distributors and re-sellers make on new guns. That means you're paying more than you probably should on a rifle or pistol with an MSRP that's already high. Yet when you build using an 80% lower, you're avoiding any branding, distribution channels, and the added costs of purchasing your AR-15 from a manufacturer or big-box store. Lowers are sold directly from the maker to you, the builder, eliminating all those middle men.
Other cost savings are found in the fees, taxes, and added costs of simply purchasing a firearm. Many states tack special taxes on gun sales, up to 10% or more. Other states simply charge outright fees for accessing the Second Amendment, with total firearm purchases costs -- not including the sale of the weapon itself -- exceeding $200 or more in some states. That's in addition to the fees you'll pay no matter where you buy a gun: You need to foot the bill for the FFL transfer fee and background check, which are required under federal law. Some dealers charge up to $50 for these services.
---
No paperwork required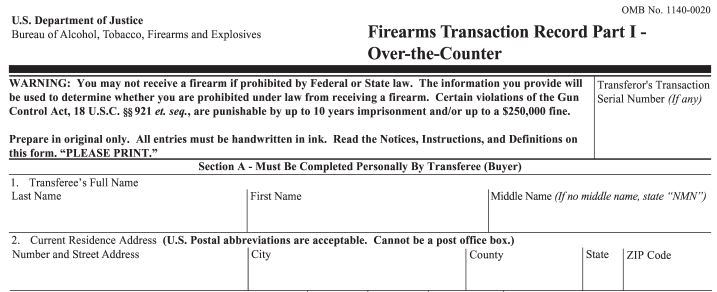 Because 80% lowers aren't regulated as firearms, they don't require that you fill out a Form 4473 -- the ATF's Firearms Transaction Record -- and you don't need to conduct a National Instant Criminal Background Check (NICS) to legally buy and own an 80% lower. Since these units are considered guns, they can be shipped directly to you, so you get to skip the FFL, the paperwork, and the waiting periods and potential lines or delays on your background check. It's less hassle and less time spent getting your hands on that new AR.
---
No serialization or "registration"
Federal law prohibits any gun registry of any kind from being created by the federal government. Yet because of the ATF's firearm regulations and existing gun laws, every firearm dealer must retain a copy of your Firearms Transactions Records (and provide them to law enforcement upon request) for twenty years. Each sales record contains all your personal information and the make, model, and serial number of your firearm. Some states, like California, maintain firearm ownership registries by recording serial numbers, which is constitutionally questionable yet still currently allowed by the judicial system without challenge.
With elected officials and potential future presidents openly calling for firearm registration databases and even gun confiscations, retaining your rightful access to the Second Amendment may be easier by investing in an 80% lower-based rifle or pistol build. We're not advocating that any builder or gun owner break the law, but it is pertinent to know that 80% lower receivers are not serialized nor tracked or regulated by the ATF, and they don't require serialization under federal law once made into a firearm.
---
Building's easier than you think

You don't need a shop equipped with a lathe or CNC machine, nor do you even need gunsmithing knowledge or real fabrication experience to successfully built an 80% lower into a finished AR-15. The AR platform itself requires few to no tools to assemble, and the 80% lower itself is easy to cut and drill with simple tools you may already own. By using a jig (a tool kit which provides the instructions and guides for fabrication) you can complete your lower receiver in approximately 30 minutes to 1 hour. Once complete, you can install a lower parts kit, install an assembled upper receiver, and your AR-15 build is complete. The entire process takes 1 to 2 hours for most builders.
Want to learn more? Here's how to complete an 80% lower receiver.
DISCLAIMER: If you are new to the world of DIY gun building, you likely have a lot of questions and rightfully so. It's an area that has a lot of questions that, without the correct answers, could have some serious implications. At 80-lower.com, we are by no means providing this content on our website to serve as legal advice or legal counsel. We encourage each and every builder to perform their own research around their respective State laws as well as educating themselves on the Federal laws. When performing your own research, please be sure that you are getting your information from a reliable source.